Welcome to the official site of The International Man! Online since November 27, 2000. Founded by KIM WEISS. 757 webpages. 20,878 photos. 140,982 links.

Current & Upcoming Events:
FORMULA 1 GROSSER PREIS VON DEUTSCHLAND 2016
July 31 (Hockenheimring Baden-Württemberg, Am Motodrom, Hockenheim, Baden-Württemberg, Germany) -
RIO 2016 OLYMPICS
August 5-21 (Rio de Janeiro, Brazil) -
I AM THE GREATEST - ALI AT THE O2
March 4 - August 31 (Peninsula Square, London SE10 0DX, England, U.K.) -
US OPEN
August 29 - September 11 (USTA Billie Jean King National Tennis Center, Flushing Meadows–Corona Park, Flushing, NY 11355, U.S.A.)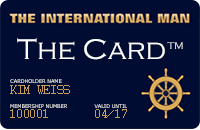 Check Out The Upcoming VIP Privilege & Benefit Membership T.I.M. Card
The International Man will in the near future be launching its own PRIVILEGE & BENEFIT VIP MEMBERSHIP CARD - named simply 'The Card'. Members will receive special privileges, benefits and preferential rates with selected partner hotels, restaurants, airlines, business jet charters, limousine services, exclusive private members' clubs, health clubs, gourmet food suppliers, luxury shops, The International Man's new luxury webshop, and much more.
Enter your name and e-mail address to receive FREE INFO about 'The Card' here.
Online since Monday, November 27, 2000. Last updated on Friday, July 29, 2016
CET
= UTC + 1