Welcome to the official site of The International Man! Online since November 27, 2000. Founded by KIM WEISS. 714 webpages. 122,038 links & listings.

Current & Upcoming Events:
TREASURED POSSESSIONS FROM THE RENAISSANCE TO THE ENLIGHTENMENT
March 24 - September 6 (The Fitzwilliam Museum, University of Cambridge, Trumpington Street, Cambridge CB2 1RB, England, U.K.) -
79th MASTERS TOURNAMENT
April 9–12 (Augusta National Golf Club, 2604 Washington Rd, Augusta, GA 30904, U.S.A.) -
TOP MARQUES MONACO
April 16-19 (Grimaldi Forum, 10 Avenue Princesse Grace, MC-9800 Monte-Carlo, Principality of Monaco) -
LATE REMBRANDT - EXHIBITIONS
February 12 - May 17 (Rijksmuseum, Museumstraat 1, 1071 XX Amsterdam, The Netherlands) -
SHERLOCK HOLMES - THE MAN WHO NEVER LIVED AND WILL NEVER DIE
October 17, 2014 - April 12 (Museum of London, 150 London Wall, London EC2Y 5HN, England, U.K.) -
JEFF KOONS - LA RÉTROSPECTIVE | EXPOSITION AU CENTRE POMPIDOU
November 26, 2014 - April 27 (Centre Pompidou, Place Georges-Pompidou, 75004 Paris, France) -
THE KING HAS ARRIVED AT LONDON O2
December 12, 2014 - August 31 (The O2 Arena, Drawdock Road / Millennium Way, Greenwich Peninsula, North Greenwich, London, SE10 0BB, England, U.K.)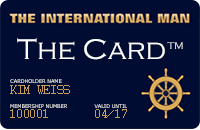 Check Out The Upcoming VIP Privilege & Benefit Membership T.I.M. Card
The International Man will in the near future be launching its own PRIVILEGE & BENEFIT VIP MEMBERSHIP CARD - named simply 'The Card'. Members will receive special privileges, benefits and preferential rates with selected partner hotels, restaurants, airlines, business jet charters, limousine services, exclusive private members' clubs, health clubs, gourmet food suppliers, luxury shops, The International Man's new LUXURY WEBSHOP, and more.
Enter your name and e-mail address to receive FREE INFO about 'The Card' HERE.
Online since Monday, November 27, 2000. Last updated on Monday, March 30, 2015
CET
= UTC + 1