Welcome to the official site of The International Man! Online since November 27, 2000. Founded by KIM WEISS. 733 webpages. 17,543 photos. 127,752 links.

Current & Upcoming Events:
VUELTA A ESPAÑA
August 22 - September 13 (Puerto Banús / Marbella - Madrid, Spain) -
US OPEN
August 31 - September 13 (USTA Billie Jean King National Tennis Center, Flushing Meadows Park, Flushing Meadow, Corona Park, Flushing, NY 11368, U.S.A.) -
THE KING HAS ARRIVED AT LONDON O2
December 12, 2014 - August 31 (The O2 Arena, Drawdock Road / Millennium Way, Greenwich Peninsula, North Greenwich, London, SE10 0BB, England, U.K.) -
MAGNA CARTA: LAW, LIBERTY, LEGACY
Open until Tuesday, September 1 (The British Library, 96 Euston Road, London NW1 2DB, England, U.K.) -
182nd MUNICH OKTOBERFEST
September 19 - October 4 (Theresienwiese, Ludwigsvorstadt-Isarvorstadt, Munich, Bavaria, Germany) -
LA BIENNALE DI VENEZIA | 56th INTERNATIONAL ART EXHIBITION
May 9 - November 22 (at the Giardini & the Arsenale venues, Venice, Italy) -
TREASURED POSSESSIONS FROM THE RENAISSANCE TO THE ENLIGHTENMENT
March 24 - September 6 (The Fitzwilliam Museum, University of Cambridge, Trumpington Street, Cambridge CB2 1RB, England, U.K.) -
SCORSESE COLLECTS
May 30 - October 25 (Museum of Modern Art, 11 West Fifty-third Street, between Fifth and Sixth avenues, New York City, NY 10019, U.S.A.) -
WATERLOO AT WINDSOR: 1815-2015
January 31 - January 13, 2016 (Windsor Castle, Windsor, Berkshire SL4 1NJ, England, U.K.) -
ANDY WARHOL | AI WEI WEI
December 11 - April 24, 2016 (National Gallery of Victoria | NGV, Southbank, Melbourne, Australia)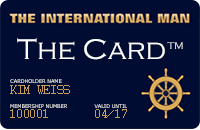 Check Out The Upcoming VIP Privilege & Benefit Membership T.I.M. Card
The International Man will in the near future be launching its own PRIVILEGE & BENEFIT VIP MEMBERSHIP CARD - named simply 'The Card'. Members will receive special privileges, benefits and preferential rates with selected partner hotels, restaurants, airlines, business jet charters, limousine services, exclusive private members' clubs, health clubs, gourmet food suppliers, luxury shops, The International Man's new luxury webshop, and much more.
Enter your name and e-mail address to receive FREE INFO about 'The Card' here.
Online since Monday, November 27, 2000. Last updated on Saturday, August 29, 2015
CET
= UTC + 1