Welcome to the official site of The International Man! Online since November 27, 2000. Founded by KIM WEISS. 747 webpages. 19,356 photos. 134,012 links.

Current & Upcoming Events:
SUPER BOWL 50
February 7 (Levi's Stadium, 4900 Marie P DeBartolo Way, Santa Clara, California, U.S.A.) -
PICASSO SCULPTURE
September 14, 2015 - February 7 (MoMA, 11 W 53rd St, New York, NY 10019, U.S.A.) -
VALENTINE'S DAY
February 14 (celebrated in many countries around the world, although it is not a public holiday in most of them) -
TED 2016: DREAM
February 15-19 (Vancouver, Canada) -
VOLEZ, VOGUEZ, VOYAGEZ - LOUIS VUITTON
December 4, 2015 - February 21 (Grand Palais, Paris, France) -
88th ACADEMY AWARDS | THE OSCARS
February 28 (Presented by the Academy of Motion Picture Arts and Sciences at Dolby Theatre, 6801 Hollywood Boulevard, Los Angeles, California, U.S.A.) -
BASELWORLD
March 17-24 (Messe Basel, Switzerland) -
THE CRIME MUSEUM UNCOVERED
October 9, 2015 - April 10 (Museum of London, 150 London Wall, London EC2Y 5HN, England, U.K.) -
ANDY WARHOL | AI WEI WEI
December 11, 2015 - April 24 (National Gallery of Victoria | NGV, Southbank, Melbourne, Australia)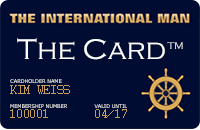 Check Out The Upcoming VIP Privilege & Benefit Membership T.I.M. Card
The International Man will in the near future be launching its own PRIVILEGE & BENEFIT VIP MEMBERSHIP CARD - named simply 'The Card'. Members will receive special privileges, benefits and preferential rates with selected partner hotels, restaurants, airlines, business jet charters, limousine services, exclusive private members' clubs, health clubs, gourmet food suppliers, luxury shops, The International Man's new luxury webshop, and much more.
Enter your name and e-mail address to receive FREE INFO about 'The Card' here.
Online since Monday, November 27, 2000. Last updated on Saturday, February 6, 2016
CET
= UTC + 1