Welcome to the official site of The International Man! Online since November 27, 2000. Founded by KIM WEISS. 726 webpages. 16,902 photos. 125,604 links.

Current & Upcoming Events:
THE CHAMPIONSHIPS, WIMBLEDON
June 29 - July 12 (All England Lawn Tennis and Croquet Club, Church Road, Wimbledon, London SW19 5AE, England, U.K.) -
102nd TOUR DE FRANCE
July 4-26 (Utrecht, Netherlands - Paris, France) -
2015 FORMULA 1 BRITISH GRAND PRIX
July 5 (Silverstone Circuit, Silverstone, Northamptonshire (part) and Buckinghamshire (part), England, U.K.) -
THE BULL RUN IN PAMPLONA
July 6-14 (Pamplona, Spain) -
FARNBOROUGH INTERNATIONAL AIRSHOW
July 11-17 (Farnborough Airport in Hampshire, England, U.K.) -
YVES SAINT LAURENT 1971: LA COLLECTION SCANDALE
March 19 - July 19 (Palais Galliera, 10 avenue Pierre 1er de Serbie, Paris 16e, 75116 Paris, France) -
FORMULA 1 PIRELLI MAGYAR NAGYDÍJ 2015
July 26 (Hungaroring, Mogyoród, Hungary) -
LE CORBUSIER - THE MEASURES OF MAN
April 29 - August 3 (Galerie 2 - Centre Pompidou, Place Georges Pompidou, 75004 Paris, France) -
MAGNA CARTA: LAW, LIBERTY, LEGACY
Open until Tuesday, September 1 (The British Library, 96 Euston Road, London NW1 2DB, England, U.K.) -
LA BIENNALE DI VENEZIA | 56th INTERNATIONAL ART EXHIBITION
May 9 - November 22 (at the Giardini & the Arsenale venues, Venice, Italy) -
PIAF
April 14 - August 23 (Bibliothèque Nationale de France, François-Mitterrand Library, Galerie 2, Quai François-Mauriac, 75706 Paris Cedex 13, France) -
TREASURED POSSESSIONS FROM THE RENAISSANCE TO THE ENLIGHTENMENT
March 24 - September 6 (The Fitzwilliam Museum, University of Cambridge, Trumpington Street, Cambridge CB2 1RB, England, U.K.) -
THE KING HAS ARRIVED AT LONDON O2
December 12, 2014 - August 31 (The O2 Arena, Drawdock Road / Millennium Way, Greenwich Peninsula, North Greenwich, London, SE10 0BB, England, U.K.)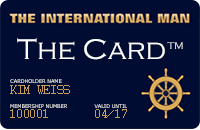 Check Out The Upcoming VIP Privilege & Benefit Membership T.I.M. Card
The International Man will in the near future be launching its own PRIVILEGE & BENEFIT VIP MEMBERSHIP CARD - named simply 'The Card'. Members will receive special privileges, benefits and preferential rates with selected partner hotels, restaurants, airlines, business jet charters, limousine services, exclusive private members' clubs, health clubs, gourmet food suppliers, luxury shops, The International Man's new LUXURY WEBSHOP, and more.
Enter your name and e-mail address to receive FREE INFO about 'The Card' HERE.
Online since Monday, November 27, 2000. Last updated on Friday, July 3, 2015
CET
= UTC + 1