Top 125 Keyholders | Keyrings | Keychains | Keycases

A KEY FOB is a generally decorative and at times useful item many people often carry with their keys, on a ring or a chain, for ease of tactile identification, to provide a better grip, or to make a personal statement. Key fobs are often called "key rings" or "key chains" in colloquial usage.

Fobs vary considerably in size, style and functionality. Most commonly they are simple discs of smooth metal or plastic, typically with a message or symbol such as that of a logo (as with conference tchotchke) or a sign of an important group affiliation. A fob may be symbolic or strictly aesthetic, but it can also be a small tool. Many fobs are small flashlights, compasses, calculators, penknives, discount cards, bottle openers, security tokens and USB flash drives.

A KEYCHAIN or key chain is a small chain, usually made from metal or plastic, that connects a small item to a keyring. The length of a keychain allows an item to be used more easily than if connected directly to a keyring. Some keychains allow one or both ends the ability to rotate, keeping the keychain from becoming twisted, while the item is being used. A keychain can also be a connecting link between a keyring (a.k.a. "split ring") and the belt of an individual. It is usually employed by personnel whose job demands frequent use of keys, such as a security guard, prison officer, janitor, or retail store manager. Keychains are commonly used to promote businesses. A standard advertising key chain will carry the businesses name and contact information and often a logo.

CHECK OUT TOP 10+ BAG, KEYHOLDER, LUGGAGE & UMBRELLA TRACKING DEVICES HERE!

Chipolo - "Nothing is lost. Tag it. Find it." Attach Chipolo on anything you often misplace or lose and connect it with Chipolo App on your phone. Now, you are able to ring your things from your phone. Or ring your misplaced phone by shaking Chipolo, even if it is on silent mode.

Deeple - "Bringing Good Things Back." Online Lost & Found QR Tags. Save time and money if you lose your personal belongings! QR tag designed for keys, suitcases, bags, bagpacks, and all other applications where a keyring/steel-wire-attached tag will fit. The tag can be used as a QR key ring or attached to your luggage.

Dynotag Web/GPS Enabled QR Smart Deluxe Steel Luggage Tag - "You will ACTIVATE and make this tags yours using the special "Activation Code" on the tag itself. Activation is simple: Just create a free account at Dynotag.com, sign in, then click "activate tag" on top. Smart Tags for the Mobile Internet Age! Specially encoded QR code and web address is unique and belongs to YOU, the dynotag owner. Every dynotag has a private web page that is addressed by the QR code or the provided unique web address - this enables a dynotag to be easily readable by smartphones (scan the QR code) or any web browser on any computer by visiting the included unique web address. Works anywhere on the planet with Internet.

Kensington Proximo Bluetooth Tracker & Alarm for iPhone, Keys & Bags - "You lost it. Proximo finds it."

LOC8ING Air Travel TAG - "Anything. Anywhere. Anytime." Calling all frequent travelers. Know your checked baggage is ON-BOARD with you! Proximity notifications Without the need for cellular or WiFi network coverage. Know when your luggage is ready for pickup on airport carousel. Works worldwide! Completely FREE! with FREE App for iPHONE and Android devices.

Tag a bag - "Lost & Found Reimagined." Best giveaways luggage tags, tag-a-bag allow you to securely share the right information at the right time.

Tile - "The world's largest lost and found." The Tile App on your iPhone makes it easy to find your Tile(s) anywhere, anytime. Just attach, stick or drop your Tile into any item you might lose: laptops, wallets, keys, guitars, bikes - you name it. Then get on with the fun.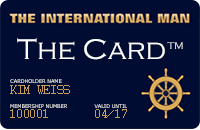 Upcoming VIP Privilege Membership Card
The International Man will in the near future be launching its own PRIVILEGE & BENEFIT VIP MEMBERSHIP CARD - named simply 'The Card'. Members will receive special privileges, benefits and preferential rates with selected partner hotels, restaurants, our LUXURY WEBSHOP, and more. Enter your name and e-mail address to receive FREE INFO about 'The Card' HERE.