Top 60 High-End Brands and Makers of Leather Goods

For comprehensive information about leather types: click here and / or here.

Epi leather - introduced by Louis Vuitton in 1985 epi leather is dyed all the way through and has a grained texture.
LEATHER - Wikipedia.
LEATHER & Luxury - "Magazine published in Italian and English that illustrates the complex world of leather goods in detail, turning the spotlight on the real stars of 'Made in Italy' ... 'the artisans'."
MIPEL - launched in 1962. "The Bag Show." Milan, Italy. The world's leading international leather-goods show: bags, luggage, sacks, wallets and the full spectrum of leather accessories.
Saffiano leather - the leather is made is by a stamping method. Saffiano, being a textured leather, meaning that it is a treated leather made with the texture pressed on it by a machine. It gives the leather a cross-hatch finish, which is a special diagonal pattern. This calf hide leather is also finished with a wax treatment. As a result, the leather is pretty much scratch resistant, durable and easy to clean.
THE LEATHER CONNECTION - "A Massive Leather Research & Reference Site."
Top Rated Leather Brands - Ranker.

Top 60 High-End Leather Goods Brands

Akris - founded in 1922. Swiss fashion label specializing in luxury goods for women (ready-to-wear, leather accessories).
Armani - since 1975.
ARTIOLI - since 1912. "Artioli creates a wide range of leather products according to the same high quality standards."
ASPINAL OF LONDON - since 2000. London designer, manufacturer and retailer of luxury leather goods and accessories for men and women.
ASPREY - "The British Standard since 1781." Luxury leather goods.
ASTON MARTIN - luxury leather accessories, and more.
BERLUTI - since 1895. Subsidiary brand of LVMH known for its unique leather finishing. including of leather goods such as belts, bags, and wallets.
Bianca Mosca - since 1946. "Bespoke Travel Goods & Accessories." Bianca Mosca creates beautiful handcrafted travel goods and accessories made from exotic skins sourced ethically and manufactured to the highest standards. Our products are produced in limited quantities using traditional artisanal techniques honed over decades.
BILL AMBERG - luxury leather bags, designer leather accessories, designer luggage.
BOSCA - since 1911. "Fine Leather Goods & Accessories."
Bottega Veneta - "Discover the world of Bottega Veneta. Discretion, quality, and unsurpassed craftsmanship - a new standard of luxury since 1966."
BRUNO MAGLI - since 1936. "Classic Italian Luxury, Redefined." Italian luxury brand that specializes in shoes and leather goods for men and women. The brand has catered to loyal customers throughout its 80 year history including celebrities, royals and fashion elite and continues to evolve its heritage by reinventing luxury essentials for a new generation.
BVLGARI - since 1884.
Burberry - since 1856. British luxury fashion house. Men's & women's luxury leather goods.
CARTIER - since 1847.
Chanel - since 1909. Women's small leather goods.
COACH - "New York Luxury Brand Est. 1941. "We went on to define "accessible luxury" for a generation. Beginning in North America, Coach delivered an alternative to traditional luxury. Then, we expanded beyond our home market, becoming the first American company in our category to bring international relevance to an American leather goods brand."
CORNELIANI - since 1958.
CORTER LEATHER & CLOTH - "A two person leather goods company hand sewing on Cape Cod, Massachusetts."
Dior - since 1946. Women's leather goods.
DUNHILL - since 1893. British luxury goods brand, specialising in ready-to-wear, custom and bespoke menswear, leather goods, and accessories. The company is based in London, where it also owns and operates a leather workshop.
ETTINGER - since 1934. "Founded by Gerry Ettinger over 70 years ago. We are one of the few remaining British luxury leather goods companies still manufacturing in the UK."
FENDI - founded in 1925 as a fur and leather shop in Rome, Italy by Adele Casagrande.
Florence Leather Market - "The uniqueness of Italian styles with just one click." Wide variety of handcrafted, genuine-leather goods made in Italy.
FORZIERI - since 1999. "In a world where so much is becoming monotonous, there are still places where the thrill of style discovery can be experienced."
GANZO - since 1917. Small Japanese luxury leather goods brand - "delivers the world's best finished leather products."
Giorgio G - founded in 2000 by Giorgio Gucci. "Giorgio G lives the tradition of fine artisan crafts and Italian style. We make classic and modern leather goods and accessories – from handbags to foulards, from purses to pochettes."
Giorgio Armani - since 1975.
Greenwich - "Luxury Handmade Leather Accessories." Greenwich is about producing the cases we really want to make without the usual cost constraints imposed by large, margin-hungry retailers and brands. Shop our beautiful collection of small goods and everyday accessories, from luxury handmade wallets to sophisticated leather purses and a selection of travel accessories which includes cable tidies, passport holders and slimline wallets.
GUCCI - founded in 1921 in Florence, Italy by Guccio Gucci. One of the world's most successful manufacturers of high-end leather goods.
HERMÈS - founded in 1837 in Paris, France by Thierry Hermès. Specializing in leather, lifestyle accessories, perfumery & luxury goods.
House of Florence - founded by Roberto Gucci. "A fresh bud flowers on an ancient tree."
ISOTTA FRASCHINI - since 1900.
J.M. WESTON - French luxury company in founded 1891. It is renowned for its handmade shoes for men. They also produce a full line of leather goods ranging from belts and briefcases to luggage items.
J.PRESS - since 1902.
JIMMY CHOO - women's small leather goods.
JOHN LOBB - since 1849. "We are able to make any type of leather goods to order including variations of existing products."
KENNETH COLE - since 1982.
Korchmar - since 1917. "Exclusive Leather Goods and More."
LACOSTE - men's small leather goods.
Launer London - "Elegant handbags and accessories in the finest leather. Made in England." The Queen has been a loyal customer of the handbag brand for over 50 years - she awarded the firm the Royal Warrant in 1968 - and has four new bags made especially for her every year.
LeatherProjects - "21st Century Craftsmanship." Made By Hand In Copenhagen, Denmark.
LEDERER DE PARIS - the leading luxury leather store that has been gracing the fashion industry in Paris, London and New York since 1898.
LORO PIANA - since 1924. My Tris: perfect travel companion containing wallet (for airline ticket and currency), passport cover and credit card holder. Created in Top Natural Calf.
LOUIS VUITTON - founded in 1854 in Paris, France by Louis Vuitton. One of the world's leading international fashion houses & the world's most valuable luxury brand.
Makr - handmade leather goods.
MARK CROSS - since 1845. "America's First Luxury Leather Goods Brand."
MARTIN DINGMAN - "Leathergoods for Life."
MCM | MODE CREATION MUNICH - "Luxury Leather Goods." German brand of leather products founded in 1976 in Munich, Germany.
MONTBLANC - since 1906. Leather collection.
MULBERRY - fashion company founded in England in 1971, known internationally for its leather goods, in particular women's handbags.
Nappa Dori - "Handmade Leather Products."
PAPYRUS - since 1984. "Fine Bespoke Leather Accessories."
Pineider - since 1774. "Pineider offers a wide range of leather goods made with the very best materials and a timeless style, crafted in accordance with italian traditions, dedicated to men, women, baby and travel."
Prada - since 1913. Italian luxury fashion house, specializing in ready-to-wear men's & women's leather and fashion accessories, shoes, luggage, perfumes, watches, etc.
SAGE BROWN - "Luxury leather goods." Quintessentially British in character, Sage Brown is a modern family run company specialising in luxurious fine leather goods for discerning ladies and gentlemen.
SALVATORE FERRAGAMO - Italian luxury goods company founded in 1928 in Florence, Italy by Salvatore Ferragamo.
SMYTHSON OF BOND STREET - since 1887. "Over 125 Years of British Luxury."
STANDARD LEATHER CO. - "Founded in Southern California Standard Leather Co. emerged from the essential need to create. Focused on top-quality products made with premium leather and the strongest hardware; Standard Leather Co. is the result of the endless pursuit of handmade perfection."
Stefano Ricci - since 1972. Luxury leather goods.
SWAINE ADENEY BRIGG - since 1750. "250 Years' of British Craftsmanship."
TANNER KROLLE - "A tradition of craftsmanship in leather since 1856."
The Bridge - "Firenze 1969." Since 1969 we have been mixing tradition with innovation preserving the handcrafted nature of each product as much as possible. Makers of handbags and accessories featuring a highly characterised style, where the value of 'Made in Italy,' contained in the typically Florentine workmanship.
Tod's - "Enter the world of Tod's and discover the excellence of quality and craftsmanship Made in Italy, expressed in the unique style of shoes, bags and accessories."
Tony Perotti - Italian high-end leather products.
Troubadour - "London-based modern brand specializing in designing and creating superior handcrafted leather goods."
TUSCANY LEATHER - since 2004. "Italian leather bags and accessories. Made in Italy."
Versace - men's & women's small leather accessories.
WANT Les Essentiels de la Vie - "Luxury travel and lifestyle accessories brand."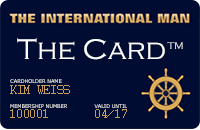 Upcoming VIP Privilege Membership Card
The International Man will in the near future be launching its own PRIVILEGE & BENEFIT VIP MEMBERSHIP CARD - named simply 'The Card'. Members will receive special privileges, benefits and preferential rates with selected partner hotels, restaurants, our LUXURY WEBSHOP, and more. Enter your name and e-mail address to receive FREE INFO about 'The Card' HERE.