High-End Brands & Makers of Luxury Leather Goods

For comprehensive information about leather types: click here and / or here.

Epi leather - definition & explanation.
LEATHER - Wikipedia.
MIPEL - launched in 1962. "The Bag Show." Milan, Italy. The world's leading international leather-goods show: bags, luggage, sacks, wallets and the full spectrum of leather accessories.
Saffiano leather - definition & explanation.

High-End Suppliers of Luxury Leather Goods:

Akris - founded in 1922. Swiss fashion label specializing in luxury goods for women (ready-to-wear, leather accessories).
ASPINAL OF LONDON - handcrafted leather goods.
BERLUTI - since 1895.
BILL AMBERG - luxury leather bags, designer leather accessories, designer luggage.
BOSCA - since 1911. "Fine Leather Goods & Accessories."
BVLGARI - since 1884.
CARTIER - since 1847.
CARVIL - Paris since 1952.
COACH - since 1941.
ETTINGER - "Founded by Gerry Ettinger over 70 years ago. We are one of the few remaining British luxury leather goods companies still manufacturing in the UK."
FENDI - founded in 1925 as a fur and leather shop in Rome, Italy by Adele Casagrande.
GANZO - small Japanese luxury leather goods brand - "delivers the world's best finished leather products."
GUCCI - founded in 1921 in Florence, Italy by Guccio Gucci.
HERMÈS - founded in 1837 in Paris, France by Thierry Hermès.
J.M. WESTON - French luxury company in founded 1891.
J.PRESS - since 1902.
JIMMY CHOO - women's.
JOHN LOBB - since 1849.
Korchmar - since 1917. "Exclusive Leather Goods and More."
LeatherProjects - "Made By Hand In Copenhagen, Denmark."
LEDERER DE PARIS - the leading luxury leather store that has been gracing the fashion industry in Paris, London and New York since 1898.
LORO PIANA - since 1924. My Tris: perfect travel companion containing wallet (for airline ticket and currency), passport cover and credit card holder. Created in Top Natural Calf.
LOUIS VUITTON - founded in 1854 in Paris, France by Louis Vuitton.
MARK CROSS - (1845-1997, reborn 2010). "America's Original Luxury Lifestyle Brand."
MARTIN DINGMAN - "Leathergoods for Life."
MCM | MODE CREATION MUNICH - German brand of leather products founded in 1976 in Munich, Germany.
MONTBLANC - since 1906. Leather collection.
MULBERRY - fashion company founded in England in 1971, known internationally for its leather goods, in particular women's handbags.
PAPYRUS - "Bespoke Leather Accessories."
SAGE BROWN - "Luxury leather goods."
SALVATORE FERRAGAMO - Italian luxury goods company founded in 1928 in Florence, Italy by Salvatore Ferragamo.
SMYTHSON OF BOND STREET - since 1887. "Over 125 Years of British Luxury."
Stefano Ricci - since 1972. Luxury leather goods.
SWAINE ADENEY BRIGG - since 1750. "250 Years' of British Craftsmanship."
TANNER KROLLE - "A tradition of craftsmanship in leather since 1856."
THE LEATHER CONNECTION - leather research and reference site.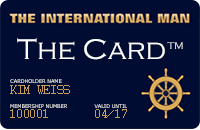 Upcoming VIP Privilege Membership Card
The International Man will in the near future be launching its own PRIVILEGE & BENEFIT VIP MEMBERSHIP CARD - named simply 'The Card'. Members will receive special privileges, benefits and preferential rates with selected partner hotels, restaurants, our WEBSHOP, and more.
Enter your name and e-mail address to receive FREE INFO about 'The Card' HERE.