Top Business Jets & Aircraft | Helicopters | Charters

"It's great to have a private jet. Anyone that tells you that having your own private jet isn't great is lying to you." - Oprah.

BUSINESS JET, private jet or, colloquially, bizjet is a term describing a jet aircraft, usually of smaller size, designed for transporting groups of business people or wealthy individuals. Business jets may be adapted for other roles, such as the evacuation of casualties or express parcel deliveries, and a few may be used by public bodies, governments or the armed forces. The more formal terms of corporate jet, executive jet, VIP transport or business jet tend to be used by the firms that build, sell, buy and charter these aircraft.

Almost all production business jets, such as General Dynamics' Gulfstream and the Gates Lear Jet (now built by Bombardier), have had two or three engines, though the Jetstar, an early business jet, had four. Advances in engine reliability and power have rendered four-engine designs obsolete, and only Dassault Aviation still builds three-engine models (in the Falcon line). The emerging market for so-called "very light jets" and "personal jets", has seen the introduction (at least on paper) of several single-engine designs as well.

Almost all business jets have rear-mounted engines, because the wing (mounted low for performance reasons) is too near the ground for engines to be slung underneath it.

Airliners are sometimes converted into luxury business jets. Such converted aircraft are often used by celebrities with a large entourage or press corps, or by sports teams, but airliners often face operational restrictions based on runway length or local noise restrictions.

There are approximately 11,000 business jets in the worldwide fleet with the vast majority of them based in the United States or owned by US companies. The European market is the next largest, with growing activity in the Middle East, Asia, and Central America.

Since 1996 the term "fractional jet" has been used in connection with business aircraft owned by a consortium of companies. Costly overheads such as flight crew, hangarage and maintenance can be shared through such arrangements.

Because of their low-volume productions and long lead times, new aircraft orders can take two to three years for delivery. This peculiarity fuels a large pre-owned marketplace, with aircraft for immediate availability.

A HELICOPTER (or chopper, helo or whirlybird) is a type of rotorcraft in which lift and thrust are supplied by rotors. This allows the helicopter to take off and land vertically, to hover, and to fly forwards, backwards, and laterally. These attributes allow helicopters to be used in congested or isolated areas where fixed-wing aircraft would usually not be able to take off or land. The capability to efficiently hover for extended periods of time allows a helicopter to accomplish tasks that fixed-wing aircraft and other forms of vertical takeoff and landing aircraft cannot perform.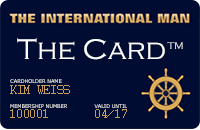 Upcoming VIP Privilege Membership Card
The International Man will in the near future be launching its own PRIVILEGE & BENEFIT VIP MEMBERSHIP CARD - named simply 'The Card'. Members will receive special privileges, benefits and preferential rates with selected partner hotels, restaurants, our WEBSHOP, and more.
Enter your name and e-mail address to receive FREE INFO about 'The Card' HERE.