Gstaad - 'A Billionaire's Favorite Swiss Playground'

GSTAAD is a village in the German-speaking section of the Canton of Bern in southwestern Switzerland. It is part of the municipality of Saanen and is known as a major ski resort and a popular destination amongst high-class society and the international jet set. The winter campus of the Institute Le Rosey is located in Gstaad. Gstaad has a population of about 3,200 and is located 1,050 metres (3,445 feet) above sea level.

Situated in the Berner Oberland, Gstaad is home to one of the largest ski areas in the Alps (220 km (137 mi) of slopes). The middle of the village features a picturesque PROMENADE bounded by numerous shops, restaurants, art galleries, and hotels. Designer labels including Louis Vuitton, Hermes, Chopard, Brunello Cucinelli, Prada, Moncler, Ralph Lauren, and Cartier all have stores in Gstaad, while many smaller boutiques stock labels such as Chloe, Dolce & Gabbana, Tod's, Burberry, Dior, Oscar de la Renta, and Marc Jacobs.

Long known for its walking and hiking trails of varying degrees of difficulty, the mountain air and ambiance attracts guests year round from around the world. Gstaad is also known for its ski and cross-country slopes and winter hiking trails.

Gstaad, named "The Place" by Time magazine in the 1960s, is widely known for its famous part-time residents and vacationers. Current longtime residents of Gstaad include: Alinghi yachting syndicate boss Ernesto Bertarelli and actress Julie Andrews, Formula One Holdings owner Bernie Ecclestone, French actress Jeanne Moreau, French singer Johnny Hallyday, and columnist Taki Theodoracopulos. Famous residents have included actor Roger Moore, George Soros, Steve Wynn, actress/humanitarian Elizabeth Taylor, director Roman Polanski, violinist Yehudi Menuhin, Prince Rainier and Grace Kelly, modern artist Balthus, Mohammad Reza Pahlavi, Swiss philanthropist Philipp Braunwalder and Filip Peters. Famous regular visitors to Gstaad have included Michael Jackson, Madonna, Prince Charles and Princess Diana, former UN Secretary-General Kofi Annan, haute couture designer Valentino Garavani, writer William F. Buckley, Jr., and various members of the House of Cavendish. Other occasional visitors in the past include Margaret Thatcher, actors David Niven and Peter Sellers, as well as King Juan Carlos and Queen Sofia of Spain, and Abdel Salam Jalloud. In January 1983, King Juan Carlos fell while skiing in Gstaad and cracked his pelvis, immobilising him for a month. Richard Scarry had a studio in Gstaad where he drew many of his books. Many British bands and musicians would play at L'Atelier, a club in Gstaad, in the 1960s and 1970s.

The PALACE HOTEL opened in 1913 as Gstaad's first luxury hotel. During the World Wars and the Great Depression, the tourism industry suffered and many hotels closed. After World War II, many of the large hotels remained closed, but they were replaced with a number of smaller non-hotel accommodation (chalets, apartment houses, residences). Most of the modern resorts and small hotels are built out of wood and retain traditional design elements.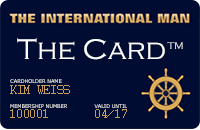 Upcoming VIP Privilege Membership Card
The International Man will in the near future be launching its own PRIVILEGE & BENEFIT VIP MEMBERSHIP CARD - named simply 'The Card'. Members will receive special privileges, benefits and preferential rates with selected partner hotels, restaurants, our LUXURY WEBSHOP, and more. Enter your name and e-mail address to receive FREE INFO about 'The Card' HERE.