Hotels, Resorts & Spas of January | 2017

Hotels included on Condé Nast Traveller's Gold List of the world's best hotels have been marked with CNT.
The members the Small Luxury Hotels of the World organization (a collection of over 500 luxury boutique hotels and resorts in more than 70 countries) have been marked with SLH.
The members of the world's largest luxury hospitality organization The Leading Hotels of the World have been indicated with LHW.
Established in France in 1954, Relais & Châteaux's mission is "to spread its unique art de vivre across the globe by selecting outstanding properties with a truly unique character." Prospective and current members are evaluated by the group's traditional "five C" motto: Character, Courtesy, Calm, Charm and Cuisine. The members of Relais & Châteaux exclusive collection of 500 of the finest hotels and gourmet restaurants in 60 countries on 5 continents have been marked with R&C.


THE NED - 27 Poultry, London EC2R 8AJ, England, U.K. 252-room 5-star hotel & members' club in The City. Nine restaurants, rooftop & indoor pools, a gym, spa & hamam. Rooms at The Ned reference the Twenties, Thirties & the golden age of travel.
Le Grand HÔtel Cabourg - MGallery By Sofitel - Jardin du Casino, 14390 Cabourg, France. "Le Grand Hôtel Cabourg is one of the only upscale hotels on the Normandy coast to boast direct beach access and a gourmet restaurant facing the sea: Le Balbec." Built in 1907 and immortalized by Marcel Proust, Le Grand Hôtel offers an intimate, romantic atmosphere. Discover our spacious and comfortable rooms with views of the sea or the casino gardens.
THE GORING SLH. 15 Beeston Place, Grosvenor Gardens, London SW1W 0JW, England, U.K. "My Great Grandpa built The Goring in 1910. It was no coincidence that it was situated next to Buckingham Palace, and right on the doorstep of all the best London has to offer." - Jeremy Goring. The Only Hotel with Queen Elizabeth II's Royal Warrant. 'One might say the Queen considers the Goring her personal annex for entertaining.'
The Private Reserve - Gili Lankanfushi, Lankanfushi Island, North Malé Atoll, Republic of Maldives. "You have never seen anything quite like the rustic über luxury of our Private Reserve, reputed to be the largest over-water villa in the world (1,700 sq m)! A decadent private palace sitting atop a sapphire lagoon, the most vivid dreams unable to conjure its grandeur. A flawless jewel of the Maldives, presented to you. Experience the exquisite."
HÔtel de PourtalÈs ***** Historic hôtel particulier at 7 rue Tronchet, 75008 Paris, France. Has 9 opulent apartments designed by Philippe Starck, rent for up to €15,000 a night. Book a room, Log in.
The St. Regis Dubai - Al Habtoor City, Sheikh Zayed Road, Dubai, U.A.E. "Where indulgent spa treatments, sumptuous cuisines, and memorable meetings await you." Sir Winston Churchill Suite - "Located on the highest floors, and featuring delightful landscaped garden views, the three-bedroom Sir Winston Churchill Suite offers 9828 sq ft / 913 sq m sumptuous luxury."
Null Stern Hotel - "The only star is you." Safiental, Grisons, Switzerland.
Chalet du Mont d'Arbois R&C 447 chemin de la Rocaille, 74120 Megève, France. "In the heart of the French Alps, overlooking the village of Megève, the 5-star Chalet du Mont d'Arbois is a unique place steeped in history, with a mix of warm elegance and discreet luxury in the pure tradition of the Rothschild family."
HOTEL TASCHENBERGPALAIS KEMPINSKI DRESDEN - Taschenberg 3, 01067 Dresden, Germany. "Built in the 18th century by the Saxon king, August the Strong, as a pledge of love to his mistress and faithfully restored in 1995, 5-star Hotel Taschenbergpalais Kempinski Dresden is a beautiful combination of historic glory and contemporary elegance."
VILLA SAN MICHELE LHW CNT Via Doccia, 4, 50014 Fiesole (FI), Italy. One of the best small luxury hotels in Florence. Former monastery nestled on a hilltop in the middle of lush trees and terraced gardens overlooking Florence. Suites come with "unbelievable views of the City of Lilies." Historians attribute the villa's facade - which dates to the fifteenth century - to Michelangelo.
Amanjena - "An atmospheric red-walled resort on the outskirts of Marrakech echoing the style of a sultan's palace in Morocco."
The Chedi Andermatt Gotthardstrasse 4, 6490 Andermatt, Switzerland. LHW "The Alpine 5-star oasis nestling in a Swiss mountain landscape."
Grand Hotel Et Des Palmes - Via Roma, 398, 90139 Palermo, Italy. Four-star hotel located in the very heart of Palermo's historical center. Founded in 1874 and renovated in 1907 by one of the great masters of the Art Nouveau Style, Ernesto Basile, the exquisite Grand Hotel Et Des Palmes hotel exudes historical charm. Grand decor of marble floors and antiques combine nicely with very latest technology to make your stay a memorable one. Grand Hotel et Des Palmes is the most legendary hotel on the island of Sicily, having welcomed illustrious visitors since the 19th century including Richard Wagner, who finished Parsifal within one of its luxuriously-decorated suites. Read also: Grand Hotel des Palmes Mafia meeting 1957 - Wikipedia.
HÔtel des Dromonts - "The grooviest hotel in the alps." (The Times). 40, place des Dromonts, 74110 Avoriaz, France
GRAND HOTEL EXCELSIOR VITTORIA LHW. Piazza Tasso, 34, 80067 Sorrento (NA), Italy. Owned and operated by the Fiorentino family since 1834, the property has hosted Richard Wagner and Oscar Wilde, who enjoyed the same breathtaking views of the Bay of Naples and Mount Vesuvius as today's guests.
Poseidonion Grand Hotel - since 1914. Dapia, Spetses 180 50, Greece. A destination for jet-setters all year long. Poseidonion Grand Hotel has been the landmark of the island for nearly a century with its exceptional architecture echoing hotels of Côte d'Azur style.
Legendale Hotel - 5-star hotel in Beijing is the epitome of European elegance and luxury. Minutes walk from world-class shopping precincts such as Wangfujing and Oriental Plaza. A number of China's most significant landmarks and historical sites are within walking distance of the hotel, including Tiananmen Square, the Forbidden City and the Drum and Bell Towers, amongst other attractions.
Hotel Waldhaus - "A family affair since 1908." For over a century, this crenellated fortress has attracted European intellectuals and loyal families drawn to its Old World charm and resolute lack of sleek amenities (The New York Times).
Grand Hotel Villa Serbelloni - since 1872. One of the oldest and most elegant hotels in the Lake Como area and the only 5 star de-luxe hotel in Bellagio, Italy.
EMIRATES PALACE SDA. Seven star luxury hotel. Built at a cost of about US$6 billion as a landmark showcasing Arabian culture, Emirates Palace, has created a niche in luxury hospitality. Situated on 1.3 km of private beach and surrounded by 85 hectares of gardens and lawns, with 114 domes that are 80 meters high, Emirates Palace comprises 394 rooms and suites carefully designed and furnished to offer guests superior comfort and luxury. The second most expensive hotel ever built, only surpassed by Marina Bay Sands in Singapore.
Aman Canal Grande Venice ******* 24-room luxury hotel at Palazzo Papadopoli.
THE PENINSULA - "Renaissance of A Modern Day Palace."
Casa de las Olas - Tulum, Mexico. Eco-luxury escape on a secluded white sand beach. Sustainably powered by solar panels and kept comfortable with geothermal cooling.
THE GRITTI PALACE *****. Has now re-opened after an extensive handcrafted restoration.
THE GORING SLH. 15 Beeston Place, Grosvenor Gardens, London SW1W 0JW. "My Great Grandpa built The Goring in 1910. It was no coincidence that it was situated next to Buckingham Palace, and right on the doorstep of all the best London has to offer." - Jeremy Goring.
HOTEL D'ANGLETERRE - since 1755. Hotel d'Angleterre, Kongens Nytorv 34, DK-1050 Copenhagen K, Denmark. 30 rooms and 60 suites. "Balancing legacy and style with intuitive and tailored services, the d'Angleterre will complement the desires of today's refined travellers." One of the first deluxe hotels in the world. Denmark's leading five-star hotel is located in a landmark building overlooking the lovely King's Square in the heart of Copenhagen.
BVLGARI - 171 Knightsbridge, City of Westminster, SW7, U.K. "The perfect place for an indulgent experience of luxury and wellness." Also, the most expensive place to stay in Britain.
Qasr Al Sarab Desert Resort - "A Luxury Oasis In Abu Dhabi."
Tavanipupu Private Island Resort - Solomon Islands, Oceania.
HÔTEL METROPOLE LHW. Refurbished in 2004. Selected 'Best Hotel in the World' in 2010 by the Leading Hotels of the World.
HÔTEL LOTTI - since 1910. 4-star luxury hotel situated between the place Vendôme and the Tuileries gardens, near the Opera and the Louvre museum.
The Villa By Barton G. LHW. The former Versace Mansion (Casa Casuarina) at 1116 Ocean Drive, Miami South Beach, FL, U.S.A.
CLARIDGE'S CNT. Often referred to as an "extension to Buckingham Palace". "Our 5 star Art Deco hotel in London is a key part of the city's history. Stars, socialites and the crowned heads of Europe have enjoyed our Mayfair hotel for over 100 years."
HOTEL LOCANDA LEON BIANCO - Venice, Italy. Faces the Grande Canale, between Ca' d'Oro and Rialto Bridge.
BORGO SANTO PIETRO - Valle Serena, Tuscany, Italy.
HÔTEL BYBLOS - Saint-Tropez, France. LHW. Open: April 13 - October 24.
THE RITZ-CARLTON - Hong Kong. The world's tallest hotel. Soaring from the 102nd floor to the 118th floor at International Commerce Centre.
VILLA D'ESTE - Cernobbio, Italy. LHW. Voted the world's best hotel by Forbes Traveler 2009
ROYAL PENTHOUSE SUITE - Hôtel Président Wilson (Geneva, Switzerland): US$85,000 per night. Known throughout the world as the most expensive, largest and most luxurious of hotel suites, the Royal Penthouse Suite covers the hotel's highest floor. It is unique in terms of luxury and comfort and guarantees a maximum security level: 12 rooms | 12 bathrooms | One of the first suites in Europe to feature a Bang & Olufsen BeoVision 4-103 flat screen and audio installation | Billiards | Steinway grand piano | Fitness center | Private elevator | Private terrace Surface area: 1680 m2. Located on the eighth floor.
SUNSET TOWER HOTEL - iconic Art Deco-styled Hollywood landmark and host to Vanity Fair's Oscar Party.
THE COSMOPOLITAN OF LAS VEGAS - Las Vegas's newest hotel: 2,200 condominium-hotel units; 800 hotel rooms; a 75,000 sq ft (7,000 m2) casino.
MANDARIN ORIENTAL TOKYO - special offer per night plan: use of the entire hotel (178 guest rooms and suites, all nine restaurants and all spas, reserved from 3:00 in the afternoon to noon the next day. It would include a cocktail reception for 500 people) for 55 million yen (US$671,800).
SAVOY - British icon since 1889. Now accepting reservations for stays beginning October 10, 2010 after over a £100 million restoration.
THE REGENT GRAND HOTEL - Bordeaux, France.
CASA MANNI - "The Ultimate Roman Lifestyle." The most exclusive deluxe "non-hotel" in the world. Designed by the world-renowned architect, Adam D. Tihany, it is a luxury penthouse suite for just one discriminating couple wanting a unique Roman experience. Located atop a 17th century palazzo in Via di Pietra, in the very heart of Rome, Casa MANNI has the best location in town, a stone's throw from the Pantheon, the Trevi Fountain and the Spanish Steps - even the Colosseum.
ARMANI HOTEL DUBAI - 160 guest rooms and suites of minimalist elegance.
BLOW UP HALL 50 50 - Poznan, Poland. An interactive work of art with 22 luxurious rooms in this 5-star hotel. It offers a combination of luxury, high tech, the finest design and personal artistic experimentation. Its guests not only experience art but also participate in its creation. Comes with no reception area and no numbering on its individually-designed rooms. Instead of a key, each guest received an iPhone to find and open their bedroom doors by means of IT recognition technology.
GRAND HOTEL HEILIGENDAMM - Bad Doberan-Heiligendamm, Germany.
FOUR SEASONS HOTEL GEORGE V PARIS - Paris, France.
GRAND RESORT LAGONISSI - Attica, Greece.
COVENT GARDEN HOTEL - London, England.
THE WESTIN RESORT ARUBA - "Imagine the sand beneath your feet and a soft steel drum playing in the background."
21C MUSEUM HOTEL, LOUISVILLE, KENTUCKY, U.S.A. - is the first of its kind-a 90-room hotel dedicated to world class luxuries, Southern-style hospitality and contemporary art from living artists.
BADRUTT'S PALACE HOTEL - St. Moritz, Switzerland.
CANAL HOUSE HOTEL - Panama City, Panama.
CASA CASUARINA - Miami Beach, FL, U.S.A.
CASA DELL'ARTE - Bodrum, Turkey.
HOTEL ARCTIC - the world's most northerly 4 star hotel with a 5 star conference centre.
HOTEL ADLON KEMPINSKI - Berlin, Germany.
HOTEL METROPOLE - Brussels, Belgium
NIMB HOTEL - situated in the Tivoli Gardens, Copenhagen Denmark.
SANTORINI HOTELS - Santorini, Greece.
THE RICHARDSON - Perth, Australia.
VILLA D'ESTE - Cernobbio, Italy: voted the world's best hotel by Forbes Traveler 2009.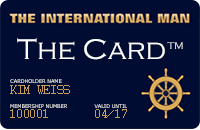 Upcoming VIP Privilege Membership Card
The International Man will in the near future be launching its own PRIVILEGE & BENEFIT VIP MEMBERSHIP CARD - named simply 'The Card'. Members will receive special privileges, benefits and preferential rates with selected partner hotels, restaurants, our LUXURY WEBSHOP, and more. Enter your name and e-mail address to receive FREE INFO about 'The Card' HERE.