The Top (Free) Resources & Services on the Internet

"If you make customers unhappy in the physical world, they might each tell 6 friends. If you make customers unhappy on the Internet, they can each tell 6,000 friends." - Jeff Bezos.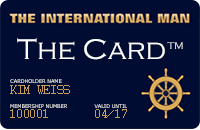 The Upcoming TIM Card
The International Man will in the near future be launching its own PRIVILEGE & BENEFIT MEMBERSHIP CARD - named simply 'The Card'. Members will receive special privileges, benefits and preferential rates with selected partner hotels, restaurants, and much more.
Enter your name and e-mail address to receive FREE INFO about 'The Card':