Top 100 High-End Shoe Care Products & Accessories

SHOE POLISH (or boot polish), is a waxy paste, cream, or liquid used to polish, shine, and waterproof leather shoes or boots to extend the footwear's life, and restore, maintain and improve their appearance.

Various substances have been used as shoe polish for hundreds of years, starting with natural substances such as wax and tallow. Modern polish formulas were introduced early in the 20th century and many of those original formulations are still in use today. Today, shoe polish is usually made from a mix of natural and synthetic materials, including naphtha, turpentine, dyes, and gum arabic, using straightforward chemical engineering processes. Shoe polish is usually flammable, can be toxic, and, if misused, can stain skin. It should be used in a well-ventilated area with care taken to protect clothes, carpet and furniture.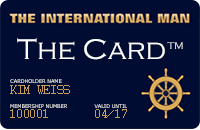 Upcoming VIP Privilege Membership Card
The International Man will in the near future be launching its own PRIVILEGE & BENEFIT VIP MEMBERSHIP CARD - named simply 'The Card'. Members will receive special privileges, benefits and preferential rates with selected partner hotels, restaurants, our LUXURY WEBSHOP, and more. Enter your name and e-mail address to receive FREE INFO about 'The Card' HERE.