Top 500 Best Universities, Colleges, Private Schools

"It seems to me that a great university ought to have room in it for men subscribing to every sort of idea that is currently prevalent." - H.L. Mencken.

A UNIVERSITY is an institution of higher education and research, which grants academic degrees in a variety of subjects. A university provides both undergraduate education and postgraduate education. The word university is derived from the Latin universitas magistrorum et scholarium, roughly meaning "community of teachers and scholars."

Although each institution is organized differently, nearly all Universities have a board of trustees; a president, chancellor, or rector; at least one vice president, vice-chancellor, or vice-rector; and deans of various divisions. Universities are generally divided into a number of academic departments, schools or faculties. Public university systems are ruled over by government-run higher education boards.

A COLLEGE is an educational institution or a constituent part of an educational institution. Usage varies in English-speaking nations. A college may be a degree-awarding tertiary educational institution, an institution within a federal university, an institution offering vocational education, or a secondary school.

In the United States, "college" and "university" are loosely interchangeable, whereas in the United Kingdom, Ireland, Australia and other Commonwealth countries, "college" may refer to a high school, a training institution that bestows trade qualifications, or a constituent school within a university.

PRIVATE SCHOOLS, also known as independent schools, are not administered by local, state or national governments; thus, they retain the right to select their students and are funded in whole or in part by charging their students tuition, rather than relying on public (state) funds. In the United Kingdom and several other Commonwealth countries, the use of the term is generally restricted to primary and secondary educational levels; it is almost never used of universities and other tertiary institutions. Private education in North America covers the whole gamut of educational activity, ranging from pre-school to tertiary level institutions.

A FINISHING SCHOOL (or charm school) is defined as "a private school for girls that emphasizes training in cultural and social activities." The name reflects that it follows an ordinary school and is intended to complete the educational experience. It may consist of an intensive course, or a one-year program.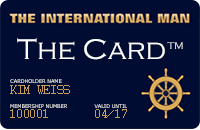 Upcoming VIP Privilege Membership Card
The International Man will in the near future be launching its own PRIVILEGE & BENEFIT VIP MEMBERSHIP CARD - named simply 'The Card'. Members will receive special privileges, benefits and preferential rates with selected partner hotels, restaurants, our WEBSHOP, and more.
Enter your name and e-mail address to receive FREE INFO about 'The Card' HERE.