1200 Watch Brands & Makers | Top Luxury Watches

"I'm very proud of my gold pocket watch. My grandfather, on his deathbed, sold me this watch." - Woody Allen.

"Like a genial hotelier, Rolex has introduced me to some of the nicest people. I ask about their Rolex and they ask about mine. It's as marvelous a conversation piece as it is a timepiece." - Maurice Chevalier.

A CLOCK is an instrument used to indicate, keep, and co-ordinate time. A silent instrument missing such a mechanism has traditionally been known as a TIMEPIECE. In general usage today a "clock" refers to any device for measuring and displaying the time. Watches and other timepieces that can be carried on one's person are often distinguished from clocks. The clock is one of the oldest human inventions, meeting the need to consistently measure intervals of time shorter than the natural units: the day; the lunar month; and the year. Devices operating on several different physical processes have been used over the millennia, culminating in the clocks of today.

A WATCH is a timepiece that is made to be worn on a person. It is usually a wristwatch, worn on the wrist with a strap or bracelet. In addition to the time, modern watches often display the day, date, month and year, and electronic watches may have many other functions.

Most inexpensive and medium-priced watches used mainly for timekeeping are electronic watches with quartz movements. Expensive, collectible watches valued more for their workmanship and aesthetic appeal than for simple timekeeping, often have purely mechanical movements and are powered by springs, even though mechanical movements are less accurate than more affordable quartz movements.

Before the inexpensive miniaturization that became possible in the 20th century, most watches were pocket watches, which often had covers and were carried in a pocket and attached to a watch chain or watch fob. Watches evolved in the 1600s from spring powered clocks, which appeared in the 1400s.

A CHRONOGRAPH is a specific type of watch that is used as a stopwatch combined with a display watch. A basic chronograph has an independent sweep second hand; it can be started, stopped, and returned to zero by successive pressure on the stem.

The modern day chronograph works by pushing a start button, normally located at the two o clock position, to begin recording time, and by pushing the same button to stop the recording. When the button is pushed to start the recording, a series of three (in more complicated and more precise chronographs there are more wheels) train wheels start turning. The smallest has a revolution time of one second, the next sixty seconds, and the final one has a revolution time of sixty minutes. The three train wheels interact with one another and record how long it has been since the start button has been activated.

In horology (study of clocks), COMPLICATION refers to any feature in a timepiece beyond the simple display of hours, minutes, and seconds. A timepiece indicating only hours, minutes, and seconds is otherwise known as a simple movement. Common additions such as day/date displays, chronographs, and automatic winding mechanisms are usually not sufficient to permit a movement to be called complicated. The more complications in a watch, the more difficult it is to design, create, assemble, and repair. A typical date-display chronograph may have up to 250 parts, while a particularly complex watch may have a thousand or more parts. Watches with several complications are referred to as grandes complications.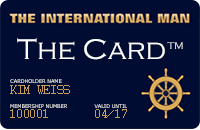 Upcoming VIP Privilege Membership Card
The International Man will in the near future be launching its own PRIVILEGE & BENEFIT VIP MEMBERSHIP CARD - named simply 'The Card'. Members will receive special privileges, benefits and preferential rates with selected partner hotels, restaurants, our WEBSHOP, and more.
Enter your name and e-mail address to receive FREE INFO about 'The Card' HERE.