350 Whisky / Whiskeys: Brands, Distilleries & Suppliers

"Whisky is liquid sunshine." - George Bernard Shaw.

"I like my whisky old and my women young." - Errol Flynn.

"I'm on a whiskey diet. I've lost three days already." - Author unknown.

"I should never have switched from Scotch to Martini's." - Humphrey Bogart's last words.

"Give me a whisky!" - Greta Garbo's first line in her first talking picture 'Anna Christie'.

"Too much of anything is bad, but too much of good whiskey is barely enough." - Mark Twain.

"The water was not fit to drink. To make it palatable, we had to add whisky. By diligent effort, I learnt to like it." - Sir Winston Churchill.

WHISKY or WHISKEY is a type of alcoholic beverage distilled from fermented grain mash. Different grains are used for different varieties, including barley, malted barley, rye, malted rye, wheat, and maize (corn). Most whiskies are aged in wooden casks (generally oak), the exception being some corn whiskeys.

Whisky is a strictly regulated spirit worldwide with many competing denominations of origin and many classes and types. The unifying characteristics of the different classes and types are the fermentation of grains, and the practice of distilling the spirit down to a maximum of 80% alcohol for corn and 90% alcohol for other grains, prior to adding water, so as to retain some of the flavor of the grain used to make the spirit and prevent it from being classified as grain neutral spirits or vodka. Whisky gains as much as 60% of its flavor from the type of cask used in its aging process and therefore further classification takes place based upon the type of wood used and the amount of charring or toasting done to the wood. Bourbon whiskey for example is legally required to be aged in charred new oak barrels, whereas quality Scotch whiskies often used the partially spent barrels from Bourbon production to induce a slower maturation time, adding additional subtle nuance.

With few exceptions, the spelling is Scottish, Canadian, and Japanese whisky (plural: whiskies), but Irish and American whiskey (whiskeys).

American Whiskey

Australian & Tasmanian Whisky

Scotch Whisky (Top 200+)

SCOTCH WHISKY (often referred to simply as "Scotch") is whisky made in Scotland. Scotch whisky is divided into five distinct categories: Single Malt Scotch Whisky, Single Grain Scotch Whisky, Blended Malt Scotch Whisky (formerly called "vatted malt" or "pure malt"), Blended Grain Scotch Whisky, and Blended Scotch Whisky. All Scotch whisky must be aged in oak barrels for at least three years. Any age statement written on a bottle of Scotch whisky, in the form of a number, must reflect the age of the youngest whisky used to produce that product. A whisky with an age statement is known as guaranteed age whisky.

SINGLE MALT SCOTCH is whisky made in Scotland using a pot still distillation process at a single distillery, with malted barley as the only grain ingredient. As with any Scotch whisky, a Single Malt Scotch must be distilled in Scotland and matured in oak casks in Scotland for at least three years (most single malts are matured longer).

"Malt" indicates that the whisky is distilled from a single "malted" grain. Several types of grains can be malted (for example, barley, rye and wheat are all grains which can be malted); however, in the case of single malt Scotch, barley is always the (only) grain used.

"Single" indicates that all the malts in the bottle come from a single distillery. Multi-distillery malts are usually called "blended malt", "vatted malt" or "pure malt".

50 Year Old Whisky - The Whisky Exchange.
CAMPBELTOWN SINGLE MALTS - Wikipedia.
Exploring Scotch whisky regions - The Telegraph.
ISLAY MALTS - Wikipedia.
List of Scotch whisky brands - Wikipedia.
LOWLAND SINGLE MALTS - Wikipedia.
PPM | Phenol Parts per Million - PPM values.
Saladin box - instrument used for malting barley.
SCOTCH WHISKY - Wikipedia.
SCOTCH WHISKY ASSOCIATION | SWA - founded 1942. Trade organisation that represents the Scotch whisky industry. Its stated purpose is to promote, protect and represent the interests of the whisky industry in Scotland and around the world. There are over 2,500 brands of Scotch whisky around the world. The SWA's members represent over 95% of Scotch whisky production.
SCOTLAND: WHISKY AND DISTILLERIES - history, making and tasting.
SPEYSIDE SINGLE MALTS - Wikipedia.
The Scotch Whisky Experience - "Scotland's 5 star premier whisky visitor attraction."

Online Suppliers

BERRY BROS. & RUDD - Britain's oldest wine and spirit merchant, having traded from the same shop since 1698. A supplier to the royal family since the reign of King George III, historic customers have included Lord Byron, William Pitt the Younger and the Aga Khan.
Best of Whisky - since 1926. "Buy your special whisky online."
Gordon & MacPhail - since 1895. "We are a bottler of whiskies from throughout Scotland, an exporter, a distiller (owning Benromach Distillery) and one of the UK's top independent whisky, premium spirits and wine wholesale specialists. With this in mind we have taken the decision not to sell our extensive portfolio of products online as we have many trade customers throughout the UK and overseas who sell our products on our behalf."
LOVESCOTCH.COM - "The Scotch and Spirits Online Superstore!"
Master of Malt - "Want to buy whisky online? Well Master of Malt's whisky shop is the place for you! We've got a huge selection of Scotch malt whisky, bourbon, Irish whiskey, Japanese whisky and whiskies from around the world."
ROYAL MILE WHISKIES - whiskies and spirits.
SCHNEIDER'S OF CAPITOL HILL - "Fine Wines & Spirits."
SINGLE MALT WHISKY SHOP - "Buy Whisky Online."
SPECIALTY DRINKS - "The World's Greatest Spirits & Liqueurs."
THE DISTINCT WHISKEY COMPANY - "Iconic Spirits for the Few." The Distinct Whiskey Company specialises in a very niche market of extreme high quality white and brown spirits and luxury accompaniments. We are the world's finest spirits luxury club concept. You will find a unique blend of the world's best product from all parts of the globe."
The Scotch Whisky Experience Online Shop - 354 Castlehill, Edinburgh EH1 2NE, Scotland, U.K. "Visit the new Scotch Whisky Experience for a sensational journey! Take a swirling, bubbling barrel ride through a replica distillery as you become part of the whisky making process."
THE WHISKY EXCHANGE - "Buy Whisky and Fine Spirits Online." Around 1500+ whiskies, with hundreds of cognacs, rums and other spirits also available.
The Whisky Shop - founded in 1992. The largest whisky only specialist in the UK with 21 shops nationwide. This is our online shop - the clearest and simplest online Whisky Shop!
UISUKI - since 1924. "The largest selection of Japanese Whisky." The first online shop dedicated exclusively to Japanese whisky and alcohols from Japan.
WALLY'S WINE AND SPIRITS - "Quality and Service Since 1968."
WHISKYFINDER - "66,338 products from 36 online stores." Price search engine and an information database on all things whisky. Find vodka, cognac, beer, wine or champagne, as well as any other type of alcohol. "We try to crawl as many online stores as we can find to get you the best prices on drink, and the list is growing ever larger."
whisky-online.com - "Not Just Another Whisky Shop." A collectors and drinkers paradise.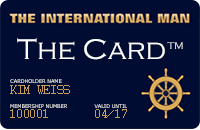 Upcoming VIP Privilege Membership Card
The International Man will in the near future be launching its own PRIVILEGE & BENEFIT VIP MEMBERSHIP CARD - named simply 'The Card'. Members will receive special privileges, benefits and preferential rates with selected partner hotels, restaurants, our LUXURY WEBSHOP, and more. Enter your name and e-mail address to receive FREE INFO about 'The Card' HERE.