350 Whisky / Whiskeys: Brands, Distilleries & Suppliers

"Whisky is liquid sunshine." - George Bernard Shaw.

"I like my whisky old and my women young." - Errol Flynn.

"I'm on a whiskey diet. I've lost three days already." - Author unknown.

"I should never have switched from Scotch to Martini's." - Humphrey Bogart's last words.

"Give me a whisky!" - Greta Garbo's first line in her first talking picture 'Anna Christie'.

"Too much of anything is bad, but too much of good whiskey is barely enough." - Mark Twain.

"The water was not fit to drink. To make it palatable, we had to add whisky. By diligent effort, I learnt to like it." - Sir Winston Churchill.

WHISKY or WHISKEY is a type of alcoholic beverage distilled from fermented grain mash. Different grains are used for different varieties, including barley, malted barley, rye, malted rye, wheat, and maize (corn). Most whiskies are aged in wooden casks (generally oak), the exception being some corn whiskeys.

Whisky is a strictly regulated spirit worldwide with many competing denominations of origin and many classes and types. The unifying characteristics of the different classes and types are the fermentation of grains, and the practice of distilling the spirit down to a maximum of 80% alcohol for corn and 90% alcohol for other grains, prior to adding water, so as to retain some of the flavor of the grain used to make the spirit and prevent it from being classified as grain neutral spirits or vodka. Whisky gains as much as 60% of its flavor from the type of cask used in its aging process and therefore further classification takes place based upon the type of wood used and the amount of charring or toasting done to the wood. Bourbon whiskey for example is legally required to be aged in charred new oak barrels, whereas quality Scotch whiskies often used the partially spent barrels from Bourbon production to induce a slower maturation time, adding additional subtle nuance.

With few exceptions, the spelling is Scottish, Canadian, and Japanese whisky (plural: whiskies), but Irish and American whiskey (whiskeys).

1001 Whiskies You Must Taste Before You Die - the connoisseurs' scoop on the finest spirits from the Scottish highlands to the exotic new whiskies emanating from Japan and the evolving world of American micro-distilleries. The book also covers bourbons and ryes, making this the go-to volume for the serious whisky connoisseur as well as the passionate beginner. This essential guide represents the collective, subjective wisdom of an international team of critics who winnow the world of spirits down to the "must-try" whiskies—from high-quality, mass-produced brands to small-batch specialty bourbons from micro-distilleries. Each entry includes critical tasting notes, a history of the distillery, and temperature recommendations.
A Glass for Enjoying a Sip of Whisky While Floating in Space - The New York Times.
Agresti - armoire with two doors and lid in polished Ebony, leather handles. Ruthenium brass parts. Contents: electronic Liebherr humidor for 500 cigars, 4 Cognac and 4 whisky 24% lead hand cut crystal glasses, poker chips, cards, dice and leather cups.
Billy Reid - Leather Coasters.
FOR PEAT SAKE! - whisky ratings & reviews.
Glencairn Whisky Glass - considered the most innovative whisky glass on the market, the crystal Glencairn glass is an official product specifically designed for Scotch whisky.
Gordon & MacPhail - "When James Gordon and John Alexander MacPhail announced the opening of their 'centrical and commodious premises' on South Street, Elgin, on 24th May 1895 they would be proud to see it still trading today. No visit to the Gordon & MacPhail store would be complete without a visit to the Whisky Room. Stocking around 1000 different single malt whiskies, the Whisky Room attracts customers from throughout the world to its crowded shelves. Browsing through the wide selection of whiskies, many of which are very old and extremely rare, you have entered the Aladdin's Cave of whisky." The shop is split into four sections: The Deli, The Wines and Spirits Department, The Grocery Department, and The Whisky Room, which has one of the largest collections of whisky in the world.
How alcohol can improve your memory - The Guardian.
International Wine & Spirit Competition | IWSC - since 1969. "The premier competition of its kind in the world. It aims to promote the quality and excellence of the world's best wines, spirits and liqueurs. The IWSC receives entries from nearly 90 countries worldwide. The Competition has the support of many of the world's top wine and spirit producers, setting the international benchmark for quality. The unique combination of detailed technical analysis and specialist judging panels means that gaining an IWSC 'Competition Award' is an exceptional achievement."
Jim Murray's Whisky Bible 2014 - the most comprehensive and thoroughly researched guide to whisky ever produced. Honest, forthright, and proudly independent, Jim Murray has tasted and rated over 5,000 world whiskies.
Jim Murray's Whisky Bible Liquid Gold Awards - since 2003.
LINLEY VICE BOX - "Drinking, Smoking and Gambling - Specially designed for the individual who enjoys combining a casual drink with a game of poker whilst indulging in a fine cigar."
List of whisky brands - Wikipedia.
PPM | Phenol Parts per Million - PPM values.
PURDEY - hand made oak framed, leather covered portable drinks cabinet.
Rolls-Royce Cocktail Hamper - "One of Fifteen. Our most sociable accessory to date." Expertly handcrafted from aluminium, carbon fibre, walnut and leather, the hamper contains everything needed to create and enjoy your favourite cocktails with friends. You'll find a selection of the finest cocktail recipes in the Rolls-Royce Cocktail Collection. The collection is made in partnership with two experts from the Dorchester Collection's London hotels, The Dorchester and 45 Park Lane. Price: £26,000.
Scotch Pronunciation Guide - Esquire.
Scotch Whisky 101 - A Beginners Guide - Gentleman's Gazette.
SMATHERS & BRANSON - needlepoint coster sets.
Stefano Ricci - Big Five Sterling Silver Glasses
Sullivans Cove Tasmanian Single Cask Malt Whisky - since 1994. Named the world's best single malt whisky at the World Whiskies Awards in London on March 20, 2014.
The Scotch Whisky Experience - 354 Castlehill, Edinburgh EH1 2NE, Scotland, U.K. "Visit the new Scotch Whisky Experience for a sensational journey! Take a swirling, bubbling barrel ride through a replica distillery as you become part of the whisky making process."
The Scotch Whisky Guide - Gentleman's Gazette.
The Scotch Whisky Heritage Centre - 354 Castlehill, Edinburgh EH1 2NE, Scotland, U.K. Large tourist attraction in Edinburgh. It is located on Castlehill in the Old Town of Edinburgh, immediately adjacent to the esplanade of Edinburgh Castle.
The W Club - "The W Club is the leading whisky consumer club, taking members on a journey of discovery. Join now for news, exclusive competitions, features and money-can't-buy Whisky experiences."
The Whisky Tasting Club - "We will send you tastings as and when you want them. We will offer a range of tastings which will grow as our club grows. If you have any suggestions for tasting themes let us know. We have blogs where you can hear the latest whisky news and forums where our members can talk about whisky, interact and give opinions about the tastings we have sent. We want to build a strong whisky based community with something for everyone."
Thrillist - "Digital Lifestyle for men - Everything worth caring about in drink, food, and travel."
Whiskeria magazine - The Whisky Shop.
Whisky - Wikipedia.
Whisky for Everyone - "Guide to the world of whisky and whiskey."
WHISKY MAGAZINE - "Celebrating the whiskies of the world."
WHISKY PARTY - "Whisky Party is Mike, Mike, and Dan exploring the world of Scotch whisky one dram at a time. We are all under 35 and we want to demystify the world of Scotch and whiskey drinking and help folks find good whiskies at good prices."
WHISKYFINDER - price search engine and an information database on all things whisky. "Find vodka, cognac, beer, wine or champagne, as well as any other type of alcohol. We try to crawl as many online stores as we can find to get you the best prices on drink, and the list is growing ever larger."
Wizards of Whisky - since 2012.
world is running low on old single malt Scotch - CNN Money.
WORLD OF WHISKIES - offer a commendable collection of fine whiskies from around the world. Our expert buyers have carefully selected over 350 whiskies from across the globe. Located at Edinburgh, Gatwick North + South, Heathrow Terminal 1 + 5, Glasgow & Stansted.
World Whiskies Awards - since 2007.
WORLD WHISKY MAP - discover the very best single malts, grains, pure malts, blends and bourbons from as far apart as the the Orkney Islands and Japan.
World Whisky Masters - awarded by Spirits Business magazine.
world's most expensive whisky - the Macallan 6-litre "M" Decanter by Lalique sold for HK$4.9 million / £393,109 / US$628,205 at a Sotheby's auction in Hong Kong, January 18, 2014.

American Whiskey

American Whiskey Trail - promotional program of the Distilled Spirits Council of the United States that promotes the distilled beverage industry of the United States.
AMERICAN WHISKEYS - Wikipedia.
Blended whiskey - the product of blending different types of whiskeys and sometimes also neutral grain spirits, coloring, and flavorings. It is generally the product of mixing one or more higher-quality straight or single malt whiskies with lighter spirits and water.
List of American whiskey brands - Wikipedia.
Straight whiskey - as defined in U.S. law, is whiskey created by distilling a fermented (malted or unmalted) cereal grain mash to create a spirit not exceeding 80% alcohol content by volume (abv) and then aging the spirit for at least two years at an abv concentration not exceeding 62.5% at the start of the aging process.

Australian & Tasmanian Whisky

Scotch Whisky (Top 200+)

SCOTCH WHISKY (often referred to simply as "Scotch") is whisky made in Scotland. Scotch whisky is divided into five distinct categories: Single Malt Scotch Whisky, Single Grain Scotch Whisky, Blended Malt Scotch Whisky (formerly called "vatted malt" or "pure malt"), Blended Grain Scotch Whisky, and Blended Scotch Whisky. All Scotch whisky must be aged in oak barrels for at least three years. Any age statement written on a bottle of Scotch whisky, in the form of a number, must reflect the age of the youngest whisky used to produce that product. A whisky with an age statement is known as guaranteed age whisky.

SINGLE MALT SCOTCH is whisky made in Scotland using a pot still distillation process at a single distillery, with malted barley as the only grain ingredient. As with any Scotch whisky, a Single Malt Scotch must be distilled in Scotland and matured in oak casks in Scotland for at least three years (most single malts are matured longer).

"Malt" indicates that the whisky is distilled from a single "malted" grain. Several types of grains can be malted (for example, barley, rye and wheat are all grains which can be malted); however, in the case of single malt Scotch, barley is always the (only) grain used.

"Single" indicates that all the malts in the bottle come from a single distillery. Multi-distillery malts are usually called "blended malt", "vatted malt" or "pure malt".

50 Year Old Whisky - The Whisky Exchange.
CAMPBELTOWN SINGLE MALTS - Wikipedia.
ISLAY MALTS - Wikipedia.
List of Scotch whisky brands - Wikipedia.
LOWLAND SINGLE MALTS - Wikipedia.
PPM | Phenol Parts per Million - PPM values.
Saladin box - instrument used for malting barley.
SCOTCH WHISKY - Wikipedia.
SCOTCH WHISKY ASSOCIATION | SWA - founded 1942. Trade organisation that represents the Scotch whisky industry. Its stated purpose is to promote, protect and represent the interests of the whisky industry in Scotland and around the world. There are over 2,500 brands of Scotch whisky around the world. The SWA's members represent over 95% of Scotch whisky production.
SCOTLAND: WHISKY AND DISTILLERIES - history, making and tasting.
SPEYSIDE SINGLE MALTS - Wikipedia.
The Scotch Whisky Experience - "Scotland's 5 star premier whisky visitor attraction."

Online Suppliers

BERRY BROS. & RUDD - Britain's oldest wine and spirit merchant, having traded from the same shop since 1698. A supplier to the royal family since the reign of King George III, historic customers have included Lord Byron, William Pitt the Younger and the Aga Khan.
Best of Whisky - since 1926. "Buy your special whisky online."
Gordon & MacPhail - since 1895. "We are a bottler of whiskies from throughout Scotland, an exporter, a distiller (owning Benromach Distillery) and one of the UK's top independent whisky, premium spirits and wine wholesale specialists. With this in mind we have taken the decision not to sell our extensive portfolio of products online as we have many trade customers throughout the UK and overseas who sell our products on our behalf."
LOVESCOTCH.COM - "The Scotch and Spirits Online Superstore!"
Master of Malt - "Want to buy whisky online? Well Master of Malt's whisky shop is the place for you! We've got a huge selection of Scotch malt whisky, bourbon, Irish whiskey, Japanese whisky and whiskies from around the world."
ROYAL MILE WHISKIES - whiskies and spirits.
SCHNEIDER'S OF CAPITOL HILL - "Fine Wines & Spirits."
SINGLE MALT WHISKY SHOP - "Buy Whisky Online."
SPECIALTY DRINKS - "The World's Greatest Spirits & Liqueurs."
THE DISTINCT WHISKEY COMPANY - "Iconic Spirits for the Few." The Distinct Whiskey Company specialises in a very niche market of extreme high quality white and brown spirits and luxury accompaniments. We are the world's finest spirits luxury club concept. You will find a unique blend of the world's best product from all parts of the globe."
The Scotch Whisky Experience Online Shop - 354 Castlehill, Edinburgh EH1 2NE, Scotland, U.K. "Visit the new Scotch Whisky Experience for a sensational journey! Take a swirling, bubbling barrel ride through a replica distillery as you become part of the whisky making process."
THE WHISKY EXCHANGE - "Buy Whisky and Fine Spirits Online." Around 1500+ whiskies, with hundreds of cognacs, rums and other spirits also available.
The Whisky Shop - founded in 1992. The largest whisky only specialist in the UK with 21 shops nationwide. This is our online shop - the clearest and simplest online Whisky Shop!
UISUKI - since 1924. "The largest selection of Japanese Whisky." The first online shop dedicated exclusively to Japanese whisky and alcohols from Japan.
WALLY'S WINE AND SPIRITS - "Quality and Service Since 1968."
WHISKYFINDER - "66,338 products from 36 online stores." Price search engine and an information database on all things whisky. Find vodka, cognac, beer, wine or champagne, as well as any other type of alcohol. "We try to crawl as many online stores as we can find to get you the best prices on drink, and the list is growing ever larger."
whisky-online.com - "Not Just Another Whisky Shop." A collectors and drinkers paradise.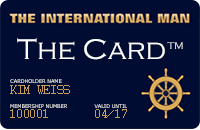 Upcoming VIP Privilege Membership Card
The International Man will in the near future be launching its own PRIVILEGE & BENEFIT VIP MEMBERSHIP CARD - named simply 'The Card'. Members will receive special privileges, benefits and preferential rates with selected partner hotels, restaurants, our WEBSHOP, and more.
Enter your name and e-mail address to receive FREE INFO about 'The Card' HERE.