Denmark's Top 150 Best Gourmet Restaurants 2021

"He who does not mind his belly will hardly mind anything else." - Dr. Johnson.

ALL 27 THREE (2), TWO (7), ONE (18) MICHELIN STARRED, 12 BIB GOURMAND & 6 SUSTAINABILITY EMBLEM AWARDED RESTAURANTS GOURMET RESTAURANTS BY REGION (105 countries):

THE MICHELIN GUIDE STAR & RATING SYSTEM - three stars (***) mean: "Exceptional cuisine and worth the journey"; two stars (**): "Excellent cooking and worth a detour"; one star (*): "A very good restaurant in its category"; the Bib label: "A Bib Gourmand rating means the restaurant is an inspector's favorite for good value. For $40 or less, you can enjoy two courses and a glass of wine or dessert (not including tax and gratuity)." The New SUSTAINABILITY EMBLEM (*): "Those at the forefront with their sustainable gastronomy practices are highlighted by a new symbol, with the restaurant's vision also outlined via a quote from the chef. For other restaurants taking smaller steps to work in a greener way, there are short descriptions on their initiatives." Restaurants awarded the Rising Star (RS) means that they may be in line for a MICHELIN star, or an upgrade from one to two, or from two to three stars.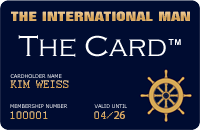 Upcoming VIP Privilege Membership Card
The International Man will in the near future be launching its own PRIVILEGE & BENEFIT VIP MEMBERSHIP CARD - named simply 'The Card'. Members will receive special privileges, benefits and preferential rates with selected partner hotels, restaurants, our LUXURY WEBSHOP, and more. Enter your name and e-mail address to receive FREE INFO about 'The Card' HERE.
RETURN TO TOP OF PAGE