France's Top 400 High-End Hotels, Inns, Resorts, Spas

HOTELS, RESORTS & SPAS BY REGION (146 countries) :

16 exceptional hotels have been awarded the prestigious "Palace" status in France - Official website for tourism in France.

Hotels included on Condé Nast Traveller's Gold List of the world's best hotels have been marked with CNT.

Historic Hotels of Europe (HHE) is the European-level umbrella organisation of 21 national promoters of finer hotels that have maintained their historic character. Consequently, more than 600 châteaux, manors, convents, palaces, monasteries, farms, townhouses, villas, post-houses and family-owned residences are part of the HHE. Co-operating on marketing strategy, the member hotels display the emblem of Historic Hotels of Europe on their buildings.

5-star International Star Diamond Award Recipients selected by The American Academy of Hospitality Sciences have been marked with SDA.

Palace Distinction – one step higher than five stars – by Atout France, the French Agency for Tourism Development.

Established in France in 1954, Relais & Châteaux's mission is "to spread its unique art de vivre across the globe by selecting outstanding properties with a truly unique character." Prospective and current members are evaluated by the group's traditional "five C" motto: Character, Courtesy, Calm, Charm and Cuisine. The members of Relais & Châteaux exclusive collection of 500 of the finest hotels and gourmet restaurants in 60 countries on 5 continents have been marked with R&C.

The members the Small Luxury Hotels of the World organization (a collection of over 500 luxury boutique hotels and resorts in more than 70 countries) have been marked with SLH.

Comprised of more than 375 hotels in 75 countries, The Leading Hotels of the World is one of the largest luxury hotel collections in the world. The members have been indicated with LHW.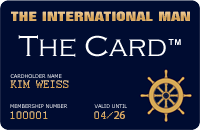 Upcoming VIP Privilege Membership Card
The International Man will in the near future be launching its own PRIVILEGE & BENEFIT VIP MEMBERSHIP CARD - named simply 'The Card'. Members will receive special privileges, benefits and preferential rates with selected partner hotels, restaurants, our LUXURY WEBSHOP, and more. Enter your name and e-mail address to receive FREE INFO about 'The Card' HERE.
RETURN TO TOP OF PAGE