Germany's Top Gourmet Michelin Starred Restaurants

Michelin Guide starred restaurants have been marked with *** ** * RS Bib according to their rating.

THE MICHELIN GUIDE STAR & RATING SYSTEM - three stars (***) mean: "Exceptional cuisine and worth the journey"; two stars (**): "Excellent cooking and worth a detour"; one star (*): "A very good restaurant in its category"; the Bib label: "A Bib Gourmand rating means the restaurant is an inspector's favorite for good value. For $40 or less, you can enjoy two courses and a glass of wine or dessert (not including tax and gratuity)." Restaurants awarded the Rising Star (RS) means that they may be in line for a MICHELIN star, or an upgrade from one to two, or from two to three stars.

The World's 50 Best Restaurants sponsored by S.Pellegrino & Acqua Panna and produced annually by Restaurant magazine have been marked with SP; the restaurants marked with sp have been voted as the world's 51-100 best restaurants based on the votes of the 837 "chefs, restaurateurs, critics and fun-loving gourmands" selected by Restaurant magazine.

The restaurants marked with NW have been chosen by 53 top chefs for Newsweek magazine's August 13, 2012 issue 101 Best Places to Eat in the World.

The 75 restaurants representing 13 countries worldwide and 16 U.S. states awarded Wine Spectator magazine's Grand Award 2012 honoring outstanding restaurants with extraordinary wine programs have been marked WS.

5-star International Star Diamond Award Recipients selected by The American Academy of Hospitality Sciences have been marked with SDA.

The members of Les Grandes Tables du Monde association's 149 members in 22 countries on 4 continents representing the last word in gastronomy worldwide have been marked with GTM.

Established in France in 1954, Relais & Châteaux's mission is "to spread its unique art de vivre across the globe by selecting outstanding properties with a truly unique character." Prospective and current members are evaluated by the group's traditional "five C" motto: Character, Courtesy, Calm, Charm and Cuisine. The members of Relais & Châteaux exclusive collection of 500 of the finest hotels and gourmet restaurants in 60 countries on 5 continents have been marked with R&C.

GOURMET RESTAURANTS BY REGION (105 countries):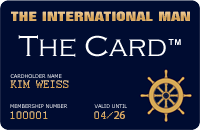 Upcoming VIP Privilege Membership Card
The International Man will in the near future be launching its own PRIVILEGE & BENEFIT VIP MEMBERSHIP CARD - named simply 'The Card'. Members will receive special privileges, benefits and preferential rates with selected partner hotels, restaurants, our LUXURY WEBSHOP, and more. Enter your name and e-mail address to receive FREE INFO about 'The Card' HERE.
RETURN TO TOP OF PAGE