World's Top 500 Best Art Museums and Art Galleries

"I never can pass by the Metropolitan Museum of Art in New York without thinking of it not as a gallery of living portraits but as a cemetery of tax-deductible wealth." - Lewis H. Lapham.

A comtemporary ART GALLERY is a place where contemporary art is shown for exhibition and/or for sale. The term "art gallery" is commonly used to mean art museum (especially in British English), the rooms displaying art in any museum, or in the original sense, of any large or long room.

An art gallery or ART MUSEUM is a space for the exhibition of art, usually visual art. Museum can be public or private but what distinguishes a Museum is the ownership of a collection. Paintings are the most commonly displayed art objects; however, sculpture, photographs, illustrations, installation art and objects from the applied arts may also be shown.

Although primarily concerned with providing a space to show works of visual art, art galleries are sometimes used to host other artistic activities, such as music concerts or poetry readings.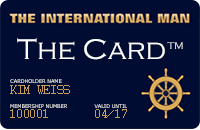 Upcoming VIP Privilege Membership Card
The International Man will in the near future be launching its own PRIVILEGE & BENEFIT VIP MEMBERSHIP CARD - named simply 'The Card'. Members will receive special privileges, benefits and preferential rates with selected partner hotels, restaurants, our LUXURY WEBSHOP, and more. Enter your name and e-mail address to receive FREE INFO about 'The Card' HERE.