Top 50 Best High-End Luxury Flatware/Cutlery Brands

CUTLERY refers to any hand implement used in preparing, serving, and especially eating food in the Western world. It is more usually known as silverware or FLATWARE in the United States, where cutlery usually means knives and related cutting instruments. This is probably the original meaning of the word. Although the term silverware is used irrespective of the material composition of the utensils, the term tableware has come into use to avoid the implication that they are made of silver. The major items of cutlery in the Western world are the knife, fork and spoon. In recent times, hybrid versions of cutlery have been made combining the functionality of different eating implements, including the spork (spoon / fork), spife (spoon / knife), and knork (knife / fork) or the sporf which is all three.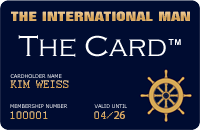 Upcoming VIP Privilege Membership Card
The International Man will in the near future be launching its own PRIVILEGE & BENEFIT VIP MEMBERSHIP CARD - named simply 'The Card'. Members will receive special privileges, benefits and preferential rates with selected partner hotels, restaurants, our LUXURY WEBSHOP, and more. Enter your name and e-mail address to receive FREE INFO about 'The Card' HERE.
RETURN TO TOP OF PAGE