Best Cricket Clubs, Equipment, Events and Resources

Cricket is a bat-and-ball game played between two teams of eleven players each on a cricket field, at the centre of which is a rectangular 20-metre (22-yard) pitch with a target at each end called the wicket (a set of three wooden stumps upon which two bails sit). Each phase of play is called an innings, during which one team bats, attempting to score as many runs as possible, whilst their opponents bowl and field, attempting to minimise the number of runs scored. When each innings ends, the teams usually swap roles for the next innings (i.e. the team that previously batted will bowl/field, and vice versa). The teams each bat for one or two innings, depending on the type of match. The winning team is the one that scores the most runs, including any extras gained (except when the result is not a win/loss result).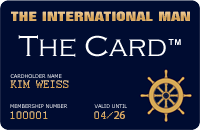 Upcoming VIP Privilege Membership Card
The International Man will in the near future be launching its own PRIVILEGE & BENEFIT VIP MEMBERSHIP CARD - named simply 'The Card'. Members will receive special privileges, benefits and preferential rates with selected partner hotels, restaurants, our LUXURY WEBSHOP, and more. Enter your name and e-mail address to receive FREE INFO about 'The Card' HERE.
RETURN TO TOP OF PAGE