Top 300 Best High-End Men's & Women's Belt Brands

A BELT is a flexible band or strap, typically made of leather or heavy cloth, and worn around the waist. A belt supports trousers or other articles of clothing, and it serves for style and decoration.

Belts have been documented for male clothing since the Bronze Age. Both sexes used them off and on, depending on the current fashion. In the western world, belts were more common for men, with the exception of the early Middle Ages, late 17th century Mantua, and skirt/blouse combinations between 1900 and 1910.

In modern times, men started wearing belts in the 1920s, as trouser waists fell to a lower line. Before the 1920s, belts served mostly a decorative purpose, and were associated with the military. Today it is common for men to wear a belt with their trousers.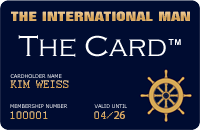 Upcoming VIP Privilege Membership Card
The International Man will in the near future be launching its own PRIVILEGE & BENEFIT VIP MEMBERSHIP CARD - named simply 'The Card'. Members will receive special privileges, benefits and preferential rates with selected partner hotels, restaurants, our LUXURY WEBSHOP, and more. Enter your name and e-mail address to receive FREE INFO about 'The Card' HERE.
RETURN TO TOP OF PAGE