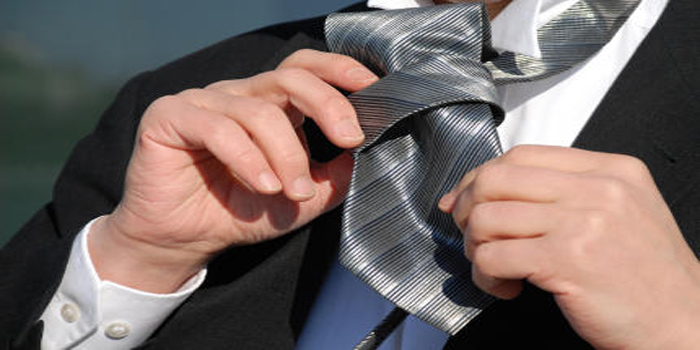 Top 350 Neckties | Ascot & Bow Ties | Studs | Tie Bars

"A well-tied tie is the first serious step in life." - Oscar Wilde.

"What does ties matter, Jeeves, at a time like this? There is no time, sir, at which ties do not matter." - P.G. Woodhouse.

The NECKTIE (or tie) is a long piece of cloth worn for decorative purposes around the neck or shoulders, resting under the shirt collar and knotted at the throat. Variants include the bow tie, ascot tie, bolo tie, and the clip-on tie. The modern necktie, ascot, and bow tie are descended from the cravat. Neck ties are generally unsized, but may be available in a longer size. Men and boys wear neckties as part of regular office attire or formal wear. Neckties can also be worn as part of a uniform (e.g. military, school and waitstaff).

The necktie traces back to the time of Thirty Years' War (1618–1648) when Croatian mercenaries from the Military Frontier in French service, wearing their traditional small, knotted neckerchiefs, aroused the interest of the Parisians. Due to the slight difference between the Croatian word for Croats, Hrvati, and the French word, Croates, the garment gained the name "Cravat". The new article of clothing started a fashion craze in Europe where both men and women wore pieces of fabric around their necks. In the late 17th century, the men wore lace cravats that took a large amount of time and effort to arrange. These cravats were often tied in place by cravat strings, arranged neatly and tied in a bow.

TYPES OF KNOTS: There are four main knots used to knot neckties. The simplest, the four-in-hand knot, may be the most common. The others (in order of difficulty) are: the Pratt knot (the Shelby knot), the half-Windsor knot, and the Windsor knot (also erroneously called the "double-Windsor"). The Windsor knot is the thickest knot of the four, since its tying has the most steps. (The Windsor knot is named after the Duke of Windsor, although he did not invent it. The Duke did favour a voluminous knot; however, he achieved this by having neckties specially made of thicker cloths.)

The BOW TIE is a type of men's necktie. It consists of a ribbon of fabric tied around the collar in a symmetrical manner such that the two opposite ends form loops. Ready-tied bow ties are available, in which the distinctive bow is sewn into shape and the band around the neck incorporates a clip. Some "clip-ons" dispense with the band altogether, instead clipping to the collar. The traditional bow tie, consisting of a strip of cloth which the wearer has to tie by hand, may be known as a "self-tie," "tie-to-tie," or "freestyle" bow tie to distinguish it from these.

An ASCOT TIE, or ascot, is a narrow neckband with wide pointed wings, traditionally made of pale grey patterned silk. This wide, formal tie is usually patterned, folded over, and fastened with a stickpin or tie tack. It is usually reserved for wear with morning dress for formal daytime weddings and worn with a cutaway morning coat and striped grey trousers.

A CUMMERBUND (sometimes spelled cumberbund) is a broad waist sash, usually pleated, which is often worn with single-breasted dinner jackets (or tuxedos). The cummerbund was first adopted by British military officers in colonial India as an alternative to a waistcoat, and later spread to civilian use. The modern use of the cummerbund is as a component of black tie.

A SHIRT STUD is a decorative fastener that fits onto a buttonhole on the front of a pleated shirt, or onto the starched bib of a stiff-front shirt. Such shirts have special buttonholes solely for shirt studs. A shirt stud may be fashioned from alloys, precious metals, and gemstones—materials uncommon to buttons sewn on shirts. The stud may have an inlay, such as of pearl or onyx. Dress code of the modern western world reserves shirt studs for men's formal wear and some semi-formal occasions. In the western world, shirt studs were first used in the mid-19th century, when some shirt fronts were too stiff to close with buttons. So remains the case for the heavily starched, modern full dress shirts worn with white tie.

A TIE CLIP (also tie slide, TIE BAR, or tie clasp) is a clothing accessory that is used to clip a tie to the underlying shirt front, preventing it from swinging and ensuring that the tie hangs straightly, resulting in a neat, uniform appearance. Tie clips are commonly made of metal and often have decorative patterns or embellishments. Some clips have a small badge indicating membership to a club or some other affiliation, or some other commemorative token, in a similar manner to the way in which ties themselves may be used as signs of membership. The use of tie clips gained prominence during the 1920s, during which period the use of straight ties made of delicate materials such as silk became more fashionable, and they largely came to replace the more traditional tie pin. In the United States, a tie clip is one of the few items of jewelry allowed to be worn by servicemen and women.

A TIE PIN (or tiepin, also known as a stick pin/stickpin) is a neckwear-controlling device, originally worn by wealthy English gentlemen to secure the folds of their cravats. Gold or silver safety pins were commonly used as tie and collar pins from the beginning of the 20th century (Woolworths used to stock cheaper bar type pins). A tie pin was used to fasten the tie to the shirt and was an integral part of a man / boy's uniform or clothing. In the 21st Century, other devices are now available to secure an unruly tie though a safety pin may be used as an unobtrusive 'underpin' to achieve the same degree of neatness.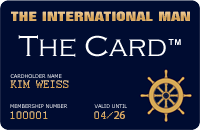 Upcoming VIP Privilege Membership Card
The International Man will in the near future be launching its own PRIVILEGE & BENEFIT VIP MEMBERSHIP CARD - named simply 'The Card'. Members will receive special privileges, benefits and preferential rates with selected partner hotels, restaurants, our LUXURY WEBSHOP, and more. Enter your name and e-mail address to receive FREE INFO about 'The Card' HERE.
RETURN TO TOP OF PAGE