Top 7 High-End Sea Scooter Brands & Manufacturers

A diver propulsion vehicle (DPV, also known as an underwater propulsion vehicle or UNDERWATER SCOOTER) is an item of diving equipment used by scuba and rebreather divers to increase range underwater. Range is restricted by the amount of breathing gas that can be carried, the rate at which that breathing gas is consumed under exertion, and the time limits imposed by the dive tables to avoid decompression sickness. DPVs can have military application.

A personal water craft (PWC), also called SEA SCOOTER, is a recreational watercraft that the rider sits or stands on, rather than inside of, as in a boat. They have an inboard engine driving a pump jet that has a screw-shaped impeller to create thrust for propulsion and steering.

Top 7 High-End Sea Scooter Brands

SEABOB F5S - "Irrepressible and intense." The ultimate high-performance craft. Weighing just 34 kg, the vehicle possesses extremely good handling properties out of the water. Its driving performance is second to none.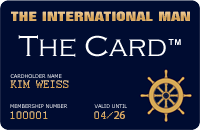 Upcoming VIP Privilege Membership Card
The International Man will in the near future be launching its own PRIVILEGE & BENEFIT VIP MEMBERSHIP CARD - named simply 'The Card'. Members will receive special privileges, benefits and preferential rates with selected partner hotels, restaurants, our LUXURY WEBSHOP, and more. Enter your name and e-mail address to receive FREE INFO about 'The Card' HERE.
RETURN TO TOP OF PAGE