Top 90 High-End Genealogy & Family Tree Resources

"You live as long as you are remembered." - Russian proverb.

"Your ancestors count on you to remember them." - Anonymous.

"It is a desirable thing to be well-descended, but the glory belongs to our ancestors." - Plutarch.

"If you cannot get rid of the family skeleton, you may as well make it dance." - George Bernard Shaw.

"Why waste your money looking up your family tree? Just go into politics and your opponents will do it for you." - Mark Twain.

"There is no king who has not had a slave among his ancestors, and no slave who has not had a king among his." - Helen Keller.

GENEALOGY, also known as family history, is the study of families and the tracing of their lineages and history. Genealogists use oral interviews, historical records, genetic analysis, and other records to obtain information about a family and to demonstrate kinship and pedigrees of its members. The results are often displayed in charts or written as narratives.

The pursuit of family history and origins tends to be shaped by several motivations, including the desire to carve out a place for one's family in the larger historical picture, a sense of responsibility to preserve the past for future generations, and a sense of self-satisfaction in accurate storytelling.

A FAMILY TREE, or pedigree chart, is a chart representing family relationships in a conventional tree structure. The more detailed family trees used in medicine and social work are known as genograms.

GENETIC GENEALOGY is the use of DNA testing in combination with traditional genealogical methods to infer relationships between individuals and find ancestors. Genetic genealogy involves the use of genealogical DNA testing to determine the level and type of the genetic relationship between individuals. This application of genetics became popular with family historians in the 21st century, as tests became affordable.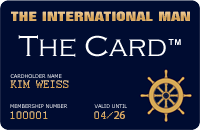 Upcoming VIP Privilege Membership Card
The International Man will in the near future be launching its own PRIVILEGE & BENEFIT VIP MEMBERSHIP CARD - named simply 'The Card'. Members will receive special privileges, benefits and preferential rates with selected partner hotels, restaurants, our LUXURY WEBSHOP, and more. Enter your name and e-mail address to receive FREE INFO about 'The Card' HERE.
RETURN TO TOP OF PAGE