Europe's Best Nightlife Guide and Top 400 Nightclubs

"The best thing about having your own nightclub is that everything`s free and you can tell the DJ to play whatever you want." - Paris Hilton.

"I refuse to join any club that would have me as a member." - Groucho Marx.

NIGHTLIFE used to mean discothèques. Now there is everything from formal nightclubs to nocturnal theme parks with live music, videos, ever-more vigorous lightshows, and cabaret reminiscent of the Sixties-style "happening". Some boîtes have private bars for the chosen few, some have membership but let you in if you're sufficiently beautiful, eccentric or rich.

The best way to find what's "in" is to keep your ears open. However, if you tour the nightclub district and spy a crowd trying to get in somewhere, it'a a clue that something's happening in that dirty old basement. The rule is never to join the queue - go to the head of it and charm your way in.

The best nightlife occurs in cities that never sleep. Clubs beget late-night cafés, only known to the clubbing cognoscenti.

In New York, nothing ever seems to close, so when you finish in one club, you go on to the next. The whole point is your attitude to a nightclub: it shouldn't be the end of the evening, it should be the start of something better.

The nightclubs marked with 'F' indicates that the club has been awarded the "World's Finest Clubs Award" by The World's Finest Clubs - a network of the most exclusive, trend-setting and elegant memberclubs in the world.

Austria

Belgium

Brussels

Spirito F De Stassart Street 18, Ixcelles.

Ireland

Dublin

Krystle Nighlub F Winner of Best Nightclub in Ireland 2007, 2008, 2010. Half the club is outdoors, fully sheltered and heated for your exceptional comfort.

Luxembourg

Luxembourg City

Montenegro

Budva

Top Hill - winner of the Monaco International Clubbing Show 'Best Nightclub Award 2012'.

Monaco

La Condamine

LA RACASSE - "The party never ends at the legendary La Rascasse!" 1 Quai Antoine 1er.

Poland

Sopot

Warsaw

Level 27 F Jerozolimskie 123a St, Millennium Plaza tower, floor 27.

Portugal

Lisbon

Vilamoura, Algarve

Bliss F

Vizela

Eskada F Rua Dona Laurinda Ferreira de Magalhães, 309.

Romania

Constanta

Le GaGa F. Located in Mamaia Bay and it is comprised of a large seafront complex featuring an outdoor beach club, a spectacular swimming pool, an Italian restaurant and an enormous nightclub.

Slovenia

Ljubljana

Palma de Mallorca

TITO'S PALMA F Avenida Gabriel Roca, 31.
PACHA - Avinguda Gabriel Roca, 42.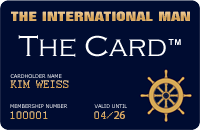 Upcoming VIP Privilege Membership Card
The International Man will in the near future be launching its own PRIVILEGE & BENEFIT VIP MEMBERSHIP CARD - named simply 'The Card'. Members will receive special privileges, benefits and preferential rates with selected partner hotels, restaurants, our LUXURY WEBSHOP, and more. Enter your name and e-mail address to receive FREE INFO about 'The Card' HERE.
RETURN TO TOP OF PAGE