Top 50 Luxury Porcelain Brands and Manufacturers

PORCELAIN (also known as china or fine china) is a ceramic material made by heating materials, generally including clay in the form of kaolin, in a kiln to temperatures between 1,200 °C (2,192 °F) and 1,400 °C (2,552 °F). The toughness, strength, and translucence of porcelain arises mainly from the formation of glass and the mineral mullite within the fired body at these high temperatures.

Porcelain derives its present name from the old Italian porcellana (cowrie shell) because of its resemblance to the translucent surface of the shell. Porcelain can informally be referred to as "china" or "fine china" in some English-speaking countries, as China was the birthplace of porcelain making. Properties associated with porcelain include low permeability and elasticity; considerable strength, hardness, toughness, whiteness, translucency and resonance; and a high resistance to chemical attack and thermal shock.

BONE CHINA is a type of soft-paste porcelain that is composed of bone ash, feldspathic material, and kaolin. It has been defined as ware with a translucent body containing a minimum of 30% of phosphate derived from animal bone and calculated calcium phosphate. Developed by English potter Josiah Spode, bone china is known for its high levels of whiteness and translucency, and very high mechanical strength and chip resistance. Its high strength allows it to be produced in thinner cross-sections than other types of porcelain.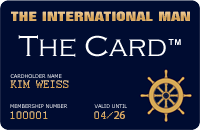 Upcoming VIP Privilege Membership Card
The International Man will in the near future be launching its own PRIVILEGE & BENEFIT VIP MEMBERSHIP CARD - named simply 'The Card'. Members will receive special privileges, benefits and preferential rates with selected partner hotels, restaurants, our LUXURY WEBSHOP, and more. Enter your name and e-mail address to receive FREE INFO about 'The Card' HERE.
RETURN TO TOP OF PAGE