Top 3000 Best & Most Popular Television Series/Shows

"Not giving a shit is a really fantastic business model for television." - Anthony Bourdain.

A television program (usually television programme outside North America), also called TELEVISION SHOW, is a segment of content which is intended to be broadcast on television. It may be a one-time production or part of a periodically recurring series. A single program in a series is called an episode.

A TELEVISION SERIES that is intended to comprise a limited number of episodes is usually called a miniseries or serial. Series without a fixed length are usually divided into seasons or series, yearly or biannual installments of new episodes. While there is no defined length, US industry practice tends to favor longer seasons than those of some other countries.

A one-time broadcast may be called a "special", or particularly in the UK a "special episode". A television movie ("made-for-TV movie" or television film), is a film that is initially broadcast on television rather than released in cinemas or direct-to-video, although many successful TV movies are later released on DVD.

A GAME SHOW is a type of radio or television program in which members of the public, television personalities or celebrities, sometimes as part of a team, play a game which involves answering questions or solving puzzles usually for money and/or prizes. On some shows contestants compete against other players or another team while other shows involve contestants playing alone for a good outcome or a high score. Game shows often reward players with prizes such as cash, trips and goods and services provided by the show's Sponsor (commercial) prize suppliers, who in turn usually do so for the purposes of product placement.

REALITY TELEVISION is a genre of television programming that presents purportedly unscripted dramatic or humorous situations, documents actual events, and usually features ordinary people instead of professional actors, sometimes in a contest or other situation where a prize is awarded. The genre, which has existed in some form or another since the early years of television programming, exploded as a phenomenon around 1999–2000 with the success of such television series such as Big Brother and Survivor. Programs in the reality television genre are commonly called reality shows and often are produced in a television series. Documentaries and nonfictional programming such as television news and sports television shows are usually not classified as reality shows.

A situation comedy, often shortened to SITCOM, is a genre of comedy that features characters sharing the same common environment, such as a home or workplace, accompanied with jokes as part of the dialogue. Such programs originated in radio, but today, sitcoms are found almost exclusively on television as one of its dominant narrative forms, and art forms.

A situation comedy television program may be recorded before a studio audience. The effect of a live studio audience can be imitated by the use of a laugh track.

A SOAP OPERA, sometimes called "soap" for short, is an ongoing, episode work of dramatic fiction presented in serial format on radio or as television programming. The name soap opera stems from the original dramatic serials broadcast on radio that had soap manufacturers, such as Procter & Gamble, Colgate-Palmolive and Lever Brothers, as sponsors and producers. These early radio series were broadcast in weekday daytime slots when most listeners would be housewives; thus the shows were aimed at and consumed by a predominantly female audience.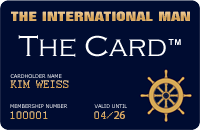 Upcoming VIP Privilege Membership Card
The International Man will in the near future be launching its own PRIVILEGE & BENEFIT VIP MEMBERSHIP CARD - named simply 'The Card'. Members will receive special privileges, benefits and preferential rates with selected partner hotels, restaurants, our LUXURY WEBSHOP, and more. Enter your name and e-mail address to receive FREE INFO about 'The Card' HERE.
RETURN TO TOP OF PAGE