Health Advice, News, Reviews, Resources & Services

"It is health that is real wealth and not pieces of gold and silver." - Mahatma Gandhi.

HEALTH is the level of functional and metabolic efficiency of a living organism. In humans it is the ability of individuals or communities to adapt and self-manage when facing physical, mental, psychological and social changes with environment. The World Health Organization (WHO) defined health in its broader sense in its 1948 constitution as "a state of complete physical, mental, and social well-being and not merely the absence of disease or infirmity." This definition has been subject to controversy, in particular as lacking operational value, the ambiguity in developing cohesive health strategies, and because of the problem created by use of the word "complete". Other definitions have been proposed, among which a recent definition that correlates health and personal satisfaction.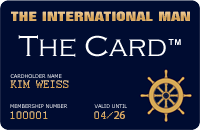 Upcoming VIP Privilege Membership Card
The International Man will in the near future be launching its own PRIVILEGE & BENEFIT VIP MEMBERSHIP CARD - named simply 'The Card'. Members will receive special privileges, benefits and preferential rates with selected partner hotels, restaurants, our LUXURY WEBSHOP, and more. Enter your name and e-mail address to receive FREE INFO about 'The Card' HERE.
RETURN TO TOP OF PAGE