Top 600 Health Advice, News, Resources and Services

"It is health that is real wealth and not pieces of gold and silver." - Mahatma Gandhi.

"Eat Your Food as your Medicine, Otherwise you will have to Eat Medicines as your Food" - Dr. Michael Osae, GAEC.

HEALTH is the level of functional and metabolic efficiency of a living organism. In humans it is the ability of individuals or communities to adapt and self-manage when facing physical, mental, psychological and social changes with environment. The World Health Organization (WHO) defined health in its broader sense in its 1948 constitution as "a state of complete physical, mental, and social well-being and not merely the absence of disease or infirmity." This definition has been subject to controversy, in particular as lacking operational value, the ambiguity in developing cohesive health strategies, and because of the problem created by use of the word "complete". Other definitions have been proposed, among which a recent definition that correlates health and personal satisfaction.

A B C D E F G H I J K L M N O P Q R S T U V W X Y Z

- A -

2 Glasses Of Wine Before Bed Helps You Lose Weight, According To Science - as it's like an hour in the gym - "Even a couple of glasses of your favourite tipple could have some impressive benefits."
2 Minutes of Walking After a Meal Is Surprisingly Good for You - "A new paper suggests that it takes far less exercise than was previously thought to lower blood sugar after eating."
3 meals a day? - "The idea that we should eat three meals a day is surprisingly modern. How many meals a day is best for our health?"
4 cups of coffee a day could slash chance of early death - The Telegraph.
4 plant-based foods to eat every week & why science suggests they're good for you - "A review of research published in May 2021 looked at 12 studies with more than 500,000 people who were followed for up to 25 years. It found those who ate the most plant foods were less likely to die from any cause over follow-up time periods that varied across the studies from five to 25 years, compared to those who ate the least."
4 Ways to Make Grilling Healthier This Summer - TIME Magazine.
5 Best Vitamins to Boost Your Energy in 2023 - "Looking for an extra lift of energy? Try these B vitamins."
5 Countries Where People Live The Longest - "When it comes to life expectancy, Okinawa prefecture and its semi-tropical islands off Japan's south coast have long been referenced as the benchmark location for living a long life. According to the WHO, the global trend for how long we live increased by more than six years over the first 20 years of the 21st century, with the average global life expectancy increasing from 66.8 years in 2000 to 73.4 years in 2019."
5 Exercise Habits That Destroy Your Body After 50 - "Loss of muscle mass - Loss of bone density - Reduction in balance - Increased risk of falls - Reduced mobility and balance."
5 exercises to help avoid an early death - "Easy-to-access activities that help to reduce blood pressure, cholesterol and the risk of heart disease."
5 Fitness Habits That Are Destroying Your Body After 40 - "Avoid these sneaky habits that are detrimental to your body and progress: 1. Not establishing a 'maintenance program'. 2. Insufficient protein intake. 3. Poor hydration. 4. Not warming up before workouts. 5.Going too aggressively after a long period of doing little physical activity."
5 of the Best Foods for Heart Health - "Making smart decisions at the grocery store is an easy way to boost your heart health."
5 simple daily habits that can revolutionise your health - The Telegraph.
5 stretches every office worker should do - The Telegraph.
5 Things I Wish I'd Known Before My Chronic Illness - "Finding out you have a chronic illness — one that will, by definition, never go away - changes things, both for you and those you love."
5 ways to avoid a vitamin D deficiency in the dark of winter - "It's the vitamin that helps maintain bones, teeth and muscles, but levels can drop significantly once summer ends. Here's how to ensure you are getting enough."
5 ways to eat more healthily in 2020 - "Here are five ways to step up your healthy eating without feeling the pain of dieting in 2020."
5 ways to improve your mental health in 2020 - "You can take scientifically validated steps to improve your mental outlook, and - because the mind and body are entwined - these behaviors also will improve your overall health."
5 ways to keep your brain sharp as you age - TIME Magazine.
5 ways to slow the onset of Alzheimer's - "Scientists have conducted a series of trials that point to various ways to check the progress of the disease."
6 Foods & Drinks To Avoid Before Bed, According To A Dietitian - "Want to stay asleep through the entire night? avoid these 6 foods before bed."
6 keys to keeping sharp in 2023 - "Preventing and even treating forms of dementia are largely driven by lifestyle and the choices we make daily. You are not necessarily doomed to whatever fate you think sits stuck in your genes. If there's one fact that's increasingly apparent in scientific circles, it's that our lifestyle choices contribute mightily to our aging process and risk for disease, likely as much - or perhaps even more - than our genetics."
6 Reasons Why You Should Stop Showering Every Day & Change That Routine - Recommended Things.
6 Things You Should NEVER Buy at a Grocery Store - TIME Magazine.
7 Habits for a Healthy Heart - The New York Times.
7 hours' sleep is ideal amount in middle to old age, study finds - "Too much and too little sleep linked with worse cognitive performance and mental health."
7 surprising benefits of taking a daily nap - The Telegraph.
7 types of rest - "When we feel extreme fatigue most of us focus on sleep problems. But proper relaxation takes many forms. I spent a week exploring what really works."
7 ways to address insomnia - The Guardian.
7 ways to lower your heart age - The Guardian.
8 Easy New Year's Resolutions for Better Health - The New York Times.
8 glasses of water a day excessive for most people, study suggests - "'One size fits all' guidance could lead to 20m litres of drinking water being wasted each day in UK, scientists say."
'8 hours' sleep & you must eat breakfast!' The truth behind 10 of the biggest health beliefs - "Should we really be aiming to walk 10,000 steps a day, or drink two litres of water? Time to sift fact from fiction."
8 weight-loss strategies that actually work - TIME Magazine.
9 out of 10 strokes preventable if people follow 10 health rules - The Telegraph.
9 Things to Do When You Can't Sleep Because Your Mind Is Racing - TIME Magazine.
9 Ways to Live Healthier in 2018 - The New York Times.
10 biggest myths in fitness - "Soreness is good and scales are pointless. Advice for how to get fit and healthy is often confusing. But there are some simple truths"
10 Health Benefits of Vegetarianism - KwikMed.org.
10 healthcare predictions for 2020 - "Health Care Investors Predict 10 Ways the Industry Will Change in 2020."
10 Medical Myths We Should Stop Believing. Doctors, Too - "Researchers identified nearly 400 common medical practices and theories that were contradicted by rigorous studies. Here are some of the most notable findings."
10 of the world's most controversial foods - "From beef to cod to avocados to soya, many of our best-loved foods raise big ethical and environmental questions. What do the experts say?"
10 reasons to carry on loving coffee - The Telegraph.
10 reasons your breath stinks & what to do about it - "Halitosis: 10 reasons - and remedies - for your bad breath."
10 Ways to Keep Your Heart Healthy - "Up to 50% of the risk of cardiovascular disease can be controlled by lifestyle, experts say. Here are things you can do."
10 Ways to Lower the Cancer Risk of Grilling - "If you plan to grill often experts suggest taking some small steps to make a big difference in lowering your exposure to compounds that are tied to cancer."
11 minutes of daily exercise could have a positive impact on your health, large study shows - "When you can't fit your entire workout into a busy day, do you think there's no point in doing anything at all? You should rethink that mindset. Just 11 minutes of moderate-to-vigorous intensity aerobic activity per day could lower your risk of cancer, cardiovascular disease or premature death, a large new study has found."
11 Zero-Proof Alternatives To Keep You Going Through Dry January - And Beyond - "People usually start the year with the best intentions but find it difficult to keep up with those healthy resolutions. Dry January can be challenging for those of us who enjoy a variety of beverage flavors or prefer to stay away from too much coffee, sugar and artificially flavored drinks. So here are a few suggestions that I have found enjoyable so far, and will remain on rotation moving forward."
12 Probiotic Foods That Can Improve Your Gut Health - "Add these foods to your diet for a healthy gut."
12 rules for gut health - "What to eat, when, how to do it properly - and what to avoid. Experts lay out the food habits that will make a real difference to your health."
12 Tips for Living a Longer Life - The New York Times.
12 ways to meditate - without actually meditating - "Many people struggle with classic forms of meditation, but its benefits are still available. From writing and drawing to pottery or singing, here are everyday ways to find peace."
13 Remarkable Health Benefits of Getting Outdoors - "If you're a self-professed homebody, you could seriously benefit from a change of scenery. Spending time in nature could improve your physical and mental health, ward off illness, and actually make you happier!"
13 Ways Being a Night Owl Could Hurt Your Health - TIME Magazine.
14 things you need to know before you go vegan - "The environmental, health and ethical benefits of veganism are beyond doubt. But what if you feel a bit intimidated by the idea? Some experts offer their advice."
16 Top Spas Offer Tips To Help You Relax At Home - "To make your new normal more serene, we consulted some of the world's best spas. Whether you seek self-care or more spa-like surroundings, these home wellness tips will deliver."
17 things you need to do now to be healthy in later life - The Telegraph.
20 ways to give purpose to your daily walk - "Has the novelty of a prescribed stroll long since worn off? From tracking animals to uncovering hidden history, here's how to discover a new world in your neighbourhood."
21 unusual ways to quit smoking, from changing your teeth to taking more showers - "If patches, hypnosis and self-help books don't work, maybe it's time to think laterally. Readers reveal the unlikely methods that encouraged them to kick the habit."
23 Best Fitness Gifts for the Active People in Your Life - "From portable trampolines and treadmills to the chicest workout gear, here's what to shop."
25 Best Exercises For Weight Loss - Fitness Apie.
25 cups of coffee a day still safe for heart - "Up to 25 cups of coffee a day still safe for heart health, study says."
25 of the best face SPFs to wear all year round - "You will have heard it a million times before: wearing a face SPF every day (yes, even in winter) is key to healthy - and healthy-looking - skin. Finding the best SPF for face is key to blocking the harmful effects of the sun's UVA and UVB rays, which wreak havoc on the health of our skin and its cells, and leads to decreased collagen and elasticity, fine lines, pigmentation, and an increased risk of skin cancer if it isn't used."
25 Science-Backed Health Benefits Of Coffee That You May Not Know - "Coffee is one of the most popular beverages in the world. Its great and refreshing taste has earned it countless fans. But, it's not just taste that makes your favorite brew awesome. Coffee contains a wealth of good qualities and amazing health benefits."
32 Highest Vegan Protein Sources & Complete Guide To Avoiding A Deficiency - "Fear not my fellow vegans and aspiring plant based people. Protein is traditionally associated with meat, but getting enough protein on a primarily plant based or vegan diet is easy. High protein plant based foods are abundant and a protein deficiency in your new lifestyle is rare."
42 previously unknown genes discovered for Alzheimer's disease - "'Lifestyle factors such as smoking, exercise and diet influence our development of Alzheimer's, and acting to address these now is a positive way of reducing risk ourselves,' she added.'However, 60-80% of disease risk is based on our genetics and therefore we must continue to seek out the biological causes and develop much-needed treatments for the millions of people affected worldwide.'"
2022 Well Gift Guide - "Looking for the perfect present? We've got 28 ways to keep your loved ones healthy and happy."
2035: Half of world on track to be overweight by 2035 - "More than half the world's population will be classed as obese or overweight by 2035 if action is not taken, the World Obesity Federation warns. More than four billion people will be affected, with rates rising fastest among children, its report says. Low or middle-income countries in Africa and Asia are expected to see the greatest rises. The report predicts the cost of obesity will amount to more than $4tn annually by 2035."
A beer a day helps prevent stroke & heart disease - The Telegraph.
a beginner's guide to weight training at any age - "Strengthen your heart, bones - and maybe even your brain. A resistance workout is not just about adding muscle: it can bring a host of other proven benefits as well. So what is stopping you?"
A cardiac arrest showed me what dying feels like - "How should I live in Life 2.0?"
a complete guide to waking up feeling fantastic - "As the clocks go back and days get shorter, it can be hard to get out of bed. But, from dawn simulators to a regular wakeup time, here are 16 ways to start the day well."
A Daily Aspirin Regimen May Hurt More Than Help, Experts Warn - "Millions of Americans take aspirin to prevent a first heart attack or stroke. Now, doctors are advising against it - especially for people over 70."
A Guide To A Clean Eating Diet Over The Holidays - And Why A Year-Round Regimen Makes A Difference - "Clean eating is more than a movement. It's a holistic approach to food that can lead to a tougher immune system, increased energy levels, a stronger heart, improved brain health and more. So what does eating clean for beginners look like in practice - and what does it take to reap the benefits?"
A Harvard nutritionist shares the No. 1 food she eats every morning to help her brain 'stay sharp' & 'age well' - "Eating the right 'brain-boosting foods' can significantly decrease your risk of developing neurological problems, improve your mental health, and help you stay sharp and focused."
A healthy sex life boosts long-term survival hopes for heart attack victims - "People who have had heart attacks can boost their chances of long-term survival by returning to normal levels of sexual activity, a new study shows."
A Low-Pressure Guide to Make Strength Training a Habit - "I asked exercise psychologists, scientists, trainers and muscle evangelists for their best advice on launching a lasting strength-training routine. Here's what I learned."
A neglected protein-rich 'superfood' - "Insects are a nutrition-dense source of protein embraced by much of the world. Why are some of us so squeamish about eating them?"
A new free app makes using iPads easier for people with hand tremors - "Its creators want to expand the tech to other devices, too."
A New Study Says Low-Carb Diets May Help You Lose Weight. But Are Carbs Really So Bad For You? - "A new study says low-carb diets can help you lose weight. But there are also some science-backed reasons to keep eating carbs."
A New Study Says There Are 5 Different Types of Problem Drinkers. Here's What They Are - "A study published this week identified five distinct subgroups of problem drinkers, potentially making it easier to zero in on unhealthy behavior and tailor treatments."
A personal trainer app guilt-tripped me into exercising (and it worked) - "It provided me the motivation and accountability I needed."
A Physique Coach Shared His Simplest 'Do Nothing' Advice for Burning Fat - "Paul Revelia breaks down the approach that he says will help you lose weight—and help you keep it off."
A Possible Weight Loss Strategy: Skip Breakfast Before Exercise - "A new study finds that the choice to eat or omit a meal before an early workout could affect our relationship to food for the rest of the day."
A Quarter of the World's Adults Don't Get Enough Exercise, Study Says - "One in four adults worldwide doesn't get enough exercise, putting more than 1.4 billion 'at risk of developing or exacerbating diseases,' a new study says."
A pocket-sized breath tester shows you what food is bad for your gut - "Indigestion, stomach cramps and constipation are all signs of irritable bowel syndrome (IBS), a digestive condition estimated to affect one in 10 people worldwide. That's why Irish engineers Aonghus Shortt and Peter Harte founded FoodMarble, a startup that has invented portable devices, measuring just 5 centimeters squared, which test the hydrogen levels in a person's breath - a key signal for digestive disorders."
A rasher of bacon 'ups cancer risk' - "Even small amounts of red and processed meat - such as a rasher of bacon a day - can increase the risk of bowel cancer, according to research."
'A Rinsing of the Brain.' New Research Shows How Sleep Could Ward Off Alzheimer's Disease - "Each of us carts around a 3-lb. universe that orchestrates everything we do: directing our conscious actions of moving, thinking and sensing, while also managing body functions we take for granted, like breathing, keeping our hearts beating and digesting our food. It makes sense that such a bustling world of activity would need rest. Which is what, for decades, doctors thought sleep was all about."
A Study on Twins Offers Proof That We All Need Personalized Diets - TIME Magazine.
absurd diets of the rich & famous - The Guardian.
Adding salt to food at table can cut years off your life, study finds - "Research involving 500,000 Britons reveals link to earlier death for those who always season their meals."
Adopt 5 Healthy Habits, Live 12 to 14 Years Longer - The New York Times.
Adopting Mediterranean diet in old age can prolong life, study suggests - "People aged 65 or older who adhere to diet rich in fish, nuts and fresh vegetables have 25% lower risk of death, study finds."
Afternoon delight: how to have a successful nap - "If you are sleep-deprived, and need a healthy siesta, careful planning is key."
Age-proof your brain by keeping your heart healthy, study says - "If you want to keep your brain sharp and focused as you age, it's important to keep your heart healthy. People with more risk factors for heart disease - such as high blood pressure, high cholesterol, diabetes and obesity - experienced more cognitive decline than people with healthier hearts."
Agent Dale Cooper's 'Twin Peaks' hangover cure - "'Surefire cure for a hangover, Harry,' Cooper begins. 'You take a glass of nearly frozen, unstrained tomato juice. You plop a couple of oysters in there and you drink it down. Breathe deeply. Next, you take a mound and I mean a mound of sweetbreads sauteed with some Canadian bacon and chestnuts. Finally, some biscuits, big biscuits, smothered in gravy.'"
Aging can be reversed in mice. Are people next? - "Old mice grow young again in study. Can people do the same? In Boston labs, old, blind mice have regained their eyesight, developed smarter, younger brains and built healthier muscle and kidney tissue. On the flip side, young mice have prematurely aged, with devastating results to nearly every tissue in their bodies."
Air pollution is slashing years off the lives of billions, report finds - "Dirty air is a far greater killer than smoking, car crashes or HIV/Aids, with coal burning the leading cause."
alarming truth about how sugar ruins your sleep - "It may be second nature to reach for a sweet boost when tired in the evening but this could lead to a disturbed night. How do you kick the habit?"
Alcohol caused 740,000 cancer cases globally last year - study - "Researchers behind estimate say more needs to be done to raise public awareness of link."
Alcohol linked to more cancers than thought, study finds - "Imperial College London researchers also find that drinking coffee protects against liver cancer."
Almost Every Doctor Recommends Sunscreen. So Why Don't We Know More About Its Safety? - TIME Magazine.
Alzheimer's & dementia - the search for drug to treat ...
Alzheimer's: Can Nose-Picking Raise Alzheimer's Dementia Risk? - "Mouse Study Suggests a Surprising Link Between Nose-Picking And Alzheimer's."
Alzheimer's Drug May Benefit Some Patients, New Data Shows - "The drug, lecanemab, made by Eisai and Biogen, also carried risks of brain swelling and bleeding and should be studied further, a report of the findings said."
Alzheimer's Drug Slows Cognitive Decline in Key Study - "Biogen and Eisai reported the finding from a large late-stage clinical trial of lecanemab, a drug they are developing."
Alzheimer's: F.D.A. Approves New Treatment for Early Alzheimer's - "The drug, Leqembi, may modestly slow cognitive decline in early stages of the disease but carries some safety risks. Still, data suggests it is more promising than the small number of other available treatments."
Alzheimer's: How to Know if You Have a Genetic Risk for Alzheimer's - "Here's how to find out if you're at risk & what to do if you are."
Alzheimer's Rare success for Alzheimer's research unlocks hope for future therapies - "The first big breakthrough in 30 years of Alzheimer's research is providing momentum for clinical trials of 'cocktail' treatments targeting the two hallmark proteins associated with the mind-robbing disease, according to interviews with researchers and pharmaceutical executives."
Alzheimer's risk may be 75+ higher for people who eat trans fats - "People with higher levels of trans fats in their blood may be 50% to 75% more likely to develop Alzheimer's disease or dementia from any cause, according to a new study published Wednesday in the journal Neurology."
Alzheimer's: Scientists develop blood test for Alzheimer's disease - "Scientists say test could replace a costly brain scan or painful lumbar puncture and enable earlier detection of disease."
Alzheimer's: Stop drinking, keep reading, look after your hearing: a neurologist's tips for fighting memory loss & Alzheimer's - "When does forgetfulness become something more serious? And how can we delay or even prevent that change? We talk to brain expert Richard Restak."
Alzheimer's: The heretical & hopeful role of infection - "What if dormant microbes trigger the onset of Alzheimer's? It's a theory that could have profound implications for prevention of the disease, writes David Robson."
Alzheimer's: 'This looks like the real deal': are we inching closer to a treatment for Alzheimer's? - "After years of setbacks, dementia researchers are getting excited about a new antibody drug called lecanemab. No one expects it to stop cognitive decline, but even slowing it would be a breakthrough."
Alzheimer's: The heretical & hopeful role of infection - "What if dormant microbes trigger the onset of Alzheimer's? It's a theory that could have profound implications for prevention of the disease, writes David Robson."
Am I obese? Here's how to find out if your BMI is a problem - "Obesity is measured by body mass index (BMI), which for an adult is a ratio of weight in kilograms by height in metres squared. The NHS has an online calculator."
An Aspirin a Day for Heart Health? It May Depend on Your Weight - The New York Times.
Any amount of alcohol consumption harmful to the brain, finds study - "UK study of 25,000 people finds even moderate drinking is linked to lower grey matter density."
Any amount of running reduces risk of early death, study finds - "Any amount of running is good for you, according to research suggesting it is linked to a similar reduction in the risk of early death no matter how many hours you clock up a week or how fast you go."
Apple warns against putting an iPhone 12 too close to your pacemaker - "MagSafe magnets could interfere with medical implants."
Apple Watch can now be used to monitor Parkinson's symptoms - "A new ResearchKit API can monitor Watch users for tremor & dyskinesia."
Apple Watch data reveals we aren't sleeping enough - "A survey showed only 31 percent of participants reached the recommended 7 to 9 hours of sleep per night."
Apple Watch: Four advanced health features you're probably not using - "This in-depth guide covers four hidden Apple Watch health features that offer advanced insight to your current and future health."
Apple watch is now the control center for your health - "Apple announced new health and fitness features for its wearable that make the Apple Watch uniquely powerful as a personal monitoring tool."
Apple's new health features bring new focus to elder care technology - "Walking steadiness and data sharing could be useful for older adults."
Are breathing techniques good for your health? - "The market is flooded with books and classes claiming 'breathwork' can help with mental health, sleep and even Covid-19. But are experts convinced?"
Are Omega-3s Good for Your Brain? - TIME Magazine.
Are Onions & Garlic Healthy? Here's What Experts Say - TIME Magazine.
Are pets really good for us - or just hairy health hazards? - "Many animal-lovers think a cat or dog can help you live a longer, happier, healthier life. But does the science back them up?"
Are plastic containers safe for our food? Experts say it's hard to know - "The plastics industry says its containers are safe but some experts advise consumers to avoid heating them and advocate using glass or metal instead."
Are Sleeping Pills Safe? Here's What Research Says - TIME Magazine.
Are there health benefits to going vegan? - "More and more people are eating vegan meals - and part of the reason is it's seen as healthier. Is it really better for you? In the first of a new vegan series on BBC Future and BBC Good Food, Jessica Brown looks at the evidence."
Are you wasting your money on supplements? Most likely, experts say - "Vitamin, mineral and multivitamin supplements aren't likely to protect you from cancer, heart disease or overall mortality, the US Preventive Services Task Force said in updated guidelines released Tuesday in the journal JAMA. Since its last recommendation in 2014, the task force reviewed 84 studies testing vitamins in almost 700,000 people, including 52 new studies on the topic."
Arthritis Avoidable? - "Joint pain, stiffness and swelling aren't always inevitable results of aging, experts say. Here's what you can do to reduce your risk."
Artificial Intelligence may diagnose dementia in a day - "Scientists are testing an artificial-intelligence system thought to be capable of diagnosing dementia after a single brain scan."
artificial intelligence tool can accurately identify cancer - "Algorithm performs more efficiently and effectively than current methods, according to a study."
Artificial Sweeteners, Not Good, Not Bad - "Sugar substitutes offered no health benefits, but they didn't do any harm, either, a review of studies found."
Australia & New Zealand best placed to survive nuclear apocalypse, study finds - "Researchers say food and energy security boosts prospects for civilisation to continue, along with Vanuatu, Iceland and Solomon Islands."
Azerbaijan's secret to long life? Mountain air - "There are a number of destinations around the world famed for the longevity of their residents. In Japan, Okinawa's sprightly centenarians have earned it the nickname 'Land of the Immortals.' Campodimele, Italy's 'Village of Eternity,' is testament to the Mediterranean diet. In the sunny Californian town of Loma Linda, a community of Seventh-Day Adventists reaping rewards of clean living. There's one long-lived corner of the globe you won't have heard talked about as much, and it's home to the world's only Museum of Longevity. That's Lerik in southern Azerbaijan."

A B C D E F G H I J K L M N O P Q R S T U V W X Y Z

- B -

Beer IS good for you! - "Research suggests two pints a day may slash your risk of dementia. Experts studied drinking habits and dementia rates among 25,000 over-60s. Drinking two pints a day slashed risk of the memory-robbing condition by a third. Non-drinkers a fifth more likely to be a dementia sufferer than biggest drinkers."
Beetroot juice may aid people with coronary heart disease - study - "Research suggests a daily glass reduces harmful inflammation by boosting nitric oxide levels."
Best & Worst Habits for Eyesight - "Are carrots good? Is blue light bad? Experts weigh in on nine common beliefs."
best & worst health myths & wisdom - "Chocolate doesn't cause acne - but carrots do help you see in the dark. True or false: cheese gives you bad dreams and oysters are aphrodisiacs? We investigate good, bad and mad health advice."
best apps for actually sticking to your fitness goals - "Setting goals is easy. Not falling off the wagon is harder."
best blood pressure monitor for home use - engadget.
Best Cities To Live In For A Healthy & Happy Life 2022 - "A recent study out of the United Kingdom has confirmed the impact of five major lifestyle factors - including smoking, physical activity, alcohol intake, body weight, and diet - can have on a healthy and happy life and exactly where on earth it's the easiest to achieve a happy lifestyle that helps increase life expectancy and decrease chronic illness. The study analyzed 44 global cities across 10 metrics ranging, from sunshine hours to the average cost of a gym membership. Here, the top cities that have been ranked the highest based on the levels of happiness and health of its citizens."
best diets for 2019 - "These Are the 5 Best Diets for 2019, According to Experts."
best exercise for your age - CNN Health.
Best Exercises to Sneak Into Your Workday - "Here are three simple exercises you can easily add to any workday—without cutting too much into your calendar."
best fitness recovery gadgets - "Treat your body post-workout with these helpful tools."
Best Foods for Athletes - "More fat? More carbs? How should we eat for peak athletic performance?"
Best forms of alcohol to drink on a diet - "Which alcoholic beverages are more diet-friendly?"
Best Sport for a Longer Life? Try Tennis - "People who played tennis, badminton or soccer tended to live longer than those who cycled, swam or jogged."
BEST WOMEN'S HEALTH APPS, PERIOD - Wired.
Bezos, Gates back fake meat & dairy made from fungus as next big alt-protein - "As consumers become increasingly comfortable eating faux-meat burgers that look, cook and taste like the real thing, a food-tech start-up backed by Jeff Bezos and Bill Gates is using fungus as the primary ingredient to create alt-meat foods."
Big Sugar Versus Your Body - The New York Times.
Blood test may detect 50 types of cancer - "UK to pilot blood test that may detect 50 types of cancer."
Blue Zones - regions of the world where people live much longer than average.
Body Fat May Affect Your Brain Volume, Study Says - "Body fat is linked to a number of adverse health effects. The latest study finds an intriguing link between body fat, especially around the middle, and the brain."
Book clinic: what can I read to help me to reduce my stress levels? - "A health worker seeks a reading cure and is prescribed a wide variety of treatments."
Brew your coffee this way & you might live longer - "The healthiest way to brew your coffee -- and possibly lengthen your life."
Burgers, berries, bread: 10 foods you should consider buying organic - "Many are wary of chemical residues frequently found in foods grown with pesticides. If your budget and time are limited, here's a good place to start."
Butter nonsense: the rise of the cholesterol deniers - "A group of scientists has been challenging everything we know about cholesterol, saying we should eat fat and stop taking statins. This is not just bad science – it will cost lives, say experts."

A B C D E F G H I J K L M N O P Q R S T U V W X Y Z

- C -

Caffeine may reduce body fat & risk of type 2 diabetes, study suggests - "Findings could lead to use of calorie-free caffeinated drinks to cut obesity and type 2 diabetes - but more research needed."
Calories on menus 'may not be helpful' in drive against obesity - "Campaigners say compulsory menu labelling could put too much emphasis on calorie counting."
Can a book make you vegan? - "The novel Tender is the Flesh imagines a world where carnivores have turned to cannibalism. It's the latest artwork to fly the flag for plant-based diets, writes Elizabeth Sulis Kim."
Can a Cup of Hot Tea a Day Help Preserve Eyesight? - The New York Times.
Can a hot bath beat a bike ride for good health? - The Guardian.
Can a Nap Make Up for a Bad Night of Sleep? - "Here's what experts say about what naps can (and can't) do for your health."
Can certain foods suppress your appetite? - "Some foods promise the ability to stave off hunger pangs. Can any foods really suppress our appetite?"
Can chicken soup cure the common cold? - "Cold remedies: Old wives' tales... or legitimate science? From orange juice to zinc lozenges, chicken soup to garlic capsules, there are plenty of home remedies for the common cold. But is there any evidence that they work?"
Can drinking red wine ever be good for us? - "We've been led to believe that an occasional glass of wine might be better than abstaining from alcohol altogether, but that might not be the case."
Can Eating Organic Food Lower Your Cancer Risk? - "In a study, those who ate more organic produce, dairy, meat and other products had 25 percent fewer cancer diagnoses over all, especially lymphoma and breast cancer."
Can My Apple Watch Help Improve My Fitness & Health? - "Apple Watch Series 7 is the latest smartwatch with breakthrough health innovations and advanced display. The tech giant introduced its excellent device to help you monitor your health and attain your fitness goals. The article will tell you how you can use your Apple Watch to improve your fitness and health."
Can Olive Oil Do All That? - "Starbucks recently announced that they're mixing this Mediterranean staple into their coffee drinks. Nutrition experts weigh in on what we know about the health benefits of olive oil."
Can Protein Powders Help Aging Muscles? - "Older adults typically need more protein than younger people. Here's how to ensure you're getting enough."
Can running shoes be used for walking? - "We speak to a footwear expert and ask can running shoes be used for walking? The answer is yes. And it is pretty good for you. It is best to wear road shoes for walking on sidewalks and smooth surfaces but switch to trail shoes if walking off-road or on muddy ground."
Can spices really benefit your health? - "Are there benefits to eating turmeric and other spices? Spices have been eaten for millennia. Turmeric and chilli, in particular, have been researched extensively in recent decades. And while consuming them is correlated with some health benefits, those benefits – and the reasons for them - are not what you might think."
Can thinking young delay ageing? - "Can you delay ageing by refusing to act your age? When old age starts depend on where you live in the world. But it may also partly depend on how you view ageing. Can you delay it with a positive attitude?"
Can Too Much Exercise Harm the Heart? - The New York Times.
Can weight loss help protect against Covid-19? - "People who are overweight or obese are at a much higher risk of much more severe disease and even death from Covid-19, and one new study suggests that losing weight can reduce that risk."
Can What We Eat Affect How We Feel? - "Nutritional psychiatrists counsel patients on how better eating may be another tool in helping to ease depression and anxiety and may lead to better mental health."
Can Whisky Strengthen Your Immune System? - "Whether moderate whisky consumption will help bolster your immune system is debatable. In reasonable quantities, it probably won't hurt."
Can You Get a Full-Body Workout in 20 Minutes? - "Yes, but you have to pick the right routine."
Can You Get Too Much Exercise? What the Heart Tells Us - "Men who exercised the most tended to have more arterial plaque and higher calcium scores. But they were less likely to die prematurely from a heart attack."
Can you get two viruses at once? - "How one virus can block another. This winter's 'tripledemic' is one of several recent odd trends among respiratory virus infections. Viruses, it turns out, can block one another and take turns to dominate."
Can you stand on one leg for 10 seconds? - "Why balance could be a matter of life and death - and how to improve yours. Studies have shown poor balance can be associated with serious health problems - as well as increased risks of falls as we get older. But there are ways to make yours better."
Can you think yourself young? - "Research shows that a positive attitude to ageing can lead to a longer, healthier life, while negative beliefs can have hugely detrimental effects."
Cancer Council warns against using aerosol sunscreens - "Study finds it takes at least a minute to apply recommended amount for protection and that spraying could dilute product's effectiveness."
Cancer Doctors Cite Risks of Drinking Alcohol - The New York Times.
Cataract Surgery May Prolong Your Life - The New York Times.
Cats, peanuts, bee stings... the irritating truth about allergies - "More and more of us suffer from allergies, and medicine is struggling to keep up."
Celebrities Are Fighting Over the 'Keto' Diet. Here's What Science Says About How Healthy It Is -"Jillian Michaels started a feud with Al Roker when she called the ketogenic diet a 'bad plan.' Here's what the keto diet is, and whether it's healthy for you."
Changing your diet could add up to 13 years to your life, study says - "The study created a model of what might happen to a man or woman's longevity if they replaced a 'typical Western diet' focused on red meat and processed foods with an 'optimized diet' focused on eating less red and processed meat and more fruits and vegetables, legumes, whole grains and nuts."
Chocolate you can eat for good health - the darker, the better - The Telegraph.
Climate-friendly diets can make a huge difference - even if you don't go all-out vegan - "Changing habits can be hard but even partial shifts from meat-based menus could significantly decrease planet-heating emissions."
Closest Thing to a Wonder Drug? Try Exercise - The New York Times.
Coffee bad, red wine good? Top food myths busted - "We're being bombarded with conflicting advice on what we should and shouldn't put into our bodies. Finally, here are the definitive answers, according to the experts."
Coffee drinkers may be at lower risk of early death, study suggests - "Even people who take sugar seem at lower risk, say experts, but results may be due to coffee drinkers being more affluent."
Coffee: Is It Bad to Drink Coffee on an Empty Stomach? - "Your gut is adaptable, experts say, but there are a few facts you should keep in mind."
Coffee may reduce risk of death from stroke & heart disease - "Drinking up to three cups of coffee a day may protect your heart, a new study finds."
Coffee won't make your heart flutter, study says - "Worried that coffee will make your heart go pitter-patter, and not in a good way? A new study puts to rest the fear that your daily fuel will cause heart palpitations -- or cardiac arrhythmia, as doctors call it."
Comment: Apple Watch's future excites me more than any other Apple product - "Apple's focus on health with Apple Watch will change how the world looks at medicine and fitness in the same way iPhone changed."
Constant craving: why we can't shake the salt habit - "We know it's bad for us, so why can't we stop sprinkling it?"
Consumption of coffee & tea & risk of developing stroke, dementia, & poststroke dementia - "A cohort study in the UK Biobank."
contraceptive pill for men without side-effects! Now how about one for women? - "Making men share responsibility for preventing unwanted pregnancy would have big implications - if it ever happens."
Could there be a cure for hangovers? - The Guardian.
Creatine Won't Magically Give You Abs. Here's What It Might Do - "The supplement isn't just for body builders, doctors said."
Cutting salt likely to prevent future heart disease, even if you're not at risk now - "What's the leading cause of heart disease? High blood pressure, which is often triggered by high sodium (salt) intake in the food we eat. Hypertension is also the leading cause of stroke, heart failure and kidney disease."

A B C D E F G H I J K L M N O P Q R S T U V W X Y Z

- D -

Danish trick to "shock" your body into happiness - "A growing number of Danes choose cold water swimming as a way to invigorate the senses and combat their winter blues. Now, some companies are using it to create workplace bonds."
Daytime light exposure is a strong predictor of seasonal variation in sleep & circadian timing of university students - "In the absence of electric light, sleep for humans typically starts soon after dusk and at higher latitudes daily sleep timing changes seasonally as photoperiod changes."
Dementia articles - The Guardian.
Dementia: Bilingualism May Stave Off Dementia, Study Suggests - "People who spoke two languages daily in their youth tended to score higher on memory tests later in life, the researchers found."
Dementia risk lower for people in stimulating jobs, research suggests - "Findings of large study support the idea mental stimulation could delay onset of symptoms, says lead author."
Dementia risk may increase if you're eating these foods, study says - "We all eat them - ultraprocessed foods such as frozen pizza and ready-to-eat meals make our busy lives much easier. Besides, they are just darn tasty - who isn't susceptible to hot dogs, sausages, burgers, french fries, sodas, cookies, cakes, candy, doughnuts and ice cream, to name just a few? If more than 20% of your daily calorie intake is ultraprocessed foods, however, you may be raising your risk for cognitive decline, a new study found. That amount would equal about 400 calories a day in a 2,000-calories-a-day diet. For comparison, a small order of fries and regular cheeseburger from McDonald's contains a total of 530 calories."
Dementia: Study Shows Crossword Puzzles Beat Computer Games in Slowing Memory Loss - "Crossword puzzles showed an advantage over digital brain games in sharpening memory among older adults with mild cognitive impairment, according to a study in NEJM Evidence." Duke University School of Medicine.
Dementia: The 'silent' symptom of dementia you can spot when you walk - "Until scientists discover a cure, having ways to diagnose the condition as early as possible gives people the best chance of managing the disease and alleviating symptoms. Earlier diagnosis can also give them and their families more time to understand their diagnosis and plan for the future."
Desperate to get fit but hate doing it in public? Here are seven ways to beat gymtimidation - "All those machines, all the mirrors, all that grunting: gyms can be offputting places if you're just taking your first steps towards fitness. We have the answers ..."
Diabetes Drug Became the New Weight Lost Trend for the Rich - "A pricey weight loss hack is making the rounds in certain social circles. It works, but is it worth it?"
Diabetes Drug That Could Overshadow Ozempic - "Demand is mounting for Mounjaro - though like some other trendy medications, it has yet to be approved for weight loss."
Diet coke 'may be bad for your heart' as experts say artificial sweeteners - 'Should not be considered a safe alternative to sugar.'
Diet drinks linked to heart issues, study finds. Here's what to do - "If your heart goes pitter-patter for diet beverages, it may not be due to love. Artificially sweetened beverages, a new study has found, may be just as bad for your heart as the sugar-laden kind."
Dietary carbohydrate intake & mortality: a prospective cohort study & meta-analysis - The Lancet Public Health.
Discovery could slow aging process in humans - "Breakthrough discovery in plants' DNA may lead to slowing aging process in humans."
Ditch the almond milk: why everything you know about sustainable eating is probably wrong - "From cod to clingfilm, the advice we're given can often be confusing. If you're serious about eating green, here are some straightforward solutions."
Do I Need to Avoid Dark Chocolate Now? - "A recent report found high concentrations of cadmium and lead in dark chocolate. There's no reason to panic, experts say, but it's worth a closer look."
Do This Kind of Exercise If You Want to Live Longer, Study Says - "Experts say the best form of exercise is whatever you'll actually do. But a new study finds that people who do this may be at an advantage."
Do You Know How to Spot Foods That Are Ultraprocessed? - "Take our quiz to find out." The New York Times.
Doctors warn vegans to take risks of vitamin B12 deficiency seriously - "Shortage of vitamin found in milk can damage nerves and is best supplemented, experts say."
Does drinking milk make stronger bones? - "Should we drink milk to strengthen bones? For generations, we've been told milk helps build strong bones. But does science back this up?"
Does fat shaming help people lose weight? - "After US talkshow host Bill Maher called for fat shaming to 'make a comeback', fellow host James Corden's impassioned response won widespread support online."
Does more exercise really help you live longer? - "When it comes to living longer through exercise, is more better?"
Does Red Wine Help You Live Longer? Here's What the Science Says - "Some of the science on the health benefits of red wine - and whether it can help you live longer - is encouraging. But more research is needed."
Does running build muscle? - "Does running build muscle? We dig into the science."
Does Thinking Burn Calories? Here's What the Science Says - "While the brain represents just 2% of a person's total body weight, it accounts for 20% of the body's energy use, Raichle's research has found. That means during a typical day, a person uses about 320 calories just to think. Different mental states and tasks can subtly affect the way the brain consumes energy."
Does Vitamin B6 Boost Mental Health? - "Here's what we know about this essential vitamin's effects on well-being."
Does yoga count as exercise? - "A physical therapist helps to settle the debate: is yoga really exercise? 'Exercise includes any activity that gets the body moving or requires some physical effort, and it's undertaken with the intent of improving health or fitness,' informs Hinsley. Hinsley says yoga qualifies as exercise if it's practiced in a way that fits such a description."
Doing This for 30 Minutes a Day Can Help You Live Longer - TIME Magazine.
Don't forget to floss: the science behind dementia & the four things you should do to prevent it - "A picture is emerging of a healthy lifestyle which is key to the condition's prevention - exercise, being sociable, and looking after your ears."
Don't go to bed yet - too much sleep is worse than not enough - "More than 10 hours increases risk of heart disease by 41%, a study says. Surprised? That's because we assume 'delinquent' choices are less virtuous."
Don't like eating breakfast? A new study might change your mind - "Skipping breakfast tied to higher risk of heart-related death, study finds."
Don't trust the internet on vitamin D - "Just because it doesn't benefit you, doesn't mean it's snake oil."
Dopamine fasting is a tech fad that sounds silly – but might just work - "Depriving your brain of stimulation can rewire your frazzled neural circuits - but the problem runs deeper than that."
Dopamine fasting: why Silicon Valley is trying to avoid all forms of stimulation - "It's the latest trend in the world's tech capital. But is it really possible to cut yourself off from everything in life that excites you – and can it be any good for you?"
Drink Up! Most of Us Could Benefit From More Water - The New York Times.
Drinking a little each week protects your heart if you have a cardiovascular condition, study finds - "If you are living with heart disease, having a small amount of alcohol each day is linked to a lower risk of having another heart attack, stroke, angina (heart pain because of constricted arteries) or an early death, according to a new large study."
Drinking coffee could benefit your heart & help you live longer, research finds - "Contrary to worries among some doctors and the public, drinking coffee may actually protect your heart instead of causing or worsening heart problems. Drinking two to three cups of coffee daily has been associated with a 10% to 15% lower risk of getting heart disease, heart failure or a heart rhythm problem, or dying early for any reason, according to three research abstracts published Thursday."
Drinking Coffee May Help You Live Longer, Study Says - TIME Magazine.
Drinking full-fat milk could protect against strokes, study suggests - The Telegraph.
Drinking tea may be linked to lower risk of death, study suggests - "Data from UK Biobank suggests people who drink two or more cups of black tea a day have lower risk of mortality."
Drinking two cups of coffee a day can help you live longer, research suggests - "Beverage has previously been found to reduce the risk of developing Alzheimer's."
Dutch solution to stress - "The Dutch solution to busyness that captivated the world. Niksen - a Dutch wellness trend that means 'doing nothing' - has caught the attention of the world as a way to manage stress or recover from burnout."

A B C D E F G H I J K L M N O P Q R S T U V W X Y Z

- E -

Eat plants, try pilates & stay positive: how to keep your body younger than your years - "Do blueberries make you live longer? Is pilates proper exercise? How do you avoid loneliness? Botox, yes or no? Here's how to age better."
Eat yourself to sleep - "The foods that can help get a good night's rest."
Eating a hot dog could take 36 minutes off your life, study says - "You may want to skip the toppings on your next hot dog, or skip it altogether: Health researchers at the University of Michigan have found that eating a single hot dog could take 36 minutes off your life. In their study, published this month in the journal Nature Food, researchers looked at 5,853 foods in the US diet and measured their effects in minutes of healthy life gained or lost."
Eating foods high in flavonoids could slow down cognitive decline, a study says - "People who ate about 600 milligrams (0.02 ounces) of flavonoids per day had a 20% lower risk of cognitive decline than those who ate only 150 milligrams (0.005 ounces) per day, according to the study published Wednesday in the American Academy of Neurology journal."
Eating processed meat raises risk of heart disease by a fifth - "Oxford University researchers urge people to reduce consumption by three-quarters or give it up."
Eating this can raise Alzheimer's risk by 75% - "Alzheimer's risk may be 75% higher for people who eat trans fats."
Eggs: It's Time for a Reality Check on Eggs - "They're expensive, difficult to find and myths about them abound on social media. Here's what to know."
Elon Musk credits diabetic drug for his 'ripped' look - "What you need to know about the new treatment that's gone viral on TikTok. Accident and emergency doctor Michael Daignault says an effective weight-loss treatment would be a game-changer for millions suffering from obesity."
End-of-life care should not simply be about prolonging a painful death - "We must focus on easing the exit rather than delaying the inevitable at huge expense."
Energy crisis: How living in a cold home affects your health - "With the world in the grip of a global energy crisis, hundreds of millions of people are now facing fuel poverty this winter as they struggle to keep their homes warm. The consequences could be wide-reaching and long-lasting."
Even a few minutes' exercise is good for you, new guidelines state - "Activities such as sprinting up stairs are positive for health, says UK chief medical officer."
Even low alcohol consumption is bad news for strokes - study - "Moderate drinking of one or two glasses a day does not protect against stroke, say researchers."
exercise calorie labels 'make food less tempting' - "'Four hours to walk off pizza calories' warning works, experts say."
Exercise Now, Sit in Front of the TV Later - "After working out, many of us, consciously or not, find other opportunities to move less, undermining our best intentions to stay fit."
Exercise with weights linked to lower risk of early death, study says - "Older adults could benefit from routine including aerobics and strengthening activities, according to researchers."
Expert Tips for Curbing Bad Breath - "Food choices, oral hygiene habits and certain health conditions can play a role - but there are ways to keep dragon breath in check."
Experts say it's about how often you exercise, not how much - "A sports science professor said the four-week study found 'if you're just going to the gym once a week, it's not as effective as doing a bit of exercise every day at home'."
Exploring the Necessity & Virtue of Sleep - The New York Times.
Extreme fasting: how Silicon Valley is rebranding eating disorders - "The obsession with fasting overlaps with a trend for what is often termed 'biohacking' - the idea that your body is a system that can be quantified and optimized."

A B C D E F G H I J K L M N O P Q R S T U V W X Y Z

- F -

Fast food fever: how ultra-processed meals are unhealthier than you think - "UPFs form 50% of Britons' calorie intake - and vegans beware, this includes many plant-based meals. Now food scientists are learning more about what makes them so damaging."
Fasting 2 days a week can help obese people keep off the weight with modest results, study finds - "The 5:2 diet, a type of intermittent fasting, is no more effective than traditional approaches to weight loss, according to what researchers said was the first study of the regimen in a 'real-life setting.' However, the researchers found that the approach, which involves two days of heavily restricting calories (500 calories for women, 600 calories for men) and five days of sensible eating, was rated more highly by the obese people in the study because it was easy to follow."
'Fat but fit' is a myth when it comes to heart health, new study shows - "The negative effects of excess body fat on heart health can't be canceled out by maintaining an active lifestyle, according to new research."
FDA clears first EKG band for the Apple Watch - engadget.
Fit in my 40s: tennis is no longer a languid game of gents. It's for fitness freaks - "The play has changed, the rackets have changed, even the speed of the ball has changed – which all makes a difference, even to a novice."
flavonols may be key for preventing memory loss, study says - "Eating more flavonols, antioxidants found in many vegetables, fruits, tea and wine, may slow your rate of memory loss, a new study finds."
Flu, cancer, HIV: after Covid success, what next for mRNA vaccines? - "The technology was viewed with scepticism before the pandemic but there is now growing confidence about its use."
food calculator: What's your diet's carbon footprint? - "Avoiding meat and dairy products is one of the biggest ways to reduce your environmental impact, according to recent scientific studies."
Food may influence cancer spread - BBC News.
Foods that can reduce stress - "Taking control of stress with the foods we eat can help to counter inflammation throughout the body, as well as elevated levels of the hormone cortisol, which can otherwise lead to high blood sugar, increased appetite and weight gain, among other symptoms."
For A Dose Of Positivity, Reach For These Mood-Enhancing Foods - "A scoop of ice cream may seem like the salve to a cranky mood, but there are also a variety of more wholesome options to reach for when you're in a funk. If you make the right selections, research shows that there are plenty of flavorful foods for boosting your mood—both in the moment and even down the road, if incorporated as a consistent go-to in your diet."
For Your Brain's Sake, Keep Moving - The New York Times.
Forget the Gym: Walking Is the Superior Form of Exercise - "Abandon your punishing fitness plan! For true physical and existential salvation, nothing beats a good walk, argues author Will Self."
Forget What You Think You Know About Blue Light & Sleep - "A new study challenges the notion that blue light disrupts sleep. Experts say it's not clear what blue light does to rest."
France to cut nitrites in food after agency confirms cancer risk - "France said on Tuesday it intends to cut the use of nitrites in food after the national health agency confirmed they raise the risk of cancer, falling short of a full ban feared by processed meat makers who use it in products such as ham and sausages."
Fruit, veg & family life - why Spaniards are living longer - "Spain is on course to become home to the world's longest-lived people, with researchers crediting diet and lifestyle."

A B C D E F G H I J K L M N O P Q R S T U V W X Y Z

- G -

Global spread of autoimmune disease blamed on western diet - "New DNA research by London-based scientists hopes to find cure for rapidly spreading conditions."
Go with your gut: scientist Tim Spector on why food is not just fuel - "The scientist has spent years studying how gut health relates not just to nutrition, but to all aspects of our everyday wellbeing. He explains why it really is what's inside that counts."
Going to a sauna twice a week cuts pneumonia risk, study finds - The Telegraph.
Good or bad? Top cardiologist gives verdict on chocolate, coffee & wine - "Dark chocolate is a 'joy' when it comes to keeping your heart healthy, coffee is likely protective, but wine is at best 'neutral', according to one of the world's leading cardiologists."
Green tea, rather than black, may help you live longer - "Drinking green tea, rather than black, may help you live longer, new study suggests. Drinking tea at least three times a week could reduce the risk of dying from cardiovascular disease and is linked with a longer and healthier life, at least in China, a new study suggests."
Gucci Adds Luxury to a Body Monitoring Ring - "A second iteration of the collaboration between the Italian brand and a Finnish health technology company is expected this fall."
Gut health scientist reveals the five surprising foods you should NEVER eat - "'It's not worth the risk.'"
Gwyneth Paltrow is selling pseudo-scientific wellness & starvation diets - "MEGHAN MCCAIN: Take one look at washed-out phony health guru Gwynnie and ask: Is it any wonder America is sick of her pseudo-scientific wellness and starvation diets."

A B C D E F G H I J K L M N O P Q R S T U V W X Y Z

- H -

Happy ever after: 25 ways to live well into old age - "Determined to enjoy longer and healthier lives, two women researched the science to find the key. Here, they share what they discovered."
'Havana syndrome' & the mystery of the microwaves - "Doctors, scientists, intelligence agents and government officials have all been trying to find out what causes 'Havana syndrome' a mysterious illness that has struck American diplomats and spies. Some call it an act of war, others wonder if it is some new and secret form of surveillance - and some people believe it could even be all in the mind. So who or what is responsible?"
Have that coffee after breakfast especially if you had a bad night's sleep, research suggests - "A strong coffee after a poor night's sleep is the kick-start many people need in the morning but new research suggests that it might be best to have a bite to eat first."
Have your cake & eat it: how to cut down on sugar - "As a doctor and baking columnist Tamal Ray was better placed than most to understand the pitfalls of his lifelong sugar crush. How can even the most sweet-toothed among us cut down?"
Health - Wikipedia.
Health advice for 2017: Simplify, simplify - Harvard Health Publishing.
Health Benefits of Garlic - SIBO Survivor.
Health information on Wikipedia - Wikipedia.
Here are the tricks to make your brain sharper - "Crossword puzzles won't make your brain sharper, but here's what will."
Here's how & why you should set up Cardio Fitness on Apple Watch & iPhone - "One of the valuable, and lesser-known health features on Apple Watch is Cardio Fitness. The measurement is based on your VO2 max which Apple Watch can estimate when recording certain workouts. Follow along for a look at how to use Cardio Fitness on Apple Watch and iPhone including why it's important, how to set it up, and how to measure/view Cardio Fitness levels."
Here's How Long You Should Hold A Plank For A Stronger Core - "The moment your muscles engage and you lift up into a plank, that's when your brain will start inundating you with questions like, 'How long should I hold this plank?' or 'Is it almost over?' - and rightfully so."
Here's How Much Exercise You Need to Keep Your Brain Healthy - TIME Magazine.
Here's How Well the Apple Watch Can Detect Heart Problems - "Apple Watch's app can detect abnormal heart rhythms. Scientists tested how well those alerts matched up with actual heart problems."
Here's One Simple Way You Can Start Eating Healthier - "Despite recent diet crazes, the typical American diet hasn't improved. So why do we keep eating this junk? In a word: convenience."
Here's the Evidence on Tea's Health Benefits - The New York Times.
Here's When Your Body Burns the Most Calories, According to a New Study - "Everything from your workouts to your sleep schedule can influence how many calories you burn throughout the day."
Here's Why You Stress Eat - And How to Stop Doing It - TIME Magazine.
High on fat, low on evidence: the problem with the keto diet - "The ultra-low-carb ketogenic diet – which forces the body to burn fat – flies in the face of conventional nutritional advice. It is hugely popular, but is it healthy or sustainable?"
High stress may make 'broken heart syndrome' more likely, study finds - Condition also known as takotsubo cardiomyopathy is brought on by an acute emotional shock
Honey better treatment for coughs & colds than antibiotics, study claims - "Research suggests honey also more effective than many over-the-counter medicines."
How a vegan diet could affect your intelligence - "The vegan diet is low in – or, in some cases, entirely devoid of – several important brain nutrients. Could these shortcomings be affecting vegan's ability to think?"
How Ageism Negatively Affects Older People's Health - TIME Magazine.
How AI fitness apps now rival personal trainers - "CES 2020: Preview of tomorrow's tech on show in Las Vegas."
How an increasingly popular supplement landed a man in the hospital - "A British man's overdose on vitamin D is a cautionary tale for people who are considering adding supplements to their lives."
How bad teeth shape your health - "The far-reaching consequences of bad teeth. The state of your teeth and gums has a wide-ranging impact on your health, from your risk of Alzheimer's, to diabetes and cardiovascular disease."
How being realistic can be key to your wellbeing - "Lots of studies over the years have shown optimists to be healthy and happy. But being a measured realist might be even better for your mental health, researchers say."
How Can I Tell if I'm Depressed or Burned Out? - "Clinicians and researchers offer advice on how to tell the difference, and what to do about both."
How China Could Change the World By Taking Meat Off the Menu - "China came by its love of meat only recently; in the 1960s, the average Chinese person consumed less than 5 kg of meat annually. But as in comes soared following Deng Xiaoping's market-driven "reform and opening" of the late 1970s, consumption rose to 20 kg per capita by the late 1980s and has now reached 63 kg. Today, China consumes 28% of the world's meat, including half of all pork."
How eating fish affects your health - "Is eating fish healthy? We know of fish as a healthy food, but pregnant women are told to limit consumption. Do the health benefits of eating fish outweigh the risks, particularly as stocks grow more depleted?"
How Exercise Affects Our Memory - "Even a single workout may make our brain's memory centers, like our muscles, more fit."
How Exercise Can Help You Recall Words - The New York Times.
How exercise can help you stop smoking - The Telegraph.
How Exercise Lowers the Risk of Alzheimer's by Changing Your Brain - "Researchers analyzed brain changes linked to exercise to understand how physical activity slows the cognitive decline of Alzheimer's."
How gut bacteria are controlling your brain - "Looking after the multitudes of bacteria, fungi and other microorganisms living in our guts could help us think better and even offer new ways of treating mental health conditions."
How Kim Kardashian became the public health activist for the stars - "Should Gwyneth Paltrow wear a mask, should Ashton Kutcher order pizza? The TV star set up a Zoom call with US Covid chief Anthony Fauci so her celeb friends could protect themselves."
How Little Sleep Can You Get Away With? - The New York Times.
How long can humans live? We ask an expert - "Setting our upper limit at a mere 150 might sound daft 10,000 years from now, says Prof Richard Faragher."
How Long Can People Live? - "The trick is not to increase life span, scientists say, but to lengthen 'health span.'"
How long will it take for me to lose weight? - The Telegraph.
How Louis Theroux's power nap plan could transform our working lives - "The documentary maker says his utopian society would include sleep booths at the office. Turns out many companies have already installed them."
How love sparks better heart health - CNN Health.
How Much Alcohol Can You Drink Safely? - The New York Times.
how coffee really affects our bodies - "Every day, around the world, 2bn cups are consumed. But what actually happens after you swallow that first mouthful? Here is everything you need to know."
How much deep sleep do you need & how can you get more of it? - "Getting enough sleep is important for various health-related reasons, one of them being that sleep allows the body and mind to recharge, leaving a person refreshed and alert once they wake up. Eight hours is the average time a person should be sleeping for. But what happens during sleep? People would be surprised to learn that dreaming is not a sign of deep sleep."
How much do we really want to know about our genes? - "Genetic data will soon be accessible like never before. The implications for our health are huge."
How Not to Feel Dead Tired This Winter - "It's cold. It's dark. And spring is months away. No wonder you're exhausted. Here are four expert strategies to feeling revitalized, even in the most wintry of days."
How one hour of slow breathing changed my life - "An introductory breathing class fixed my sleep and left me calmer than ever. It took me years to find out why."
How overwork is literally killing us - "Alarming new research shows that people working more than 54 hours a week are at major risk of dying from overwork. It's killing three-quarters of a million people each year."
How Safe Is Sunscreen? - "A recent study on absorption into the bloodstream has caused concern, but you should be more worried about skin cancer."
How timing your meals right can benefit your health - "Eating well doesn't necessarily just mean concentrating on the right diet – the time you eat (or don't) can also make a big difference to your wellbeing."
How to best burn calories while walking - "It's no secret that walking is good for you. Many of us are trying to get in those recommended 10,000 steps a day that our wearable fitness technology urges us to achieve. But how many calories are we actually burning, and how can we get the most out of those steps? There are a lot of different wearables and online calculators to assess how many calories are burned walking. However, they are not entirely accurate, research has shown."
How to build a stronger brain, according to Dr. Gupta's 'Keep Sharp' - "Some forgetfulness -- like occasionally forgetting to pay a bill or recall a word -- can be expected at any age. But cognitive decline -- such as consistently struggling to remember monthly bills or stay focused in conversations -- is not a natural part of getting older, according to the National Institute on Aging."
How to clean your ears - "The best advice is never to put anything smaller than your elbow in them, says a hearing specialist."
How to deal with panic attacks - "A panic attack is a feeling of sudden and intense anxiety. Panic attacks can also have physical symptoms, including shaking, feeling disorientated, nausea, rapid, irregular heartbeats, dry mouth, breathlessness, sweating and dizziness."
How to get to sleep the night before an early call or big event - "You're catching a 5 a.m. flight tomorrow. Your boss, a true early bird, has set an unbearably early weekly meeting. School is starting, and you have to rise and shine to goose the family into gear. The clock has rolled back, and suddenly you're climbing out of bed in the dark. Those are the nights you crawl into bed early and beg for sleep - all too often in vain."
How to lose weight... fast - The Telegraph.
How to safely avoid sunburn in the age of coronavirus - "The danger of skin cancer certainly hasn't disappeared during the age of coronavirus, and using sunscreen is more important than ever, experts say."
How many calories should I eat in a day? - The Telegraph.
How Many Calories We Burn When We Sit, Stand or Walk - The New York Times.
How Marriage Can Actually Protect Your Heart Health - TIME Magazine.
How much do I need to sleep? It depends on your age - "Sleep needs are very individualized, but the general recommendation -- the 'sweet spot' -- is to get seven to nine hours of sleep a night. Recommendations really change as people age, however."
How Much Exercise Is Needed to Work Off Each Meal? - The New York Times.
How much protein do we actually need? - "Many of us consciously eat a high-protein diet, with protein-rich products readily available, but how much protein do we really need? And does it actually help us lose weight?"
How Much Protein Do We Need? - The New York Times.
How much water you should drink - and why - CNN health.
How our ancestors used to sleep can help the sleep-deprived today - "Ekirch's subsequent book, 'At Day's Close: Night in Times Past,' unearthed more than 500 references to what's since been termed biphasic sleep. Ekirch has now found more than 2,000 references in a dozen languages and going back in time as far as ancient Greece. His 2004 book will be republished in April."
How Running May or May Not Help the Heart - The New York Times.
How singing can make you feel better in tough times - "Whether you have the voice of a songbird or sound like some ball-bearings in a blender, singing can have some remarkably positive effects."
how tech billionaires are trying to reverse the ageing process - "Jeff Bezos and Peter Thiel are pouring huge sums into startups aiming to keep us all young - or even cheat death. And the science isn't as far-fetched as you might think."
How the seasons change our sleep - "The clocks are changing and the days are getting longer - new research suggests we might want to consider what this means for our bedtimes."
How the world got hooked on palm oil - "It's the miracle ingredient in everything from biscuits to shampoo. But our dependence on palm oil has devastating environmental consequences. Is it too late to break the habit?"
How to Avoid Hurting Yourself at the Gym - "Here are the four exercises you're most at risk of doing wrong - and what can keep you safe."
how to boost your brain power - "When it comes to recall, it's very much a case of 'use it, don't lose it'. Here's how you can improve yours, at any age ..."
How to chew your food properly - "Digestion starts in the mouth so, to avoid overburdening your stomach, it is important to chew food well. A nutritionist gives some helpful advice."
how to eat the diet that will save the world - "A complete overhaul of what we eat may be the only way to meet the needs of a planet in crisis. So what's on - and off - the menu?"
How to form healthy habits in your 20s - The New York Times.
How to Get America on the Mediterranean Diet - The New York Times.
How to Get the Best From Your Immune System - "Journalism has given me many surprises over the years. Few compete with this sentence: Do not boost your immune system. C'mon, really? What would cause me to urge you to ignore all the accepted wisdom and powerful marketing aimed at having you boost your immunity? Because the actual science tells a very different story. The immune system is much less about exercising power than it is about finding balance. You can help train and maintain it. Here's how."
How to Help Your Body Adjust to Colder Weather - TIME Magazine.
How to improve posture & relieve pain with your breath - "In the first article of our series, we established why breathing is your superpower, impacting virtually all aspects of your health and wellness. In this second installment, we take a closer look at how breathing can improve your posture, enhance your mobility, and relieve common aches and pains. I also share the same positional breathing exercises used by Yankees All-Star outfielder Aaron Judge and other professional athletes."
How to Increase Your Chances of Having a Long, Healthy Life - The New York Times.
How to Know if You Have a Genetic Risk for Alzheimer's - "Here's how to find out if you're at risk & what to do if you are."
How to know when to go back to work after an illness - "If you come into the office with a cold or a bug, your boss may be happy, but your co-workers won't thank you. GPs offer their advice on when to heal at home or return to the office."
how to live a long, strong & happy life - "Dr Peter Attia is an expert on longevity and preventative medicine. He explains how sleep, weight training and other incremental changes can make us much more resilient."
How to live forever: meet the extreme life-extensionists - "Some sleep on electromagnetic mats, others pop up to 150 pills a day. But are 'life extensionists' any closer to finding the key to longevity? Alex Moshakis meets some of the people determined to become immortal."
How to look after your mental health without spending a fortune - "From wild swimming for the adventurous to journalling to create calm - or to write down a good rant - there are options."
How to lose weight without gaining wrinkles - The Telegraph.
How to maintain healthy cholesterol levels - "Regular testing will spot if you have high cholesterol, but it's best to make early changes to your lifestyle to minimise the risk of a heart attack or stroke."
How to make your own hand sanitizer - "Washing your hands is how you protect yourself, but this is second best."
How to Minimize Pancreatic Cancer Risk - "Obesity, Type 2 diabetes and metabolic syndrome, all of which have risen to epidemic levels in recent years, are linked to pancreatic cancer."
How to Prevent Memory Loss - "A Neurologist's Tips to Protect Your Memory. A new book by a renowned brain expert says there are a few simple things we can do to prevent memory decline as we age."
How to quit smoking: 5 actions you can take now - "5 actions you can take now to end the addiction. Cigarette smoking is very addictive and can have long-term, adverse health effects. But there is hope for those who want to quit thanks to innovative apps, help lines and proven coping strategies."
How to quit sugar this year - 'It's a lifestyle change, not a diet'
How to safely and successfully cut down on sugar - The Telegraph.
How to Set Goals You'll Actually Achieve - "Whether you want to run a marathon, eat more healthfully or just get off the couch a little more, 'for the majority of people, setting a goal is one of the most useful behavior change mechanisms for enhancing performance,' says Frank Smoll, professor of psychology at the University of Washington. 'It's highly individual,' he says - there's no one way to achieve a goal. But these goal-setting strategies will help you stay the course."
How to sleep in a heat wave, according to experts - ""Sleep is a vital function necessary for adaptive physical and mental wellbeing," according to a review published Thursday in the Journal of Sleep Research, which touches on the health impact of sleeping in warmer temperatures and gives tips on how to cope. To get the best quality sleep, experts have long recommended sleeping in a cool room - between 60 and 67 degrees Fahrenheit (15.6 to 19.4 degrees Celsius) is best. What happens when you can't achieve that during a heat wave?"
How to spot the signs of Alzheimer's in your friends & loved ones - The Telegraph.
How to start the Mediterranean diet - meal by meal - "Considered one of the healthiest diets in the world, the Mediterranean way of eating cuts processed foods and red meats, focusing instead on fresh fruits and vegetables, nuts and seeds, healthy whole grains and extra-virgin olive oil. Eating this way has been shown to reduce the risk for diabetes, high cholesterol, dementia, memory loss, depression and breast cancer and has been linked to stronger bones, a healthier heart and longer life. Oh, and don't forget weight loss!"
How to stay fit forever: 25 tips to keep moving when life gets in the way - "Can you carry on exercising when your motivation slips, the weather gets worse or your schedule becomes overwhelming? Experts and Guardian readers give their best advice."
How to stay healthy when you're eating on the go - The Telegraph.
How to start the Mediterranean diet - meal by meal - "Considered one of the healthiest diets in the world, the Mediterranean way of eating cuts processed foods and red meats, focusing instead on fresh fruits and vegetables, nuts and seeds, healthy whole grains and extra-virgin olive oil."
How to Stop Eating Sugar - The New York Times.
How to take the perfect breath: why learning to breathe properly could change your life - "It is claimed that 'breathwork' can help improve our sleep, digestion, immune and respiratory functions, while reducing our blood pressure and anxiety. All of which, in the midst of a pandemic, sounds more appealing than ever."
How to wash your hands properly - "The bad bacteria we pick up on our fingertips can lead to infection, but we often miss them when washing. An expert from the Royal College of Nursing advises on how to maintain good hygiene."
How ultra-processed food took over your shopping basket - "It's cheap, attractive and convenient, and we eat it every day - it's difficult not to. But is ultra-processed food making us ill and driving the global obesity crisis?"
How Useful Are Supplements? - "Multivitamins. Herbal remedies. A spoonful of cod liver oil. It's estimated that the global market for supplements could be more than $65 billion dollars and as much as $200 billion."
how walking makes us healthier, happier and brainier - "Neuroscientist Shane O'Mara believes that plenty of regular walking unlocks the cognitive powers of the brain like nothing else. He explains why you should exchange your gym kit for a pair of comfy shoes and get strolling."
How we could sleep better - in less time - "We can now amplify the restorative benefits of sleep. Could this help us cope with later nights and early mornings?"
How your age affects your appetite - BBC future.
How your phone can check your heart - "The signs of heart disease your phone can spot. Mobile phones have come a long way since the first ever cellphone call 50 years ago - they can even be used to help diagnose your health."
How your TV could treat Alzheimer's - "How flashing lights could treat Alzheimer's disease. Could a potential new treatment for the most common form of dementia be delivered by simply watching television?"
Human Health Is in the Hands of Bacteria - TIME Magazine.

A B C D E F G H I J K L M N O P Q R S T U V W X Y Z

- I -

I'm a vascular surgeon - these are the five warning signs that you've got bad circulation - "Poor circulation is seen in people with obesity, diabetes and heart conditions and it can have extreme consequences including amputation. Signs include no hair on your legs, memory loss, and even an upset stomach."
'I miss eating': the truth behind the weight loss drug that makes food repulsive - "In Beverly Hills' doctors offices, celebrities are clamoring for Ozempic prescriptions - but what are the costs of the supposed wonder drug?"
Iced coffee is ruining the environment - and your body - The Guardian
If you drink bottled water, you could double how many microplastic particles you ingest, study says - "Every day we are ingesting tiny, often microscopic pieces of plastic - 'microplastics' - with our food, beverages and with the very air we breathe."
IKEA made a smart air quality sensor to track indoor pollution - "Vindstyrka has a tongue-twisting name, but might improve your health."
Improving Eyesight May Help Prevent Dementia - "New Dementia Prevention Method May Be Behavioral, Not Prescribed. As experimental drugs prove ineffective against increasing dementia cases in the U.S., researchers argue that improving eyesight can have an effect."
Increased alcohol use linked with higher risk of cancer in new study - "People who increased the amount of alcohol they drank also had an increased risk of cancer, according to the results of a large study in Korea published on Wednesday in JAMA Network Open."
Individual Circadian Clocks Might Be the Next Frontier of Personalized Medicine - "Although the federal government recommends that Americans sleep seven or more hours per night for optimal health and functioning, new research is challenging the assumption that sleep is a one-size-fits-all phenomenon."
infrared body scanner told me some hard truths - engadget.
Intermittent Fasting: A Complete Guide - The Fit Wizard.
iPhone 12, MacBook Air, Apple Watch & more Apple devices among products to keep away from pacemakers - "A number of Apple products have been found to interfere with some medical devices like pacemakers. Apple has now listed these, along with an advisory on their handling for people using such medical devices."
Is 30 Minutes of Exercise a Day Enough? - "Science says you may need less exercise than you think to live a long and healthy life."
Is Alkaline Water Good for You? It's a Hard Question to Answer - Connect For Water.
Is burnt food a health risk? - "Should you avoid eating burnt food? Do you scrape the burnt bits off a piece of toast? Recent research suggests that might not be a bad idea..."
Is Chocolate Good for You? - "Studies suggest that cocoa might benefit health, but it's unclear how that may translate to a typical bar of chocolate. Many small, short-term human trials, have found that dark chocolate or standardized cocoa supplements or drinks can modestly lower blood pressure and improve blood cholesterol and the health of blood vessels in adults."
Is Coffee Good for You? - "Yes! But it depends on the kind of coffee and the quantity."
Is dark chocolate really good for you? - "We've long been told that chocolate isn't good for us. But the darker the bar, the more surprisingly good it could be for health."
Is It Better to Brush Your Teeth Before Breakfast or After? - "It's a hotly debated question in dentistry."
Is it safe to microwave food? - "There's nothing risky about microwave radiation - but there is about heating up plastic."
Is losing weight an important health goal? - "Accepting your body as it is and stopping all the dieting may sound great, but would doing so hurt your health?"
Is Our Obsession With Health Data Making Us Crazy? - TIME Magazine.
Is Pilates as Good as Everyone Says? - "The strength and flexibility workout is having a moment. What can - and can't - it do for us?"
Is reality TV also fuelling obesity? - "Love Island, Married at First Sight and Keeping Up with the Kardashians bombard viewers with junk food in up to 90% of episodes. Nine in 10 reality TV episodes show junk food, at a rate of once every 8 minutes."
Is sugar really bad for you? - "People who eat more sweets are at higher risk of type 2 diabetes, heart disease and cancer… but that may not actually be sugar's fault. BBC Future investigates the latest findings."
Is the rowing machine a good workout? - "We investigate whether the rowing machine is a good workout, and compare it to other ways of getting fit."
Is this Japan's miracle drink? - "Uncovering amazake: Japan's ancient fermented 'superdrink'. Both a beverage and a health and beauty product, amazake's easy-to-digest, gluten-free nutrients have earned it the nickname 'drinkable IV'."
Is vitamin D really a cure-all - and how should we get our fix? - The Guardian.
Is walking cardio? - "With key studies proving the effectiveness of walking as a cardiovascular activity, the science is firmly behind you, should you elect to prioritize heels over wheels, weights or a trip to the swimming pool. As Ryan McLean puts it, 'Walking is great, it's easy, it's accessible and the risk of injury is low.'"
Is water the best thing in a heatwave? - "Is water always the best choice on a hot day? In hotter weather, the risk of dehydration is greater. But is water always the first thing you should be reaching for?"
Is Working Remotely Bad for Your Health? - TIME Magazine.
Is your memory struggling? Here are 10 ways to boost your recall - "From rhymes to chunking and large displays, neurology professor Richard Restak provides key tips to improve your memory."
Is your smartphone ruining your memory? A special report on the rise of 'digital amnesia' - "'I can't remember anything' is a common complaint these days. But is it because we rely so heavily on our smartphones? And do the endless alerts and distractions stop us forming new memories?"
It's not 8 glasses a day anymore - "Here's how much water you should drink each day. The National Academy of Science, Engineering and Medicine recommends an average daily water intake of about 125 ounces for men and about 91 ounces for women. If you're not filling up a bottle to exactly that amount every day, you're probably still close or even over, because you also get water from food, says Scott."
Italian village with the 'elixir' of healthy life - "It's a place of terraced lemon groves, a paradoxically warm mountain breeze, and a powerful fat-killing gene carried by a few lucky residents. Limone sul Garda, a picturesque fishing village set on the shores of Lake Garda in Italy's northern Lombardy region, is an unusual destination of barely 1,000 residents."
It's bad for the planet. Why can't we quit on beef? - "The beef with beef. We're eating more than ever - but at what cost?"
It's Official: Study Confirms Faster Walkers Are Smarter - "Slow strollers, we send you our heartfelt condolences. New research published in the Journal of the American Medical Association has revealed that faster walkers are kind of smarter than slower walkers."

A B C D E F G H I J K L M N O P Q R S T U V W X Y Z

- J -

Jet lag hits differently depending on your travel direction. Here are 6 tips to get over it - "The term 'jet lag' describes the physical and cognitive symptoms people experience when traveling quickly across several timezones. Before you leave for a trip, you're synchronized to your local time. Once you enter a new timezone, your body's rhythms are no longer lined up with the clock on the wall. That's when jet lag symptoms hit. You're sleepy when you want to be awake, and wide awake when you want to be asleep. You're hungry in the middle of the night, and might feel bloated or nauseous if you eat during the day. Until your body clock and all the rhythms it controls line up with the new local time, you are physiologically and mentally discombobulated. Not a happy vacation vibe!"
Just 2 minutes of walking after eating can help blood sugar, study says - "For centuries, people in the sunny Mediterranean would get up after long, leisurely meals and take a walk, often to the town square to see neighbors and socialize. Walking is so much a part of that lifestyle it is listed as a foundation of the Über-healthy Mediterranean diet."
Just breathe: Start today with these exercises - "Start your day with breathing exercises for stress relief."
Just one drink per day can shrink your brain, study says - "Just one pint of beer or average glass of wine a day may begin to shrink the overall volume of the brain, a new study has found, and the damage worsens as the number of daily drinks rises."

A B C D E F G H I J K L M N O P Q R S T U V W X Y Z

- K -

Kate Middleton's '£55k wellness spends' revealed - a full breakdown - "The Duchess of Cambridge invests a lot of money in her and the Cambridge family's health."
'Keto-like' diet may be associated with a higher risk of heart disease, according to new research - "A low-carb, high-fat 'keto-like' diet may be linked to higher levels of 'bad' cholesterol and double the risk of cardiovascular events such as blocked arteries, heart attacks and strokes, according to new research."

A B C D E F G H I J K L M N O P Q R S T U V W X Y Z

- L -

Larq water bottle - since 2008. "Self-Purifying Water Bottle." LARQ Water Bottle Neutralizes Up To 99.9999% Of Odor-Causing Bacteria Using UV-C Light. Pure water at the touch of a button - for home, traveling, camping and beyond.
'Let's consider the type of food we eat, not fixate on calories' - "The scientist and broadcaster, Giles Yeo, discusses the drawbacks of calorie-counting and BMI in measuring obesity, and how our growing understanding of genetics is leading to new treatments."
Let's Put an End to Annual Physicals - "Health care providers have the tech to replace ineffective, wasteful checkups."
Lifestyle changes could delay or prevent 40% of dementia cases - study - "Addressing 12 factors such as excessive drinking and air pollution exposure may have significant effect, experts say."
Lift Weights, Eat more Protein, Especially if You're Over 40 - The New York Times.
Lift your way to strength – and help your body stay young - The Guardian.
Link Between Highly Processed Foods & Brain Health - "Eating packaged foods like cereal and frozen meals has been associated with anxiety, depression and cognitive decline. Scientists are still piecing together why."
Looking to Technology to Avoid Doctors' Offices & Emergency Rooms - The New York Times.
Low-carb diet may reverse age-related brain deterioration, study finds - "Researchers say brain pathways begin to erode in late 40s, but can be repaired through dietary changes."
Low-Carb Diets May Not Be Healthy in the Long Run, Study Says - "New research says low-carb diets, if they're followed long-term, may increase the risk of premature death, heart disease and cancer."
Low vitamin D levels linked to greater risk of contracting coronavirus disease - "It found that vitamin D levels among white people were around 53 per cent higher than among people of black and ethnic minority (BAME) backgrounds, while people of healthy weight had 25 per cent more than people who are overweight."

A B C D E F G H I J K L M N O P Q R S T U V W X Y Z

- M -

Make Swimming Your Summer Workout - "With just 30 minutes and a few useful tricks, a trip to the pool can become serious exercise."
Meal of a lifetime: what to eat at every age - "From training toddlers to socialising septuagenarians - here are the ideal ingredients to eat healthily at every stage of life."
Medical information & health advice you can trust - Healthline.
Medical Tech that Helps You When Your Doctor Can't - "A new breed of tech company wants to fill the gaps between you, your doctor and your health insurance."
Mediterranean diet may lower dementia risk by a quarter, study suggests - "Data from more than 60,000 Britons suggests plant-rich diet may help regardless of person's genetic risk."
Mediterranean diet named best diet for 2022 - "It's a winning streak that just won't quit. For the fifth year in a row, the Mediterranean diet was first across the finish line in the annual race for best diet, according to ratings announced Tuesday by U.S. News & World Report. Coming in a close second, in a tie: The DASH diet, which stands for dietary approaches to stop hypertension and emphasizes reducing salt intake; and the flexitarian diet, which encourages being a vegetarian most of the time - but is flexible enough to allow a burger once in a while."
Mediterranean Diet Really Is That Good for You. Here's Why - "It has become the bedrock of virtuous eating. Experts answer common questions about how it leads to better health."
Memory games: how to boost your brain power - "When it comes to recall, it's very much a case of 'use it, don't lose it'. Here's how you can improve yours, at any age ..."
Mindful eating could change your food habits & overall life. Here's how to start - "Mindful eating means using all your physical and emotional senses to experience and enjoy the food choices you make without judgment, said Lilian Cheung, a lecturer and director of health promotion and communication in the nutrition department at Harvard T.H. Chan School of Public Health, via email."
Mindfulness could help to stave off dementia, research suggests - The Telegraph.
Mobile phones and cancer - the full picture - The Guardian.
moderate drinking isn't good for your health - "Despite a long-held belief that moderate amounts of alcohol are good for you, a sweeping new analysis finds that the more you drink, the higher your risk of early death."
Monaco's inhabitants' average life expectancy is 89.52 years - the longest in the world - The World Factbook.
More intense exercise linked to a better sex life, exploratory study says - "There's really nothing better for your health than exercise - and that applies to your sex life's health too. A new study suggests higher levels of aerobic exercise may improve sexual performance, stamina and desire in active men and women."
morning cups of coffee & tea could be associated with lower risk of stroke & dementia - "Among more than 360,000 participants studied over a period of 10 to 14 years, those who drank 2 to 3 cups of coffee, 3 to 5 cups of tea, or a combination of 4 to 6 cups of coffee or tea a day had the lowest risk of stroke and dementia, according to researchers from Tianjin Medical University in Tianjin, China."
Muscle strengthening lowers risk of death from all causes, study shows - "Half an hour a week of activities such as gardening, sit-ups or yoga could help reduce the risk of dying from any cause by a fifth."
My life without sugar - "My plan was to have a sugar-free month - but now I feel so much better that I can't imagine going back."
Myths & facts about treating a hangover - "Are you celebrating the first day of 2023 with a hangover? If so, you might be looking for a method to ease your misery. There are certainly a lot of so-called hangover cures, some dating back centuries."

A B C D E F G H I J K L M N O P Q R S T U V W X Y Z

- N -

Napping regularly linked to high blood pressure & stroke, study finds - "'This may be because, although taking a nap itself is not harmful, many people who take naps may do so because of poor sleep at night. Poor sleep at night is associated with poorer health, and naps are not enough to make up for that,' said clinical psychologist Michael Grandner in a statement."
New blood test predicts risk of heart attack & stroke with twice previous accuracy - "New technique, already available in US, could aid in development of cardiovascular drugs."
New guidelines on cholesterol to improve health - "New cholesterol guidelines recommend a more personalized approach in risk assessments, a returned focus on LDL target levels and new drug options for those at highest risk for cardiovascular disease."
New 'planetary health diet' can save lives & the planet, major review suggests - "An international team of scientists has developed a diet it says can improve health while ensuring sustainable food production to reduce further damage to the planet."
New Study Strengthens the Link Between Exercise & Memory - "Experts have long known that fitness is good for the brain. A recent paper connects different types of workouts with assorted improvements in memory."
New Warning Issued For Millions Of iPhone 12 Users - "This week the Journal of the American Heart Association (JAHA) published its findings from a new study into the potential health risks caused by MagSafe, the magnetic charging system Apple built into every iPhone 12 model. JAHA concluded that the iPhone 12 range 'has the potential to inhibit lifesaving therapy.'"
No amount of alcohol is good for the heart, new report says, but critics disagree on science - "In a bold move, the World Health Federation released a policy brief Thursday saying that no amount of alcohol is good for the heart."
No amount of alcohol is healthy if you're under 40, global study says - "Global study finds surprising results for alcohol consumption. No amount of alcohol is healthy if you are younger than 40, mostly due to alcohol-related deaths by auto accidents, injury and homicide, according to a new global study."
No exercise 'worse for health than smoking' - "Not exercising worse for your health than smoking, diabetes and heart disease, study reveals."
No more snooze button: a complete guide to waking up feeling fantastic - "As the clocks go back and days get shorter, it can be hard to get out of bed. But, from dawn simulators to a regular wakeup time, here are 16 ways to start the day well."
No pain, plenty of gain: why taking it easy can be the key to getting fitter & happier - "Whether you're running, working out in the gym or lifting weights, the perfect workout doesn't have you gasping for breath. Here's why less can be more."
No safe level of coffee drinking for pregnant women, study says - "Cut out caffeine to help avoid miscarriage, low birth weight and stillbirth, paper advises."
Number crunching: why ultra-processed foods have a calorie problem - "How we process a calorie depends on genetics, hormones and the food it's in. The trouble is that 50% of our calories come from ultra-processed foods - everything from biscuits to hummus."

A B C D E F G H I J K L M N O P Q R S T U V W X Y Z

- O -

Obesity & coronavirus: how can a higher BMI increase your risk? - "Experts call for more weight loss treatment in UK as studies show obese people are more vulnerable."
Obesity not defined by weight, says new Canada guideline - "Obesity should be defined by a person's health - not just their weight, says a new Canadian clinical guideline."
Okinawa: The island of almost-eternal youth - "A highly unusual percentage of seniors on Japan's Okinawa island live to 100. Their secret is 'ikigai', a unique sense of purpose."
Omega-3s in Fish Oils Tied to Healthy Aging - "Older adults with the highest blood levels of omega-3 fatty acids were more likely to be living without chronic diseases or mental or physical deterioration."
Oura's third-generation Ring is more powerful, but not for everybody - "It's the perfect wearable for people who don't like wearables."
Overweight people lost 35 to 52 pounds on newly approved diabetes drug, study says - "A weekly dose of a medication recently approved by the US Food and Drug Administration to treat type 2 diabetes may help adults without diabetes lose weight as well, a new study found."
Ozempic: An Extreme Risk of Taking Ozempic: Malnutrition - "The diabetes medication has gained attention for its dramatic weight loss effects - but doctors worry that it can go too far."
Ozempic Can Cause Major Weight Loss. What Happens if You Stop Taking It? - "As more patients turn to diabetes medications for other uses, a shortage has taken hold. But doctors say going off these drugs can take a toll."

A B C D E F G H I J K L M N O P Q R S T U V W X Y Z

- P -

Painkillers such as aspirin 'do more harm than good' for chronic pain - "NHS health officials say paracetamol, ibuprofen and opioids also unsuitable for chronic pain."
Paracelsus Recovery - since 2012. "Luxury Rehab Clinic in Switzerland | A Place of Healing, Safety & Care." The world's most private and discreet addiction and mental health clinic, with a team of over 15 doctors and therapists focusing solely on one client at a time. Two centers, one in Switzerland and one in the United Kingdom, where teams of renowned experts ensure your recovery. Offering private and luxurious residences that can be used as a home away from home. Utoquai 43, 8008 Zurich, Switzerland.
Peloton Bike - "Ride with the best instructors live from NYC." A private indoor cycling studio in your home.
Peloton Tread - "Live total body fitness has a new home: yours." Live total body training at the tap of a screen.
People Who Do Strength Training Live Longer & Better - "A consensus is building among experts that both strength training and cardio are important for longevity."
pesticides impair our senses - "Pesticides are widely used worldwide to boost plant growth. Although effective, they contain toxic chemicals that can seriously impair our senses and nervous system."
Pickle juice & Marmite: the 11 best hangover cures - by pub landlords - "They serve up the hangovers in the first place, but what do they recommend to take them away?"
Playing golf may help older adults live longer, study says - "President Trump has spent more than 260 days at one of his golf clubs during his first three years in office as of February 2, according to CNN's tally. Now he can rest easy knowing that time hasn't gone to waste, according to preliminary research, which found that playing golf at least once a month can lower older adults' risk of premature death."
Porridge could be key to a long and healthy life, says Harvard University - "Eating porridge, brown rice or corn each day could protect the heart against disease, Harvard University has found."
Porridge may protect against cancer, Harvard study suggests - The Telegraph.
Prescription Doses of Fish Oil May Lower Heart Attack & Stroke Risk - "Omega-3 fatty acids, abundant in fish oil, are known to be good for the heart. Studies have shown that people who eat more fish rich in these fats have lower rates of heart problems and less risk of dying from heart disease compared to those who eat less."
Preventable Heart Problems Killed 415,000 People in 2016. Here's How to Keep Your Heart Healthy - "Preventable heart issues such as heart attacks and strokes killed 415,000 people in 2016. But lifestyle changes can make a big difference."
Preventing Muscle Loss as We Age - "Sarcopenia, a decline in skeletal muscle in older people, contributes to loss of independence."
Protein powders: When should you use them? - "Are protein powders bad for you? Many people consume protein powder supplements, especially in older age or to bulk up muscles. Are they a good thing to be taking?"

A B C D E F G H I J K L M N O P Q R S T U V W X Y Z

- R -

REM Sleep Is Magical. Here's What the Experts Know - "Dreaming, memory-making, problem-solving: A lot happens during the most active sleep phase."
Removing shoes when entering the house could help people stay slim, scientists claim - The Telegraph.
Research Shows That People Who Do Strength Training Live Longer - Start With These 10 Simple Workouts - "While we know that exercising regularly is crucial to overall well-being, it's important to understand that every exercise offers different benefits. Take cardio, for example - it promotes heart health and boosts circulation. Swimming, on the other hand, is a more low-impact workout that can improve endurance and strengthen and tone your muscles. Strength training is one of the most popular types of fitness that can build muscle mass while also contributing to weight loss. And according to a recent study, it can also help you live longer. Researchers found that people who engaged in strength training one to two times per week had a lower mortality risk compared to those who did not. Ready to start lifting? Here are some trainer-approved workouts to help you get started."
Resveratrol may be natural exercise performance enhancer - ScienceDaily.
rise in stress among those working from home - "New research finds that those living and working alone during the pandemic have suffered the worst effects of all."
Running After a Heart Attack - The New York Times.
Running marathon cuts years off 'artery age' - "Training for and completing a marathon improves the health of a new runner's arteries, cutting about four years off their 'vascular age', a study suggests."

A B C D E F G H I J K L M N O P Q R S T U V W X Y Z

- S -

Safest & Most Effective Sunscreens - TIME Magazine.
Safest seat on a plane? - "Expert reveals the safest seat on an airplane. We asked an aviation expert. We rarely book a flight with hopes of getting one of the middle seats in the last row. Well, guess what? These seats are statistically the safest ones on an airplane."
Salt: Constant craving: why we can't shake the salt habit - "We know it's bad for us, so why can't we stop sprinkling it?"
Saunas Are Filling Up, but Are They Actually Good for You? - "Sweating in small hot rooms has been a wellness staple for centuries. But don't believe everything you hear."
Saunas May Be Good for Blood Pressure - The New York Times.
Scared of High-Intensity Interval Training? A Heart Monitor Can Make It Fun and Easy - "The popular fitness trend sounds brutal. But a simple tool can make it speed by."
science of senolytics: how a new pill could spell the end of ageing - "A simple treatment to stave off the health problems of old age could be available in five to 12 years. Here's how it would work."
Scientists are one step closer to delaying aging in humans - "Getting old is inevitable, but scientists at the University of California San Diego (UCSD) may be one step closer to being able to delay the aging process."
Scientists Calculated How Much Longer You Can Live With a Healthy Lifestyle - "Researchers worked out not just how much longer people can live when they have healthy habits, but also how disease-free those years might be."
Scientists may have discovered why hair turns grey - "Scientists believe they have discovered the mechanism for hair turning grey, which could help develop treatment to alter cells in order to reverse or halt the process."
Scientists One Step Closer to a Blood Test that Predicts When a Person Will Die - "Researchers report that, in a group of more than 44,000 healthy patients, their blood test was around 80% accurate in predicting mortality risk within five to 10 years."
Seeds, kale & red meat once a month - how to eat the diet that will save the world - "A complete overhaul of what we eat may be the only way to meet the needs of a planet in crisis. So what's on - and off - the menu?"
Seriously, Juice Is Not Healthy - The New York Times.
Should a Simple Fitness Check Be Part of Your Checkup? - The New York Times.
Should I exercise on an empty stomach? We asked the experts - The Telegraph.
Should I worry about how long I spend sitting down? - "Study after study has found links between poor health and a sedentary lifestyle. How great is the danger - and can you really fix things with exercise or by sitting on a gym ball?"
Should we be eating three meals a day? - "The idea that we should eat three meals a day is surprisingly modern. How many meals a day is best for our health?"
should we eat like our ancestors? - "Are eating plans like the paleo diet really healthier - or more ethical - than the way we eat now?"
Should you be taking vitamin D? - "Vitamin D is said to help stave off fatigue, depression and even cancer. But some experts argue that for people with healthy levels, supplements are not helpful. What's the reality?"
Should You Shower in the Morning, or at Night? Yes - The New York Times.
Should You Take Aspirin Every Day? Here's What the Science Says - TIME Magazine.
Signs of cancer can appear long before diagnosis, study shows - "Research into genetic mutations suggests possibility of tests that would detect cancer earlier. Early signs of cancer can appear years or even decades before diagnosis, according to the most comprehensive investigation to date of the genetic mutations that cause healthy cells to turn malignant."
Silphion - This miracle plant was eaten into extinction 2,000 years ago - or was it? - "Silphion cured diseases and made food tasty, but Emperor Nero allegedly consumed the last stalk. Now, a Turkish researcher thinks he's found a botanical survivor."
Simple eye examination could predict heart attack risk, says study - "Researchers find that patterns of blood vessels in the retina could help identify those likely to experience cardiac problems."
Simple Rules for Healthy Eating - The New York Times.
Sitting too much is bad for your health, but offsetting the impact is easy, study shows - "Five minutes of light walking every half hour can help alleviate some of the increased risk that comes with sitting for long stretches of the day, according to the study published Thursday in the journal of the American College of Sports Medicine."
Skipping Breakfast Associated with Hardening of the Arteries - American College of Cardiology.
Skipping breakfast could increase risk of heart attacks, study finds - The Telegraph.
Sleep, exercise & heart health: The impacts of coffee, according to a new study - "Coffee drinkers get more steps but also less sleep, study finds".
Sleep: how much do we really need? - "The optimum amount of sleep is supposed to be eight hours a night. Why is shuteye so important - and what happens if we don't get enough?"
Sleep this way to add almost 5 years to your life - "Want to live longer? Then prioritize sleep in your life: Following five good sleep habits added nearly five years to a man's life expectancy and almost 2.5 years to a woman's life, a new study found."
Sleep training for adults prevents depression, study finds - "Undergoing cognitive behavioral sleep training, which teaches you how to break bad habits in order to prepare your mind and body for a good night's sleep, may help prevent depression in older adults with insomnia, a new clinical trial has found."
Sleeping less than 6 hours a night in midlife raises risk of dementia 30%, study finds - "If you're trying to get by on about six hours or less of sleep a night during the workweek, you're setting up your brain for future failure, according to a new study published Tuesday in the journal Nature Communications."
Slow Jogging Vs. Fast Walking: What's the Difference? - "Believe it or not, jogging at a walking pace - or smiling pace, as Hiroaki Tanaka, Japan's running guru and founder of the Fukuoka University Institute for Physical Activity, describes it - is more vigorous than power walking."
Small Steps to Improve Your Mental Health in 2023 - "Well's most popular mental health stories of 2022 are full of insights and guidance to usher you into the new year."
Smartphones may make your headaches worse, study finds - "If you think the time spent on your smartphone could be contributing to a relentless headache, you might be right, a new study finds."
Smartwatches promised to make us healthier, and they finally might - "Apple and Google's next wearables will be more than glorified pedometers."
Smoking Fewer Than 5 Cigarettes a Day Damages Your Lungs Almost as Much as Smoking a Whole Pack, Study Says - TIME Magazine.
Social jetlag - are late nights and chaotic sleep patterns making you ill? - "Waking later at weekends can have the same effect as jetlag – and lead to weight gain, reduced mental performance and chronic illness. But there is a solution."
Staying hydrated is linked to lower risk for disease, faster aging & early death, study finds - "You may know that being adequately hydrated is important for day-to-day bodily functions such as regulating temperature and maintaining skin health. But drinking enough water is also associated with a significantly lower risk of developing chronic diseases, dying early or being biologically older than your chronological age, according to a National Institutes of Health study published Monday in the journal eBioMedicine."
STOP OFFERING SEAT TO ELDERLY PEOPLE ON PUBLIC TRANSPORT - The Independent.
Stop tying yourself in knots: what stress does to your body & how to beat it - "From migraines to IBS, back pain and hair loss, millions of us suffer health problems triggered by stress and anxiety. Here's how to deal with them?"
Stress is shrinking your brain - "Stress might lead to memory loss and brain shrinkage, study says."
Struggling to quit sugar? You might not be sleeping enough - "If you find yourself eating too much added sugar and unhealthy fats, it might be because you're not getting enough sleep, according to a study published Monday in the Journal of the American Heart Association."
Study exposes 10 myths about sleep - "Wake up, people: You're fooling yourself about sleep, study says."
Study links sugary drinks to male hair loss - "A new Nutrients journal study explored the association between sugar-sweetened beverage (SSB) consumption and Male pattern hair loss (MPHL) in young men in China."
Study says e-cigarettes increase risk of cancer and heart disease - "No matter how you get your nicotine, it could damage your DNA."
Study shows how sitting for 8 hours a day can affect your stroke risk - "Adults under 60 who spend most of their days sitting have a higher risk of stroke compared to those who spend more time being physically active, a new study finds."
Sugar rush: how dates went from rare luxury to healthfood sensation - "Once an occasional treat in the UK, dates are now a staple of 'healthy' eating. But can something that is 80% sugar really be good for us?"
SUGAR: THE BITTER TRUTH - Professor Robert H. Lustig explores the damage caused by sugary foods (YouTube).
Sugary drinks linked to risk of early death - "It's not just soda: Drinking too much fruit juice (or any sugary drink) linked to premature death risk."
Sun Protection Factor (SPF) - "SPF is a measure of how much solar energy (UV radiation) is required to produce sunburn on protected skin (i.e., in the presence of sunscreen) relative to the amount of solar energy required to produce sunburn on unprotected skin. As the SPF value increases, sunburn protection increases."
Sunlight guidelines from 40 years ago may need revision - "Researchers used blood samples from 75 individuals to assess vitamin D levels regarding current sunlight guidelines, which scientists originally based on skin samples. Their results suggest that current sunlight guidelines may need revising. Further calculations and research are necessary before health experts can create new sunlight guidelines."
Surviving cardiac arrest: what it's like to come back to life - "Last year the Guardian's Jonathan Watts underwent a lifesaving operation following a cardiac arrest. He tells Anushka Asthana what it taught him about life and death."
Swapping salt for substitutes reduces risk of stroke & heart conditions - study - "High blood pressure contributes to around half of all heart attacks and strokes in the UK."

A B C D E F G H I J K L M N O P Q R S T U V W X Y Z

- T -

Take a Vacation From Exercise? Your Body May Not Thank You - "Two new studies look at what happens when we do not exercise or move around much for a period of time."
Take a Walk in the Woods. Doctor's Orders - "'Forest bathing,' or immersing yourself in nature, is being embraced by doctors and others as a way to combat stress and improve health."
Take This App & Call Me in the Morning - The New York Times.
Taking a bath isn't just relaxing. It could also be good for your heart, study says - "Ending your day with a hot bath might have more benefits relaxation. It could also lower your risk of heart disease and stroke, a new study finds."
Talk to Your Doctor About Your Bucket List - The New York Times.
Tall people at greater risk of cancer, study says - "Tall people are at a greater risk of cancer because they have more cells in their body, new research has suggested."
term 'heroin chic' needs to die - even if skinny-worship rages on - "The aesthetic may be back, but the phrase has dark roots. Industry veterans warn we shouldn't revert to 90s beauty standards."
The alarming truth about how sugar ruins your sleep - "It may be second nature to reach for a sweet boost when tired in the evening but this could lead to a disturbed night. How do you kick the habit?"
The Benefits of Intermittent Fasting - "I was skeptical, but it turns out there is something to be said for a daily fast, preferably one lasting at least 16 hours."
The best way to brush your teeth - "Brushing your teeth effectively lowers your chances of getting a host of chronic diseases, as well as keeping your teeth and gums healthy. But the majority of us are doing it wrong."
The big idea: should we eat like our ancestors? - "Are eating plans like the paleo diet really healthier - or more ethical - than the way we eat now?"
The Case For Sauna Bathing Is Stronger Than Ever - "A new research review has plenty of good news for people who love a good sauna session: Studies overwhelmingly suggest that the relaxing habit is also a healthy one."
The damaging effects of 'boreout' at work - "Being chronically bored at work can have damaging consequences - and we need to talk about it more, say experts."
The damaging resurgence of Heroin Chic - "As the Kardashians ditch their BBLs and curves for a 'skinnier look', recent changes in body image trends seem to be reverting back to the 2000s love of the slim physique and heroin chic."
The downsides to a plant-based diet - "Why the vegan diet is not always green. The vegan diet is widely regarded to be better for the planet than those that include animal products, but not all plant-based foodstuffs have a small environmental footprint."
The food supplement that ruined my liver - "Jim McCants took green tea capsules in a drive to get healthy in middle age. His doctors now say they left him needing an urgent liver transplant."
The forgotten medieval habit of 'two sleeps' - "For millennia, people slept in two shifts – once in the evening, and once in the morning. But why? And how did the habit disappear?"
The great snack divide: should you eat three square meals a day - or 17 tiny ones? - "Scientists are split on how often we should eat. Personally, I always have food in my pockets - fine when it's rice cakes, less so when it's cheese."
The health benefits of a random act of kindness - "This year, 'Random Acts of Kindness' Day falls on Monday, but the foundation behind it wants you to consider being kind every day."
The inconvenient truth about cancer & mobile phones - The Guardian.
The ingredients for a longer life - "A handful of small towns have remarkable longevity. What is it about their lifestyle that can increase your chances of living to 100?"
The invisible addiction: is it time to give up caffeine? - "Caffeine makes us more energetic, efficient and faster. But we have become so dependent that we need it just to get to our baseline."
The medications that change who we are - "They've been linked to road rage, pathological gambling, and complicated acts of fraud. Some make us less neurotic, and others may even shape our social relationships. It turns out many ordinary medications don't just affect our bodies - they affect our brains. Why? And should there be warnings on packets?"
The Most Promising Alzheimer's Drug in Years Took a Thrashing From an FDA Advisory Committee - "For several years, doctors and patients have been closely following the development of the drug aducanumab, hoping that it might finally be the first medication to stop the cycle of failure that has been the fate of dozens of Alzheimer's drug candidates that have come before. If approved, it would become the first treatment for Alzheimer's."
The night owl problem: the surprising reason late sleepers are less happy - "It is not just because they are tired and tied to impossible schedules. A new study suggests night owls experience less support from friends and family."
The price of 'sugar free': are sweeteners as harmless as we thought? - "We know we need to cut down on sugar. But replacing it with artificial compounds isn't necessarily the answer."
The Right Dose of Exercise for the Aging Brain - The New York Times.
The rise of the sober curious: having it all, without alcohol - "Influencers are taking a sober second look at drinking culture – but for whose benefit?"
The secret to a long & healthy life? Eat less - "Permanently cutting the daily calories you consume may turn out to have a profound effect on your future life, according to some tantalising scientific studies."
The Secret To Self-Care & Why You Should Prioritize It Today - "As stress and anxiety play a significant role in many Americans' lives, the national corporate wellness market could reach an estimated $15.5 billion by 2024. But how effective are costly meditation retreats, goat yoga classes and scented candles when it comes to quieting our minds and relaxing our bodies in today's fast-spinning world?"
The Simplest Way to Drastically Improve Your Life: More Sleep - "Sleep deprivation is the invisible ceiling to how good life can be."
The stress secret: 12 ways to meditate - without actually meditating - "Many people struggle with classic forms of meditation, but its benefits are still available. From writing and drawing to pottery or singing, here are everyday ways to find peace."
The surprising benefits of fingers that wrinkle in the bath - "The skin on our fingertips and toes shrivels like prunes when soaked for a few minutes in water. But is this an adaptation that occurred to help us in our evolutionary past? And what can it reveal about your health today?"
The Surprising Secrets to Living Longer - And Better - TIME Magazine.
The Surprising Way to Resist the Lure of Junk Food - TIME Magazine.
The truth about caffeine: how coffee really affects our bodies - "Every day, around the world, 2bn cups are consumed. But what actually happens after you swallow that first mouthful? Here is everything you need to know."
The truth about eating eggs - "Are eggs helpful to our health... or a cause of heart disease? BBC Future examines the evidence."
The truth about hydration: should you drink eight glasses of water a day? - "The 8×8 rule has become a health goal for many. But when it comes to healthy skin, eyes and having bags of energy, the research tells another story."
The truth about saturated fat - "Mainstream science says eating too much saturated fat raises cholesterol and the risk of heart disease, so why are some diet trends encouraging people to eat more of it?"
the truth behind the weight loss drug that makes food repulsive - "In Beverly Hills' doctors offices, celebrities are clamoring for Ozempic prescriptions - but what are the costs of the supposed wonder drug?"
The unintended benefits of vaccination - "The mystery of why some vaccines are doubly beneficial. Vaccines have been providing a kind of hidden, unintended protection for over a century. Now scientists are racing to find out how it works."
The weedkiller in our food is killing us - "Growing research show that glyphosate, one of the most widely used herbicides in the US, causes cancer."
These Apps Turn Your Apple Watch Into a Fitness Tracking Machine - "If you're training or just looking to step up your workout game, these tools take your wearable to the next level."
These Christmas trees may improve your health - "Exposing yourself to a natural environment is known to reduce psychological stress, according to a 2018 study published in Behavioral Sciences. One study found that forest bathing reduced people's cortisol levels, the hormone responsible for stress."
These Devices Save Lives, but Almost Nobody Has One at Home - "While researchers are divided over whether more people should have automated external defibrillators at home, those who have used one have no doubts."
These Fitness Apps Just May Make You Give Up The Gym Permanently - "Sure, social distancing means fitness classes are cancelled and gyms are closed. But that doesn't mean you have to stop working out. In fact, experts believe it's more important than ever."
Think you're OK because you only drink on weekends? Think again, study says - "'What this means is that an individual whose total consumption is seven drinks on Saturday night presents a greater risk profile than someone whose total consumption is a daily drink with dinner, even though their average drinking level is the same.'"
Thinking of going vegan? What you need to know first - "Adopting a vegan diet has grown increasingly mainstream in recent years. According to a 2017 study, as many as 6% of US consumers say they are vegan, compared to just 1% in 2014."
This is how long it takes your body to fall out of shape when you stop exercising - "Getting in shape isn't easy. But after all that hard work, how long do we actually maintain it? Turns out that even the great effort we put into training, taking a bit of time off can mean that we become 'unfit' much faster than it took us to actually get in shape."
'This makes Chinese medicine look bad': TCM supporters condemn illegal wildlife trade - "Experts warn the exploitation of endangered animals such as pangolin and tiger is tarnishing the industry."
Those 2-Minute Walk Breaks? They Add Up - The New York Times.
Timeshifter - since 2018. "The Jet Lag App. Travel is part of your life. Jet lag doesn't need to be." Optimize your sleep, health, and quality of life. Timeshifter Apps for Jet Lag & Shift Work. Discover circadian science with Timeshifter, and learn more about our popular jet lag app and our upcoming app for shift workers.
To live your best life, live the life you evolved for - CNN Health.
To Lose Weight, Eating Less Is Far More Important Than Exercising More - The New York Times.
To Move Is to Thrive. It's in Our Genes - "A need and desire to be in motion may have been bred into our DNA before we even became humans."
To Take Care of Your Health, Measure Your Waist - The New York Times.
Tomatoes are the perfect no-cook food for a heat wave - "On their own, tomatoes are just what the doctor ordered. 'Raw tomatoes are a source of lycopene, an antioxidant, and they're also a good source of vitamin C, potassium, and folate,' said Lauren Manganiello, a registered dietitian and sports nutritionist in Long Island, New York."
'Too much' nitrite-cured meat brings clear risk of cancer, say scientists - "Call for UK government ban of chemical in processed meat such as bacon and ham after mice tumours study."
too much sleep is worse than not enough - "More than 10 hours increases risk of heart disease by 41%, a study says. Surprised? That's because we assume 'delinquent' choices are less virtuous."
Top dental health tips: Don't rinse - "Don't rinse after brushing and other tips for better dental health."
Top UK scientist urges people to take vitamin D supplements - "Geneticist Steve Jones, formerly a sceptic, says case for doing so is overwhelming."
Toxic 'forever chemicals' are contaminating plastic food containers - "Harmful PFAS chemicals are being used to hold food, drink and cosmetics, with unknown consequences for human health."
Trouble falling asleep at night? Chase that daytime light, study shows - "Published online Dec. 7 in the Journal of Pineal Research, the study found that UW students fell asleep later in the evening and woke up later in the morning during - of all seasons - winter, when daylight hours on the UW's Seattle campus are limited and the skies are notoriously overcast."
Trusted health advice - healthdirect.
Two or more chronic health problems in middle age 'doubles dementia risk' - "Risk 2.5 times greater for those with multimorbidity at age 55, long-term study of 10,000 Britons reveals."

A B C D E F G H I J K L M N O P Q R S T U V W X Y Z

- U -

ultra-processed foods have a calorie problem - "How we process a calorie depends on genetics, hormones and the food it's in. The trouble is that 50% of our calories come from ultra-processed foods - everything from biscuits to hummus."
Ultraprocessed foods linked to cancer & early death, studies find - "Eating a lot of ultraprocessed foods significantly increases men's risk of colorectal cancer and can lead to heart disease and early death in both men and women, according to two new, large-scale studies of people in the United States and Italy published Wednesday in British medical journal The BMJ. Ultraprocessed foods include prepackaged soups, sauces, frozen pizza, ready-to-eat meals and pleasure foods such as hot dogs, sausages, french fries, sodas, store-bought cookies, cakes, candies, doughnuts, ice cream and many more."
Understanding Heart Zone Training: All You Need to Know - "Heart zone training is a confusing concept for many cyclists. It does not help that most of the information available online is complicated. This is frustrating for bike riders who want to try it. Heart zone training opens a whole new world of health benefits, even for the average cyclists."
US foods are increasingly full of nano-scale additives - "'I wash all my food like crazy': scientists voice concern about nanoparticles."
Using olive oil instead of these foods could add years to the life of your heart, study says - "The health benefits of the Mediterranean diet are renowned: Lots and lots of veggies, fruit, fish and olive oil have been shown to strengthen bones, improve brain health and reduce the risk for some cancers, diabetes, high cholesterol, heart disease and stroke."

A B C D E F G H I J K L M N O P Q R S T U V W X Y Z

- V -

Vegan diet can help overweight people shed pounds, study shows - "Eating vegan for 12 weeks also led to lower blood sugar levels in overweight people or with type 2 diabetes."
Veganism: the key to good gut health? - "Giving up meat and dairy is promoted as having many health benefits. It may also play a crucial part in maintaining a healthy gut biome."
Vegetarian & meat-eating children have similar growth & nutrition but not weight, study finds - "If you're wondering how your child might fare on a vegetarian diet, a new study offers some factors to consider. Children eating a vegetarian diet and children who ate meat were similar in terms of growth, height and nutritional measures, but vegetarian children had higher odds of being underweight, according to a study published Monday in the journal Pediatrics."
Vegetarian women more likely to fracture hips in later life, study shows - "Research suggests some vegetarians may not get sufficient nutrients for good bone and muscle health."
Vegetarians might have higher risk of stroke than meat eaters, study says - "Non-meat diets have soared in popularity with many people ditching beef, pork and chicken in pursuit of health and environmental benefits and concerns about animal welfare. However, a new study suggests that vegetarians and vegans may be at a higher risk of stroke than their meat-eating counterparts - although those who don't eat meat have a lower chance of coronary heart disease, according to the new paper, published in the medical journal the BMJ on Wednesday."
Very Brief Workouts Count Toward 150-Minute Goal, New Guidelines Say - "New federal exercise recommendations include the first-ever federal activity parameters for 3-year-olds, as well as a few surprising omissions."
Viagra could be used to treat Alzheimer's disease, study finds - "US scientists say users of sildenafil - the generic name for Viagra - are 69% less likely to develop the form of dementia than non-users."
Vinegar is the latest health drink phenomenon – but does it strike a sour note? - "It has been claimed that vinegar-based drinks can improve digestion, reduce cholesterol and aid weight loss. No wonder supermarkets are filling up with them."
Vitamin D & fish oil supplements may help prevent autoimmune disease, study says - "aking daily vitamin D and fish oil supplements may help protect older adults from developing autoimmune disorders such as rheumatoid arthritis, psoriasis, thyroid diseases and polymyalgia rheumatica, an inflammatory disease that causes muscle pain and stiffness in the shoulders and hips, a new study found."
vitamin D? - "Vitamin D is said to help stave off fatigue, depression and even cancer. But some experts argue that for people with healthy levels, supplements are not helpful. What's the reality?"
Vitamin D supplements don't improve bone health, major study finds - "The study found that vitamin D supplements did little to help fractures, falls and bone density."
Vitamin K found in some cheeses could help fight Covid-19, study suggests - "Scientists in Netherlands explore possible link between deficiency and Covid-19 deaths."
Vitamins & Supplements Can't Replace a Balanced Diet, Study Says - "A new study says that nutrients from supplements aren't as good for you as nutrients from food. You're better off eating healthy food."

A B C D E F G H I J K L M N O P Q R S T U V W X Y Z

- W -

Walk, Jog or Dance: It's All Good for the Aging Brain - The New York Times.
Walking can lower risk of early death, but there's more to it than number of steps, study finds - "Put on your walking shoes and don't forget your step counter: You can reduce your risk for cancer, heart disease and early death by getting up to 10,000 steps a day, but any amount of walking helps, according to a new study. Health benefits rose with every step, the study found, but peaked at 10,000 steps - after that the effects faded. Counting steps may be especially important for people who do unstructured, unplanned physical activity such as house work, gardening and dog walks."
Walking Is the Superior Form of Exercise - "Abandon your punishing fitness plan! For true physical and existential salvation, nothing beats a good walk, argues author Will Self."
Want to Live Longer & Healthier? Peter Attia Has a Plan - "Modern medicine has been a miracle for healthy aging. But what if we're still thinking about the subject of living better for longer all wrong? That's the premise of Dr. Peter Attia's book, 'Outlive: The Science & Art of Longevity,' which he wrote with Bill Gifford and has been a runaway best seller since it was published this spring."
Want to live longer? Eat more fiber - "High-fiber diet linked to lower risk of death and chronic diseases."
Want to live longer? You may want to ditch these drinks - "Brace yourself, lovers of diet sodas and sugary drinks. It's more bad news and yet another reason to consider ditching your favorite soda or soft drink."
Want to Live Longer? For Just 30 Minutes a Day, Do Anything Else But Sit - "A new study says trading sitting for any level of physical activity for just 30 minutes a day could help you live longer."
Want to Live Longer? Science Says to Do These 5 Things - TIME Magazine.
Want to Stay Healthy as You Age? Let Go of Anger - "Anger can be a normal and healthy emotion. But a new study says that anger, more than sadness, may have more damaging effects for seniors."
We are what we eat, so we're right not to trust what goes into American food - "Forgoing our links with European suppliers makes no sense economically or health-wise."
We're drowning in a sea of salt. The FDA says we have to help save ourselves - "'I never add salt to my food at home or in restaurants. Nor do I add salt to any recipe while I'm cooking. I'm well aware of the link between salt, high blood pressure and heart disease, which is the leading killer of American men and women. Yet I am still getting over the recommended daily limit of 2300 milligrams of sodium by eating out or by adding processed or prepared ingredients to the meals I make.'"
We're nowhere near reaching the maximum human life span, controversial study suggests - "Human longevity records may be broken in the next few decades, a new modeling study suggests."
We're quitting smoking, so why is big tobacco booming? - video - "Smoking rates are falling in the UK, US and much of Europe. Forty-five per cent of Brits smoked in the 60s and 70s, compared with just 15% today. You would think this was bad news for cigarette profits, but tobacco companies are making more money than ever. They claim they no longer market traditional cigarettes, but behind-the scenes tactics suggest otherwise. Leah Green explains how the most successful business enterprise in history has weathered its fall from grace."
Weight loss may mean a risk of death for older adults, study shows - "As much as people may celebrate their own weight loss, it is not always healthy. A new study shows that weight loss in older adults is associated with early death and life-limiting conditions. Weight gain, on the other hand, was not associated with mortality, according to the study published Monday in JAMA Network Open."
Weight-loss techniques can halve meat consumption, Oxford trial finds - "Researchers tap into self-regulatory methods such as setting goals and keeping a diary. Setting daily meat reduction goals and keeping an online diary of intake helped frequent meat eaters to halve their consumption in just over nine weeks, a trial has found."
What 7 Sleep Experts Do When They Can't Fall Asleep - TIME Magazine.
What banned substances might be hiding in your groceries? - "If you live in the US, your grocery store is full of substances banned in Europe. Use our handy tool to find out what they are and how to avoid them."
What drinking alcohol means for your cancer & death risk - CNN health.
What experts say about the best time to exercise - "For everyone who hates setting their alarm an hour earlier to hit the gym, scientists may have some good news. Afternoon workouts lead to better outcomes for some people, according to a study published this year. The study, which looked at men who are at risk for or diagnosed with Type 2 diabetes, found that participants who exercised in the afternoon experienced more metabolic benefits as well as more positive effects on their exercise performance and fat mass compared to participants who exercised in the morning."
What happens when we stop exercising? - "How soon do we become unfit when we stop exercising? It can take months of hard work to build up fitness, but while your strength can quickly fade if you stop exercising, you might not have to start from scratch again."
What if the Placebo Effect Isn't a Trick? - "New research is zeroing in on a biochemical basis for the placebo effect - possibly opening a Pandora's box for Western medicine."
What Is Intermittent Fasting & Is It Actually Good For You? - TIME Magazine.
What Is Ozempic & Why Is It Getting So Much Attention? - "More people are turning to a diabetes medication to induce weight loss - but experts say it's not a miracle drug."
What is Ozempic Face? - "Only two other drugs have been on the tip of everyone's tongue before this: Botox and Viagra. The diabetes drug has become a hot topic among moneyed weight watchers from Malibu to Madison Avenue."
What is the healthiest way to walk? We ask an expert - "Annabel Streets, author of 52 Ways to Walk, on how to get the most out of walking – for both your mental and physical health."
What Poisons Are in Your Body? - The New York Times.
What to drink to help you sleep - "When winding down you might enjoy sipping a beverage before bedtime, but are there any drinks that could be particularly helpful or harmful for quality sleep?"
What too much alcohol can do to your health - CNN Health.
What we aren't eating is killing us, global study finds - "Which risk factor is responsible for more deaths around the world than any other? Not smoking. Not even high blood pressure. It's a poor diet."
What We Know About Diet & Weight Loss - "After decades of research, there are shockingly few firm conclusions."
What you should know to master portion control, according to an expert - "Portion sizes of some of your favorite foods have been getting bigger and bigger. Ultraprocessed foods and beverages, including chocolate, french fries, fast-food hamburgers and soda, are being sold in sizes up to five times larger than when they were first introduced, according to a December 2021 study in the American Journal of Public Health."
What Your Blood Tells You About Cancer - "Blood tests can tell us a lot about what's going on in our bodies—from whether we're eating too much sugar to whether we're harboring any infectious diseases. Scientists lately have been working on ways to use similar diagnostic tools for cancer, which have the potential to dramatically increase the amount of information doctors use to figure out the best treatments for their patients."
Whatever the Problem, It's Probably Solved by Walking - "Walking is the worst-kept secret I know. Its rewards hide under every step. Hippocrates proclaimed that 'walking is man's best medicine.' The good doctor also knew that walking provided more than mere physical benefits when he suggested: 'If you are in a bad mood, go for a walk. If you are still in a bad mood, go for another walk.' He was alluding to what so many who came after would attest, that walking not only nourishes the body but also soothes the mind while it burns off tension and makes our troubles recede into a more manageable perspective. Søren Kierkegaard agreed when he confessed, 'I know of no thought so burdensome that one cannot walk away from it.' And Charles Dickens was even more direct. 'If I could not walk far and fast,' he wrote, 'I think I should just explode and perish.'"
When We Eat, or Don't Eat, May Be Critical for Health - "A growing body of research suggests that our bodies function optimally when we align our eating patterns with our circadian rhythms."
Why an Apple Watch with EKG matters - "The FDA has approved the EKG feature, meaning the watch can be used as a medical device."
Which Exercise Burns the Most Calories? Here's What Science Says - "These are the best workouts for burning the most calories in the shortest amount of time."
Which kinds of foods make us fat? - The New York Times.
Which Type of Exercise Is Best for the Brain? - The New York Times.
WHO preparing for nuclear war? - "Health body publishes list of medicines for nations to stockpile in case of 'radiation or nuclear emergency' as EU warns 'Russia is at war with the West.'"
WHY 98.6 DEGREES ISN'T A 'NORMAL' BODY TEMPERATURE - "Your temperature might never be 98.6 - and that's normal. Since the start of the COVID-19 pandemic, many of us have worked a new routine into our lives: temperature taking. It's understandable since fever is an extremely common symptom of the disease. But if you take your temperature regularly, you've probably noticed that your body is rarely 98.6 degrees Fahrenheit (or 37 degrees Celsius). In fact, your temperature is probably all over the place. The tyranny of 98.6 must end."
Why a workout is good for your gut bacteria - "The rich microbiota flourishing inside us may play a far greater role in the way exercise improves our health than previously thought."
Why Am I So Congested All the Time? - "Seasonal allergies, pet dander, temperature changes and sinus infections are just a few potential triggers for this common problem. Here's what experts say can help."
Why are there more women vegans? - "The mystery of why there are more women vegans. When women hold two incompatible beliefs, they're more likely to change their behaviour to reconcile them. Men, by comparison, tend to dig themselves in."
Why aren't we living longer? - "For the best part of two centuries people's life expectancy has been improving at a pretty rapid and consistent rate."
Why being kind could help you live longer - "What can kindness do for you? Give you a warm glow perhaps, or a feeling of well-being? While that may be true, scientists and academics at a new research centre say it can do much more - it can extend your life."
Why calories in alcohol are extra-fattening - "Did you know that a glass of wine can have the same calories as four cookies? How about a pint of lager - surprised to hear it's often the calorific equivalent of a slice of pizza?"
Why Chocolate May Be Good for the Heart - The New York Times.
Why coffee could be good for your health - "In the past, coffee was associated with increased health risks. But research from the last decade finds that drinking coffee may actually benefit your health."
Why do humans drink animal milk? - "Humans didn't start out being able to digest animal milk - but now many populations do. Why has evolution favoured tolerating dairy?"
Why Do I Gain Weight When I Exercise? - The New York Times.
Why do our bodies age? - "As we develop new cures for diseases and life expectancy continues to increase, will we eventually be able to live forever? Professor Kaare Christensen from Denmark's Ageing Research Centre argues that over time, damage to the body's cells, molecules and organs are causing the rapid onset of ageing."
Why Does Exercise Guard Against Cancer? Inflammation May Play a Role - The New York Times.
Why does world's tallest populace seem to be getting shorter? - "Dutch people born in 2001 are not as tall as previous generation – is it genetics, migration or nutrition?"
Why Everything We Know About Salt May Be Wrong - The New York Times.
Why Extreme Heat Is So Bad for the Human Body - "Heatstroke happens when the body reaches a core temperature of at least 104° F, which can lead to organ failure, brain damage, and even death."
Why fasting can be good for you - "The benefits of intermittent fasting the right way. Intermittent fasting offers the tantalising promise that changing mealtimes, and not the meals, can be good for you. But what are the dos and don'ts of eating less frequently?"
Why interval training is so effective - "For many people aiming to burn a lot of calories, high-intensity interval training is the way to go. Also known as HIIT, these popular workouts feature bursts of intense activity, such as squats or lunges, followed by recovery time. A HIIT routine can torch more calories than a traditional endurance workout while being performed in a shorter amount of time."
Why is it so hard to control our appetites? A doctor's struggles with giving up sugar - "We've become convinced that if we can eat more healthily, we will be morally better people. But where does this idea come from?"
Why it's never too late to start lifting weights - "Older people benefit hugely from resistance exercises, new research has found. Here's the best way to start, without even leaving your chair."
Why keeping calm & carrying on exercising can help back pain - "When it hurts to walk, bend or even sit, it's tempting to lie down until your spine sorts itself out. But moving can be the key to getting better."
Why looking at awe-inspiring art could lead to a happier, healthier life - "It may be a sunset, a stirring orchestral number or a striking painting - whatever gives you goosebumps or makes you shed a tear. Experts believe that consistently seeking out these awe-inspiring experiences could lead to a significantly happier and healthier life."
Why noise pollution is bad for your heart - "The roar of traffic, aircraft and even ringing telephones are linked to negative health effects. Now scientists are starting to unravel what all this noise is doing to our bodies."
Why people get headaches from looking at buildings - "Looking at buildings can actually give people headaches. Here's why."
Why pigs have got slimmer as humans get fatter - "The average pig now has only 16% body fat - lower than the average for people in the UK. How has this happened?"
Why scientists want you to take your shoes off indoors - "Leave your shoes outside, these scientists say. You probably clean your shoes if you step in something muddy or disgusting. (Please pick up after your dog!) But when you get home, do you always de-shoe at the door? Plenty of people don't. For many, what you drag in on the bottom of your shoes is the last thing on the mind as one gets home. Although our examination of the indoor environment, via our DustSafe program, is far from complete, on the question of whether to shoe or de-shoe in the home, the science leans toward the latter. It is best to leave your filth outside the door."
Why Sitting May Be Bad for Your Heart - The New York Times.
Why some health enthusiasts are drinking ginger - CNN Health.
Why stress is dangerous - and how to avoid its effects - "Are we really more stressed than ever before? In an essay based on her recent book Stress-Proof, Mithu Storoni explains how modern life may have amplified our anxiety, and the best ways to reduce its impact on our bodies and minds."
Why the health benefits of laughter yoga will make you smile - "We all know that nothing beats a good giggle, and research shows its physical and mental health benefits are huge, too. Dr Madan Kataria reveals how his 'laughter yoga' clubs are giving the world something to feel joyful about."
Why vegan junk food may be even worse for your health - "While we might switch to a plant-based diet with the best intentions, the unseen risks of vegan fast foods might not show up for years."
Why watching tv on a treadmill is bad for your health - The Guardian.
Why We All Need to Drink More During Hot Weather Exercise - "Some athletes have begun to eschew fluids during hot weather workouts, in hopes that the privation might somehow make them stronger. A new study suggests it doesn't."
Why winter weather makes it easier to catch a cold or flu - "Many of us have heard: 'Don't go outside without a coat; you'll catch a cold.'"
Why worrying isn't as bad as you think - "Anxiety can be exhausting, but there is often a reason for it – and there are some surprising benefits to certain kinds of worrying."
Why You Need the Flu Shot Every Year - The New York Times.
Why You Should Add Rest to Your Workout Routine - TIME Magazine.
Why You Should Eat Your Halloween Candy All at Once - "For people who typically hoard Halloween candy past Thanksgiving, here's some surprising advice: Some dentists actually condone eating your Halloween candy at one time, rather than rationing it out over weeks."
Why You Should Never Use Airport USB Charging Stations - "'Plugging into a public USB port is kind of like finding a toothbrush on the side of the road and deciding to stick it in your mouth. You have no idea where that thing has been.'"
Why You Should Skip the Late-Night Snacks - The New York Times.
Why you shouldn't trust your food cravings - "Many of us believe that a food craving is our body's way of signalling that it needs a certain nutrient. But research shows that's unlikely to be true - with one possible exception."
Winter weight: why our hunger is rising rapidly - and how to sate it - "As the sunlight recedes and your body tries to compensate with food, it's time to break out the stews and soups."
Withings BPM Connect - Wi-Fi Smart Blood Pressure Monitor. Blood Pressure - systolic and diastolic plus heart rate. Medically accurate - FDA Cleared device. Easy to use - wireless, only one button to press. Easy to read & understand - immediate results with a color-coded feedback on the LED screen of the device. Wi-fi & Bluetooth sync - Automatic data sync to the health Mate app.
Women may not live longer than men after all - study - "'Substantial chance' married or university-educated men outlive women without spouse or high school diploma."
World Health Day - since 1950. Global health awareness day celebrated every year on 7 April, under the sponsorship of the World Health Organization (WHO).
World Health Organization Warns Against Using Artificial Sweeteners - "Continued consumption doesn't reduce weight and could increase the risk of Type 2 diabetes, cardiovascular diseases and mortality in adults, the W.H.O. said on Monday."
Worst Foods & Drinks for Your Teeth - "When assessing how likely a given meal, snack or drink is to harm your dental health, there are two main things to consider, experts say."

A B C D E F G H I J K L M N O P Q R S T U V W X Y Z

- Y -

You Call It Starvation. I Call It Biohacking - "Welcome to the bro-y world of extreme dieting. Or is it disordered eating?"
You should be eating citrus this month - "Who else needs a pick-me-up as we move through the last few weeks of winter? While a beach vacation might not be possible for everyone, you can always get a taste of sunny weather in the form of citrus."
You Won't Live Longer by Diet or Exercise Alone, Study Says - "Sprawling new research showed that healthy eating and regular workouts do not, in isolation, stave off later health issues. They need to be done together."
Your Lifetime Health Checkup Roadmap - "At every stage of your adult life, you should undergo routine screening exams to catch any health problems so you can try to nip them in the bud."
Your ZIP Code Might Determine How Long You Live - and the Difference Could Be Decades - "Where you live is closely linked with your health and longevity. These maps show the extent to which zip code influences health and life expectancy."

A B C D E F G H I J K L M N O P Q R S T U V W X Y Z

- Z -

Zero-calorie sweetener linked to heart attack & stroke, study finds - "A sugar replacement called erythritol - used to add bulk or sweeten stevia, monkfruit and keto reduced-sugar products - has been linked to blood clotting, stroke, heart attack and death, according to a new study."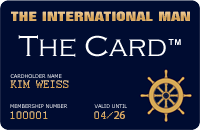 Upcoming VIP Privilege Membership Card
The International Man will in the near future be launching its own PRIVILEGE & BENEFIT VIP MEMBERSHIP CARD - named simply 'The Card'. Members will receive special privileges, benefits and preferential rates with selected partner hotels, restaurants, our LUXURY WEBSHOP, and more. Enter your name and e-mail address to receive FREE INFO about 'The Card' HERE.
RETURN TO TOP OF PAGE