Top 75 Best Luxury Gourmet Stores and Online Shops

"My favorite animal is steak." - Fran Lebowitz.

"A gourmet who thinks of calories is like a tart who looks at her watch." - James Beard.

"I will not eat oysters. I want my food dead. Not sick, not wounded, dead." - Woody Allen.

"Nothing would be more tiresome than eating and drinking if God had not made them a pleasure as well as a necessity." - Voltaire.

GOURMET is a cultural ideal associated with the culinary arts of fine food and drink, or haute cuisine, which is characterised by elaborate preparations and presentations of large meals of small, often quite rich courses. The term and its associated practices are usually used positively to describe people of refined taste and passion. For some, it holds a negative connotation of elitism or snobbery.

Gourmet may describe a class of restaurant, cuisine, meal or ingredient of high quality, of special presentation, or high sophistication. In the United States, a 1980s gourmet food movement evolved from a long-term division between elitist (or "gourmet") tastes and a populist aversion to fancy foods. Gourmet is an industry classification for high-quality premium foods in the United States. In the 2000s, there has been an accelerating increase in the American gourmet market, due in part to rising income, globalization of taste, and health and nutrition concerns. Individual food and beverage categories, such as coffee, are often divided between a standard and a "gourmet" sub-market.

The word gourmet is from the French term for a wine broker or taste-vin employed by a wine dealer. Friand was the reputable name for a connoisseur of delicious things that were not eaten primarily for nourishment: "A good gourmet", wrote the conservative eighteenth-century Dictionnaire de Trévoux, employing this original sense, "must have le goût friand", or a refined palate. In the eighteenth century, gourmet and gourmand carried disreputable connotations of gluttony, which only gourmand has retained. Gourmet was rendered respectable by Monsieur Grimod de la Reynière, whose Almanach des Gourmands, essentially the first restaurant guide, appeared in Paris from 1803 to 1812. Previously, even the liberal Encyclopédie offered a moralising tone in its entry Gourmandise, defined as "refined and uncontrolled love of good food", employing reproving illustrations that contrasted the frugal ancient Spartans and Romans of the Republic with the decadent luxury of Sybaris.

Top 75 Best High-End (Online) Gourmet Stores

ALBERT Y FERRAN ADRIÀ - buy Texturas, Lyo-Sabores and Ingenios from El Bulli's chef Ferran Adrià.
Allens of Mayfair - since 1830. "Online Butchers - Quality Fresh Meat." The shop is manned 20 hours a day to provide quality meat to many of London's finest establishments including the Connaught, Claridge's, The Dorchester, The Berkeley and The Savoy. "London's oldest butcher is now online, offering the best seasonal meat products available. Prime Scottish Beef, Steaks, Lamb, Pork, Veal, Poultry, Chicken, Duck ..." 117 Mount St, London W1K 3LA, U.K.
Antica Caciara Trasteverina - "The fresh ricotta cheese in the windows of this old-world Trastevere deli catches your eye, enticing you to come inside. Behind the counter you will find heaping helpings of ham, salami, Sicilian anchovies, and burrata cheese from Puglia, as well as Parmigiano-Reggiano and local wines." Via San Francesco a Ripa 140, Rome, Italy.
BELAZU - since 1991. "Captures the essence of the Mediterranean." The finest chefs' ingredients delivered straight to your kitchen.
BELLORR - since 2008. "Maison de Qualité". Producer of snail eggs and also a distributor of luxury: caviar snail called Pearl of France, sturgeon caviar pur gold 24 carats, black truffle of Perigord (tuber melanosporum) and champagne pure gold 24 carats.
BEVERLY HILLS CAVIAR - "The Company has been supplying the finest caviar and specialty foods locally (through out Los Angeles, California) for over 33 years and now we offer our luxurious caviar products and services nationally. Also, we are dedicated to our international business, by now providing our non-perishable products through out Canada and United Kingdom. We offer a large variety of fresh caviar and gourmet food choices. We are dedicated to provide only the best quality caviar, in a quick, friendly and reliable way to our costumers throughout the nation and world-wide."
BIEN MANGER - "French gourmet food and gifts." On-line delicatessen for everyone who loves good food and enjoys discovering new flavours and gastronomic experiences.
BOMPAS & PARR - creates fine English jellies and curates spectacular culinary events. Bompas & Parr also designs and manufacturers bespoke jelly moulds and kitchenalia; makes fine English jellies; provides full catering services; and provides food and design consultancy.
Bon AppÉtit Box - "Delivers an authentically French dining experience to the US. The best gourmet items in a thoughtfully curated box, right to your doorstep." The best gourmet trip to France in a box directly ships to your door. Every month or every time you want, receive high-quality and local French food selected by two French foodies, Zoé and Bertrand.
BordeauxthÈque - world's largest Bordeaux wine store in Paris flagship luxury department store Galeries Lafayette, 1st floor, 35 boulevard Haussmann, 75009 Paris, France.
Burton's Biscuits - the UK's number two biscuit maker and many of its products are sold around the world.
CASPIAN CAVIAR - "With over 10 years experience in supplying restaurants, private clients and hotels, our aim is to supply only the world`s finest foods on an exclusive basis."
CAVIAR HOUSE & PRUNIER - creators of fine gastronomy. Obsession with excellence.
Citarella - since 1912. "The Ultimate Gourmet Market." With a reputation built on more than 100 years of culinary excellence, Citarella is proud to offer you the best seafood, prime meats, and gourmet foods.
CLEARWATER - since 1976. "Dedicated to Sustainable Seafood Excellence." Lobster, scallops, clams, masago, and crabs online.
colman's dry mustard powder - since 1814. "Some Like it Hot!" Known internationally as the English mustard, Colman's Original has been England's iconic fiery-hot, go-to cooking essential for nearly 200 years.
Conserveira de Lisboa - since 1930. Dedicates itself to the staple product of the Portuguese diet - canned sardines and tuna as well as octopus, squid, cod, mackerel and eel all displayed as a colourful mosaic of retro packaging (which by the way are considered to be a Portuguese design classic). Rua dos Bacalhoeiros 34, 1100-071 Lisboa, Portugal.
D'Artagnan - since 1985. "Buy the best beef, pork, lamb, duck, chicken, foie gras, charcuterie, and truffles online. Naturally raised. Antibiotic and hormone free."
DALLMAYR - since 1700. Luxury delicatessen food store in Munich, Germany, dating back to the 17th century. Its reputation is comparable to Fauchon in Paris, Fortnum & Mason in London, or Meidi-Ya in Tokyo. About 2.5 million people visit the main store every year. Besides luxury food, Dallmayr also sells a luxury brand of coffee, includes a restaurant, a party service, and other food related services.
DAYLESFORD ORGANIC - since 2002. "We have been farming organically for over 25 years with a simple passion for real food." All our food comes straight from our farms: our meat and poultry, fruit and veg from our market garden, bread from our bakery, and cheese, milk and yoghurt from our creamery. Online shop.
DEAN & DELUCA - "Purveyors of Fine Food & Online Gourmet Suppliers Since 1977."
DespaÑa Food Shops - "The Finest Food From Spain." Gourmet boutique dedicated to authentic flavors from Spain. Despaña specializes in offering you quality gourmet food products imported exclusively from Spain. Aka The King of Tapas. 408 Broome Street, SoHo, New York, NY 10013, U.S.A.
Di Bruno Bros. - "Family owned since 1939. Dedicated to culinary pioneering, importing the finest artisan cheeses, meats, oils, vinegars & gourmet specialties from around the world."
Donghuamen Night Market - night market located to the northern end of the Wangfujing in Beijing, China. An array of Chinese food delicacies are on display with people bustling around to experience some new tastes. All stalls display their food selections in both Chinese (Mandarin) and English.
DUCHY ORIGINALS - since 1992. "Founded by HRH The Prince of Wales, Duchy Originals has come a long way in 25 years since the first product, the ever-popular oaten biscuit, went on sale. Waitrose Duchy Organic is now the UK's largest own-label organic brand and the second largest UK organic brand overall."
Earthy Delights - "America's premier supplier of specialty foods to quality conscious American chefs and retailers for 30 years. Earthy Delights pioneered the use of overnight delivery to get fresh produce from the farm to the kitchen in the shortest time possible." Specializes in wild mushrooms and other seasonal wild-harvested items, fresh specialty produce, artisanally produced cheese, aged balsamic vinegar, exotic spices and hard-to find ingredients to both the professional chef and the cooking enthusiast.
EATALY - "Discover the Taste of Italy. Eat Better, Live Better." Eataly is about eating Italian food, living the Italian way. Our goal is to demonstrate that high-quality Italian food and drink are at hand. High-end Italian food market/mall chain which first opened in Turin, Italy, in January 2007. A New York City Eataly opened in August 2010. 200 5th Avenue, New York City, NY 10010, U.S.A.
ECONOMY CANDY - online candy store. "Since 1937, on the Lower East Side Economy Candy is an old-fashioned, family-owned candy store that sells hundreds of kinds of chocolates, candies, nuts, dried fruits; including halvah, sugar free candy and of course all the old time candy you had when you were a kid."
EXIR SAFFRON - since 2005. "Finest quality pure saffron products and saffron dietary supplements for happier healthier living."
FAICCO'S ITALIAN SPECIALITIES - 260 Bleecker Street, New York, NY 10014, U.S.A.
FAUCHON Paris - since 1886. French gourmet food & delicatessen company. Fauchon is considered a major reference in contemporary French gourmet foods, and has 76 outlets in around twenty countries in 2016.
Fine Food Specialist - since 2012. "Buy Fine Foods & Specialty Items." Welcome to Fine Food Specialist, a haven for food lovers seeking outstanding ingredients from all over the world. Next day delivery available. Delivering the finest ingredients from around the world directly to your door.
For the Gourmet - "Chef Quality Gourmet Food." Gourmet, hard to find, unique, regional, specialty foods from small artisanal farms and producers. Kobe Beef, Kurobuta Pork, Buffalo, Foie Gras, Live New England Lobster, Caviar, Artisanal Cheese, Molecular Gastronomy, Demi Glaze and Stocks, Specialty Appetizers and Chocolates, Wine Infused Cakes, Gourmet Desserts, Organic and Gluten Free products & much more.
FORTNUM & MASON - Piccadilly since 1707. "The majority of our products are available for worldwide delivery - with the exception of fresh foods and alcohol."
FRIEND & BURRELL - "The World's Finest Foods." Famous brands and products on offer include, Black and White truffles, caviar, Iranian saffron,vanilla beans, Black garlic.
GARRET GOURMET POPCORN - since 1949. In 2002 & 2005 Garrett's "Chicago Mix" was selected as one of Oprah's "Favorite Things".
Geddes Farm Honey - "Natural & Raw Honey." Your source for the highest quality honey at the best prices! All of our raw honey is unaltered, non-pasteurized, and from sustainable sources in the USA!
Gelateria Dondoli - world's best ice cream: Piazza della Cisterna 4, 53037, San Gimignano, Italy.
GOURMET FLEISCH - Germany online meat store: French Charolais, Simmental from the Alpine Region, American beef from the USA, Canadian Bison and Porco Iberico from Spain, and much more.
gourmet foodstore - "A Gourmet Food Marketplace of Specialty Foods & Gourmet Gifts." An epicure's paradise, an online store for those who love great food and great ingredients. We offer you the ultimate selection of international specialty foods such as caviar, cheese, foie gras and pate, gourmet chocolates, oils and vinegars, smoked salmon, specialty meats, teas, fresh truffles, and many other gastronomic delights. Explore the best and most elegant foods in the world at prices that will amaze you.
Gristedes - "Your Neighborhood Grocer Since 1888." Gristedes has been feeding New Yorkers for over 100 years. Our stores offer fresh meat, produce, dairy products, baked goods, frozen foods, gourmet foods, and nonfood items.
HÄAGEN-DAZS - Super premium ice cream, gelato, sorbet & frozen yogurt. "For more than 50 years, our passion for crafting the perfect flavors and creamiest textures using only the finest ingredients is what has set the Häagen-Dazs brand apart. We've never wavered on the principles that made us who we are from the very beginning."
HARRODS - "Our beautifully presented gourmet hampers are the ultimate foodie indulgence, and the best way to excite gourmands over the festive season. Packed full of enticing new discoveries, they are brimming with some of the world's best produce, including a delectable range of fine wines, charcuterie, truffles, delicious biscuits and more, straight from the Harrods Food Halls."
HARVEY NICHOLS - "From all corners of the world to all corners of your larder - our luxury food and drink collection has everything you need to live well from breakfast to nightcap. Give the gift of fantastic produce and view our decadent food and drink hampers now." London, U.K.
HÉDIARD PARIS - since 1854. A benchmark in luxury fine foods, fruits, spices, tea, coffee, foies gras, gift baskets, and more. Online shop.
Huntley & Palmers - since 1822. Britain's most famous biscuit company.
IAVARONE BROTHERS GOURMET FOODS - since 1927. "Iavarone Bros. celebrates four generations of quality since 1927 as one of NY's largest, most highly regarded specialty food companies with European-style gourmet markets." New York's first "salciceria".
IGOURMET.COM - "Specialty Cheeses. Fine Foods. Gourmet Gift Baskets. Exquisite Gifts." Founded in 1997, igourmet.com is North America's leading online gourmet food and gift retailer. Offering over 800 specialty cheeses, thousands of fine foods, and a complete line of exquisite gift baskets, each accompanied by detailed information and useful serving suggestions.
Istanbul's Spice Bazaar - one of the oldest bazaars in the city. Located in Fatih, in the neighborhood of Eminönü, it is the second largest covered shopping complex after the Grand Bazaar.
JULIUS MEINL AM GRABEN - since 1862. "Austria's premier address for gourmets and connoisseurs." Online store.
Katz Delicatessen - since 1888. "Shipped. Catered. Delivered." 205 East Houston Street (corner of Ludlow St), New York City, NY 10002, U.S.A. "We only select the best cuts of beef for our corned beef, pastrami, brisket, and other fine foods. Our corned beef and pastrami is cured using a slower method, which best flavors the meat, without injecting chemicals, water, or other additives to speed the process."
KING'S FINE FOOD - since 2004. "Purveyors of Fine Foods." UK Mail Order Fine Food Specialist Providing The Best Caviar, Salmon, Foie Gras, Chocolate, Oils, Truffles, & Gift Hampers Online.
LA GRANDE EPICERIE PARIS - since 1923. Paris's largest grocery store is located in Le Bon Marché. 38, rue de Sèvres, 75007 Paris, France.
La Tienda - since 1996. "The Best of Spain." Shop online for over 900 gourmet foods from Spain, delivered to your home. Hundreds of thousands of orders shipped in USA & Canada.
LAURA SANTTINI - "A place where life tastes great." Taste No. 5: Umami Paste. "The ultimate scratch cooking tool to enhance any savoury dish."
Le Comptoir de la Gastronomie - since 1894. "Spécialités du Sud-Ouest." French gastronomic institution is both a restaurant and a delicatessen. You can purchase all the goodness of French gastronomy here: fine wines from all other France: Bordeaux, Bourgogne, etc., Champagne, French vodka but also foie gras, confit duck, caviar, smoked salmon, different kinds of patés, cheeses ... 34, rue Montmartre, 75001 Paris, France.
LENÔTRE Paris - since 1957. "Créateur de haute gourmandise."
Les Halles de Lyon - Paul Bocuse - the indoor food market represented by 59 knowledgeable food traders & craftsmen in 102 Cours Lafayette, Lyon, France.
LOBEL'S - since 1840. "Only at Lobel's of New York." The Best Dry Aged Steaks, Prime Beef, Gourmet Meats, Beef Recipes Online. Online gourmet butcher shop.
LUXURY HAMPERS - Fortnum & Mason. "The original experts in hampers". Piccadilly, London since 1707.
Manuka Health New Zealand - "Given by Nature, Proven by Science." Manuka Health is a world leader in scientifically proven natural health and wellness products made from New Zealand's unique natural ingredients. Our pioneering expertise has enabled us to harness and share the power of New Zealand nature through our premium products, including MGO Manuka Honey, BIO New Zealand Propolis & Royal Jelly.
MARIN SUN FARMS - "100% grass fed and pasture raised meats." Marin Sun Farms is a meat company committed to creating a more sustainable food system by empowering farmers, conserving our landscapes and restoring the vitality of the foodshed and its inhabitants. We proudly operate the last remaining USDA inspected slaughterhouse in the San Francisco Bay Area, a certified organic and Animal Welfare Approved facility, and provide the highest quality meats available in California.
Marky's - since 1983. "For more than three decades now, Marky's has been well known to the world of gourmet food and connoisseurs as always having the highest quality delicacies. Today, in the 21st century, we import and export more than 600 varieties of gourmet foods including Smoked Salmon, Deli Meats, Cheese, Belgian Chocolate, Truffles, Gourmet Olive Oils and Vinegars, Dry Peppercorns, and Wild Mushrooms. Our specialties are, however, delicacy - top quality Caviar and French Foie Gras."
MEIJI-YA - Japanese luxury delicatessen food stores comparable to Fauchon in Paris, Fortnum & Mason in London.
Mouth - "The Best Food, Wine & Spirits From Indie-Pendent Makers Across America."
NEWMAN'S OWN - a food and beverage company founded in 1982. "An IRS-recognized charitable corporation. Over US$495 million has been given to thousands of charities since 1982."
OCADO - since 2000. "Quality groceries that won't cost the earth." British online supermarket. Voted the best online supermarket in the UK in 2010.
Olive Nation - "Your Secret Ingredient." Online gourmet food store: smoked salmon, baking ingredients, dried beans, extracts, dried fruits and nuts, dried mushrooms, oils and vinegars, pastas and grains, salts and spices, caviar & truffle products.
Oliviers & Co - since 1996. "Mediterranean Olive Oils & Gourmet Specialities."
Ottolenghi - since 2002. "Hampers & Gift Boxes." Ottolenghi offers a unique culinary experience: original food & pastries.
PastaCheese - since 1999. "Freshest Gourmet Food Delivered to your front door at awesome prices." Cheese, meat, oil, vinegar, pasta, caviar, coffee, rice, flour, sauces, spices, truffles, soups & more.
Paxton & Whitfield - since 1791. "Britain's leading cheesemonger for over 200 years, sourcing and maturing exceptional cheeses." 93 Jermyn Street, London, U.K.
PIERRE HERMÉ Paris - online shop: delivery of macarons, choclates, cakes, fruitcakes, jams, sweets. Voted World's Best Pastry Chef by World's 50 Best Restaurants 2016.
PETROSSIAN - "Exquisite Food and Gifts Since 1920." Caviar, blinis, salmon, foie gras, chocloates, fine food gourmet gifts online.
PRUNIER LA BOUTIQUE - since 1872. Caviar, salmon, foie gras, olive oils, champagne, and many more gourmet products. 15 Place de la Madeleine, Paris, France.
Roscioli - "Salumeria Con Cusina." 300 types of cheese, 150 varieties of cold cuts, 2,800 wine labels, and a wide selection of preserves, sauces, mustards, canned foods, pastas, oils, and vinegars. These are just a few of the products found at Salumeria Roscioli, the space dedicated to artisanal excellence in the heart of Rome. Via dei Giubbonari, 21/22, Rome, Italy.
ROSSINI CAVIAR - caviar, kamchatka crab, salmon, roe, olive oil, blinis online. Caviar and specialities are normally on stock and delivered to your doorstep by courier within two workingdays.
Savannah Bee Company - since 2002. "Home to the world's finest honey and naturally luxurious health & beauty products."
shopGourmet.com - committed to providing a wide assortment of the highest quality specialty gourmet food products and services at competitive prices.
SOUTH PHILLY GRAVY - "The only s l o w - c o o k e d gourmet pasta sauce on the market."
Stonewall Kitchen - since 1991. "Award-Winning Specialty Food Creators." Handmade jams, jellies, sauces, condiments, mustards, baking mixes, and more - all made with the same high-quality ingredients and painstaking attention to detail. Today, our products are sold in more than 6,000 locations both nationwide & internationally.
SYDNEY FISH MARKET - "Australia's home of seafood. Expert advice. The widest range of the finest quality Australian seafood, fantastic specialty retailers. Shop. Eat. Learn. Experience!" New South Wales, Australia.
TARTINE BAKERY - Rated in the Zagat Survey as Best Bakery and Best Breakfast in San Francisco. 600 Guerrero Street San Francisco, CA 94110, U.S.A.
The Queen's 90th birthday street party hamper - The Telegraph.
Tsukiji fish market - the biggest wholesale fish and seafood market in the world and also one of the largest wholesale food markets of any kind. The market is located in Tsukiji in central Tokyo, Japan.
Wil Wright's - "It's Heavenly!". Was a chain of ice cream parlors that dotted the Southern California landscape up until the mid-seventies. There was one in Beverly Hills at the corner of Beverly Drive and Charleville, and another in Westwood Village at the corner of Glendon and Lindbrook. Many celebrities favored Wil Wright's ice cream and bought pints of the high-end dessert in supermarkets in the '60s.
Zabar's - since 1934. "New York City's famous Upper West Side gourmet epicurean emporium, specializing in the finest coffee, smoked fish, caviar, cheese, deli meats, kitchen equipment and housewares. At 80th and Broadway."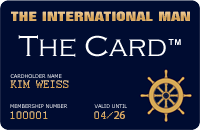 Upcoming VIP Privilege Membership Card
The International Man will in the near future be launching its own PRIVILEGE & BENEFIT VIP MEMBERSHIP CARD - named simply 'The Card'. Members will receive special privileges, benefits and preferential rates with selected partner hotels, restaurants, our LUXURY WEBSHOP, and more. Enter your name and e-mail address to receive FREE INFO about 'The Card' HERE.
RETURN TO TOP OF PAGE