Top 100 Hairdressers and Stylists | Hair Care Products

"Gray hair is Gods graffiti." - Bill Cosby.

"I always wanted to be a hairdresser." - David Beckham.

"Some of the worst mistakes in my life were haircuts." - Jim Morrison.

"If I want to knock a story off the front page, I just change my hairstyle." - Hillary Rodham Clinton.

"I think the most important thing a woman can have - next to talent, of course - is her hairdresser." - Joan Crawford.

HAIR CARE is an overall term for parts of hygiene and cosmetology involving the hair on the human head. Hair care will differ according to one's hair type and according to various processes that can be applied to hair. All hair is not the same; hair is a manifestation of human diversity.

A HAIRSTYLE, hairdo, or haircut refers to the styling of hair, usually on the human scalp. The fashioning of hair can be considered an aspect of personal grooming, fashion, and cosmetics, although practical, cultural, and popular considerations also influence some hairstyles.

A HAIRDRESSER is a person whose occupation is to cut or style hair in order to change or maintain a person's image. This is achieved using a combination of hair coloring, haircutting, and hair texturing techniques. Most hairdressers are professionally licensed as either a hairdresser, a barber or a cosmetologist.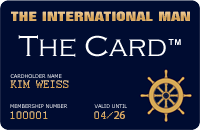 Upcoming VIP Privilege Membership Card
The International Man will in the near future be launching its own PRIVILEGE & BENEFIT VIP MEMBERSHIP CARD - named simply 'The Card'. Members will receive special privileges, benefits and preferential rates with selected partner hotels, restaurants, our LUXURY WEBSHOP, and more. Enter your name and e-mail address to receive FREE INFO about 'The Card' HERE.
RETURN TO TOP OF PAGE