Top 300 High-End Men's and Women's Shoe Brands

"I can't concentrate in flats!" - Victoria Beckham.

"A shoe has so much more to offer than just to walk." - Christian Louboutin.

"A woman carries her clothes. But the shoe carries the woman." - Christian Louboutin.

"A shoe is not only a design, but it's a part of your body language, the way you walk. The way you're going to move is quite dictated by your shoes." - Christian Louboutin.

"I really had no great love for shoes. I was a working First Lady; I was always in canvas shoes. I did nurture the shoes industry of the Philippines, and so every time there was a shoe fair, I would receive a pair of shoes as a token of gratitude." - Imelda Marcos.

A SHOE is an item of footwear intended to protect and comfort the human foot while doing various activities. Shoes are also used as an item of decoration. The design of shoes has varied enormously through time and from culture to culture, with appearance originally being tied to function. Additionally fashion has often dictated many design elements, such as whether shoes have very high heels or flat ones. Contemporary footwear varies widely in style, complexity and cost.

The earliest known shoes are sandals dating from about 8000 to 7000 BCE and found in Oregon, USA in 1938. The world's oldest leather shoe, made from a single piece of cowhide laced with a leather cord along seams at the front and back, was found in a cave in Armenia in 2008 and is believed to date to 3,500 BCE. Ötzi the Iceman's shoes, dating to 3,300 BCE, featured brown bearskin bases, deerskin side panels, and a bark-string net, which pulled tight around the foot. However, tanned leather, the material most commonly used for making shoes, does not normally last for thousands of years, so shoes were probably in use long before this. Physical anthropologist Erik Trinkaus believes he has found evidence that the use of shoes began in the period between about 40,000 and 26,000 years ago, based on the fact that the thickness of the bones of the toes (other than the big toe) decreased during this period, on the premise that wearing shoes resulted in less bone growth, resulting in shorter, thinner toes. The earliest designs were simple affairs, often mere "foot bags" of leather to protect the feet from rocks, debris, and cold. Since shoes use more leather than sandals, their use was more common in cold climates. By the Middle Ages, turn-shoes had been developed with toggled flaps or drawstrings to tighten the leather around the foot for a better fit. As Europe gained in wealth and power, fancy shoes became status symbols. Toes became long and pointed, often to ridiculous proportions. Artisans created unique footwear for rich patrons, and new styles developed. Eventually the modern shoe, with a sewn-on sole, was devised. Since the 17th century, most leather shoes have used a sewn-on sole. This remains the standard for finer-quality dress shoes today. Until around 1800, shoes were made without differentiation for the left or right foot. Such shoes are now referred to as "straights". Only gradually did the modern foot-specific shoe become standard.

Since the mid-20th Century, advances in rubber, plastics, synthetic cloth, and industrial adhesives have allowed manufacturers to create shoes that stray considerably from traditional crafting techniques. Leather, which had been the primary material in earlier styles, has remained standard in expensive dress shoes, but athletic shoes often have little or no real leather. Soles, which were once laboriously hand-stitched on, are now more often machine stitched or simply glued on.

A BOOT is a type of footwear. Most boots mainly cover the foot and the ankle and extend up the leg, sometimes as far as the knee or even the hip. Most boots have a heel that is clearly distinguishable from the rest of the sole, even if the two are made of one piece. Traditionally made of leather or rubber, modern boots are made from a variety of materials. Boots are worn both for their functionality – protecting the foot and leg from water, snow, mud or hazards or providing additional ankle support for strenuous activities – and for reasons of style and fashion.

A SLIPPER or houseshoe is a semi-closed type of indoor/outdoor shoe, consisting of a sole held to the wearer's foot by a strap running over (or between) the toes or instep. Slippers are soft and lightweight compared to other types of footwear. They are mostly made of soft or comforting materials that allow a certain level of comfort for the wearer. This can range from faux fur to leather.

TYPES OF MEN'S SHOES:
Blüchers (American), Derbys (British): shoe (also called Gibson) is a style of men's shoe characterized by quarters with shoelace eyelets that are sewn on top of the vamp. This construction method, also known as "open lacing", contrasts with that of the Oxfords.

Dress boots: are short leather boots worn by men. Built like dress shoes, but with uppers covering the ankle, versions of the boots are used as an alternative to these in bad weather or rough outdoor situation, and as a traditional option for day time formalwear.

Monk straps: a buckle and strap instead of lacing.

Oxfords (also referred as "Balmorals". In France, Oxfords are better known under the name of "Richelieu".): a style of laced shoe characterized by shoelace eyelet tabs that are stitched underneath the vamp, a construction method that is also sometimes referred to as "closed lacing".

Patent leather shoes: patent leather is a type of japanned leather that has been given a high gloss, shiny finish. It is used to make shoes, bags, and belts.

Plimsoll shoe: a type of athletic shoe with a canvas upper and rubber sole, developed as beachwear in the 1830s by the Liverpool Rubber Company.

Slip-ons / Penny loafers: there are no lacings or fastenings. The popular loafers are part of this category, as well as less popular styles, such as elastic-sided shoes.

TYPES OF WOMEN'S SHOES:
Ballet flats, known in the UK as ballerinas, ballet pumps or skimmers, are shoes with a very low heel and a relatively short vamp, exposing much of the instep. They are popular for warm-weather wear, and may be seen as more comfortable than shoes with a higher heel.

Court shoes, known in the US as pumps, are typically high-heeled, slip-on dress shoes.

High-heeled footwear is footwear that raises the heels, typically 2 inches (5 cm) or more above the toes, commonly worn by women for formal occasions or social outings. Variants include kitten heels (typically 1½-2 inches high) and stilletto heels (with a very narrow heel post) and wedge heels (with a wedge-shaped sole rather than a heel post).

Mules are shoes or slippers with no fitting around the heel (i.e. they are backless).

Slingbacks are shoes which are secured by a strap behind the heel, rather than over the top of the foot.

Sneaker boot or sneaker pump: a shoe that looks like an athletic shoe, but is equipped with a heel, making it a kind of novelty dress shoe.

Crocs: shoe manufacturer founded in 2002 to produce and distribute a foam clog design acquired from a Quebec company called Foam Creations. The shoe was originally developed as a boating shoe. The first model produced by Crocs, the Beach, was unveiled at the Ft. Lauderdale Boat Show in Florida.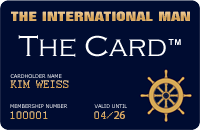 Upcoming VIP Privilege Membership Card
The International Man will in the near future be launching its own PRIVILEGE & BENEFIT VIP MEMBERSHIP CARD - named simply 'The Card'. Members will receive special privileges, benefits and preferential rates with selected partner hotels, restaurants, our LUXURY WEBSHOP, and more. Enter your name and e-mail address to receive FREE INFO about 'The Card' HERE.
RETURN TO TOP OF PAGE