Top 15 Best High-End Scooter Brands & Manufacturers

A SCOOTER or motor scooter is a motorcycle with step-through frame and a platform for the rider's feet. Elements of scooter design have been present in some of the earliest motorcycles, and motorcycles identifiable as scooters have been made from 1914 or earlier. Scooter development continued in Europe and the United States between the World Wars.

The global popularity of scooters dates from the post-World War II introductions of the Vespa and the Lambretta. These scooters were intended to provide low-power personal transportation (engines from 50 to 250 cc or 3.1 to 15.3 cu in). The original layout is still widely used in this application. Maxi-scooters, with engines from 250 to 850 cc (15 to 52 cu in) have been developed for Western markets.

Scooters are popular for personal transport, partly due to being cheap to buy, easy to operate and convenient to park and store. Licensing requirements for scooters are easier and cheaper than for cars in most parts of the world, and insurance is usually cheaper.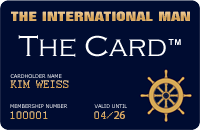 Upcoming VIP Privilege Membership Card
The International Man will in the near future be launching its own PRIVILEGE & BENEFIT VIP MEMBERSHIP CARD - named simply 'The Card'. Members will receive special privileges, benefits and preferential rates with selected partner hotels, restaurants, our LUXURY WEBSHOP, and more. Enter your name and e-mail address to receive FREE INFO about 'The Card' HERE.
RETURN TO TOP OF PAGE