World's Most Popular Film Actors and Actresses: A-Z

Acting is the work of an ACTOR or ACTRESS, which is a person in theatre, television, film, or any other storytelling medium who tells the story by portraying a character and, usually, speaking or singing the written text or play.

An actor (sometimes actress for female) is a person who acts in a dramatic production and who works in film, television, theatre, or radio in that capacity. The ancient Greek word for an "actor," means literally "one who interprets"; in this sense, an actor is one who interprets a dramatic character.

The first recorded case of an actor performing took place in 534 BC (though the changes in calendar over the years make it hard to determine exactly) when the Greek performer Thespis stepped on to the stage at the Theatre Dionysus and became the first known person to speak words as a character in a play or story. Prior to Thespis' act, stories were only known to be told in song and dance and in third person narrative. In honour of Thespis, actors are commonly called Thespians. Theatrical legend to this day maintains that Thespis exists as a mischievous spirit, and disasters in the theatre are sometimes blamed on his ghostly intervention.

Actors were traditionally not people of high status, and in the Early Middle Ages travelling acting troupes were often viewed with distrust. In many parts of Europe, actors could not even receive a Christian burial, and traditional beliefs of the region and time period held that this left any actor forever condemned. However, this negative perception was largely reversed in the 19th and 20th centuries as acting has become an honoured and popular profession and art.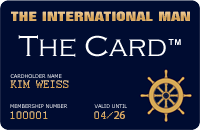 Upcoming VIP Privilege Membership Card
The International Man will in the near future be launching its own PRIVILEGE & BENEFIT VIP MEMBERSHIP CARD - named simply 'The Card'. Members will receive special privileges, benefits and preferential rates with selected partner hotels, restaurants, our LUXURY WEBSHOP, and more. Enter your name and e-mail address to receive FREE INFO about 'The Card' HERE.
RETURN TO TOP OF PAGE