Top 100 Best Luxury Business Card Holders & Cases

BUSINESS CARDS are cards bearing business information about a company or individual. They are shared during formal introductions as a convenience and a memory aid. A business card typically includes the giver's name, company or business affiliation (usually with a logo) and contact information such as street addresses, telephone number(s), fax number, e-mail addresses and website. Before the advent of electronic communication business cards might also include telex details. Now they may include social media addresses such as Facebook, LinkedIn and Twitter. Traditionally many cards were simple black text on white stock; today a professional business card will sometimes include one or more aspects of striking visual design.

A VISITING CARD, also known as a calling card, is a small card with one's name printed on it, and often bearing an artistic design. In 18th century Europe, the footmen of aristocrats and royalty would deliver these first European visiting cards to the servants of their prospective hosts solemnly introducing the arrival of their owners.

A CREDIT CARD is a payment card issued to users (cardholders) to enable the cardholder to pay a merchant for goods and services based on the cardholder's promise to the card issuer to pay them for the amounts so paid plus the other agreed charges. The card issuer (usually a bank) creates a revolving account and grants a line of credit to the cardholder, from which the cardholder can borrow money for payment to a merchant or as a cash advance. In other words, credit cards combine payment services with extensions of credit. Complex fee structures in the credit card industry may limit customers' ability to comparison shop, help ensure that the industry is not price-competitive and help maximize industry profits. Because of this, legislatures have regulated credit card fees.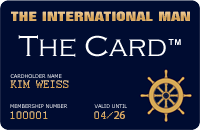 Upcoming VIP Privilege Membership Card
The International Man will in the near future be launching its own PRIVILEGE & BENEFIT VIP MEMBERSHIP CARD - named simply 'The Card'. Members will receive special privileges, benefits and preferential rates with selected partner hotels, restaurants, our LUXURY WEBSHOP, and more. Enter your name and e-mail address to receive FREE INFO about 'The Card' HERE.
RETURN TO TOP OF PAGE