Top 20 Best Bulletproof Backpack & Clothing Suppliers

BODY ARMOR, personal armor, suits of armour or coats of armour all refer to protective clothing, designed to absorb and/or deflect slashing, bludgeoning and penetrating attacks by weapons. It was historically used to protect military personnel, whereas today, it is also used to protect various types of police (riot police in particular), private citizens, private security guards or bodyguards. Today there are two main types: regular non-plated personal armor (used by the people mentioned above, except combat soldiers) and hard-plate reinforced personal armor, which is used by combat soldiers, police tactical units, private citizens, and hostage rescue teams.

A ballistic vest or bullet-resistant vest, often called a BULLETPROOF VEST, is an item of personal armor that helps absorb the impact and reduce or stop penetration to the body from firearm-fired projectiles- and shrapnel from explosions, and is worn on the torso. Soft vests are made of many layers of woven or laminated fibers and can protect the wearer from small-caliber handgun and shotgun projectiles, and small fragments from explosives such as hand grenades.

CLASSIFICATION: There are various mandatory tests which items must pass before they can be classified as bullet-resistant. These tests specify the detailed characteristics of bullets which the material or object must be resistant to. For example, the United States National Institute of Justice standard 0104.04 for bullet-resistant vests specifies that a Type II vest must not deform clay representing the wearer's body when hit by an 8.0 g (124 gr) 9 mm caliber round nosed full-metal jacket bullet travelling at up to 358 m/s (1175 ft/s); but a Type IIIA vest is needed for protection against the same bullet travelling at up to 427 m/s (1400 ft/s). In both cases, the vest is not required to protect against a second hit within 51 mm (2 inches) of the first.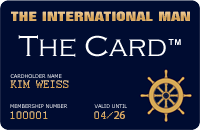 Upcoming VIP Privilege Membership Card
The International Man will in the near future be launching its own PRIVILEGE & BENEFIT VIP MEMBERSHIP CARD - named simply 'The Card'. Members will receive special privileges, benefits and preferential rates with selected partner hotels, restaurants, our LUXURY WEBSHOP, and more. Enter your name and e-mail address to receive FREE INFO about 'The Card' HERE.
RETURN TO TOP OF PAGE