World's 1,000 Best Museums and World Heritage Sites

"Museums and art stores are also sources of pleasure and inspiration. Doubtless it will seem strange to many that the hand unaided by sight can feel action, sentiment, beauty in the cold marble; and yet it is true that I derive genuine pleasure from touching great works of art. As my finger tips trace line and curve, they discover the thought and emotion which the artist has portrayed." - Helen Keller.

A MUSEUM is a building or institution which houses a collection of artifacts. Museums collect and care for objects of scientific, artistic, or historical importance and make them available for public viewing through exhibits that may be permanent or temporary. Most large museums are located in major cities throughout the world and more local ones exist in smaller cities, towns and even the countryside. Early museums began as the private collections of wealthy individuals, families or institutions of art and rare or curious natural objects and artifacts. The first public museums in the world opened in Europe during the 18th century and the Age of Enlightenment.

A United Nations Educational, Scientific and Cultural Organization (UNESCO) WORLD HERITAGE SITE is a place (such as a forest, mountain, lake, island, desert, monument, building, complex, or city) that is listed by the UNESCO as of special cultural or physical significance. The list is maintained by the international World Heritage Programme administered by the UNESCO World Heritage Committee, composed of 21 states parties which are elected by their General Assembly.

As of June 17-27, 2013 in Phnom Penh, 981 sites are listed: 759 cultural, 193 natural, and 29 mixed properties, in 160 states parties. By sites ranked by country, Italy is home to the greatest number of World Heritage Sites with 49 sites, followed by China (45) and Spain (44). UNESCO references each World Heritage Site with an identification number; but new inscriptions often include previous sites now listed as part of larger descriptions. As a result, the identification numbers exceed 1,200 even though there are fewer on the list.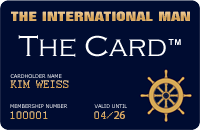 Upcoming VIP Privilege Membership Card
The International Man will in the near future be launching its own PRIVILEGE & BENEFIT VIP MEMBERSHIP CARD - named simply 'The Card'. Members will receive special privileges, benefits and preferential rates with selected partner hotels, restaurants, our LUXURY WEBSHOP, and more. Enter your name and e-mail address to receive FREE INFO about 'The Card' HERE.
RETURN TO TOP OF PAGE