World's 1,000 Best Museums and World Heritage Sites

"Museums and art stores are also sources of pleasure and inspiration. Doubtless it will seem strange to many that the hand unaided by sight can feel action, sentiment, beauty in the cold marble; and yet it is true that I derive genuine pleasure from touching great works of art. As my finger tips trace line and curve, they discover the thought and emotion which the artist has portrayed." - Helen Keller.

A MUSEUM is a building or institution which houses a collection of artifacts. Museums collect and care for objects of scientific, artistic, or historical importance and make them available for public viewing through exhibits that may be permanent or temporary. Most large museums are located in major cities throughout the world and more local ones exist in smaller cities, towns and even the countryside. Early museums began as the private collections of wealthy individuals, families or institutions of art and rare or curious natural objects and artifacts. The first public museums in the world opened in Europe during the 18th century and the Age of Enlightenment.

A United Nations Educational, Scientific and Cultural Organization (UNESCO) WORLD HERITAGE SITE is a place (such as a forest, mountain, lake, island, desert, monument, building, complex, or city) that is listed by the UNESCO as of special cultural or physical significance. The list is maintained by the international World Heritage Programme administered by the UNESCO World Heritage Committee, composed of 21 states parties which are elected by their General Assembly.

As of June 17-27, 2013 in Phnom Penh, 981 sites are listed: 759 cultural, 193 natural, and 29 mixed properties, in 160 states parties. By sites ranked by country, Italy is home to the greatest number of World Heritage Sites with 49 sites, followed by China (45) and Spain (44). UNESCO references each World Heritage Site with an identification number; but new inscriptions often include previous sites now listed as part of larger descriptions. As a result, the identification numbers exceed 1,200 even though there are fewer on the list.

Africa

Mali

Great Mosque of DjennÉ - large banco or adobe building that is considered by many architects to be one of the greatest achievements of the Sudano-Sahelian architectural style. The mosque is located in the city of Djenné. Along with the "Old Towns of Djenné" it was designated a World Heritage Site by UNESCO in 1988.

South Africa

LIST OF MUSEUMS IN South Africa - Wikipedia.

Iziko Museums of South African - the museum was founded in 1825, the first in the country. The museum houses important African zoology, palaeontology and archaeology collections.
Mandela House - house on Vilakazi Street, Orlando West, Soweto, where Nelson Mandela lived from 1946 to 1962.
Robben Island Museum - Bloubergstrand, Cape Town. From the 17th to the 20th centuries, Robben Island served as a place of banishment, isolation and imprisonment. Nobel Laureate and former President of South Africa Nelson Mandela was imprisoned on Robben Island for 18 of the 27 years he served behind bars before the fall of apartheid. Kgalema Motlanthe, who also served as President of South Africa, spent 10 years on Robben Island as a political prisoner, as did current President Jacob Zuma.

Iran

Iran's sites of cultural importance In pictures - "Following the assassination of Iranian military commander Qasem Soleimani, US President Donald Trump has threatened to respond to any Iranian retaliation by attacking Iranian cultural sites. There are hundreds of such sites with historical significance in Iran, more than 20 with Unesco World Heritage status. Here is a selection of some of the most important."
LIST OF MUSEUMS IN IRAN - Wikipedia.

Japan

Ghibli Museum - Mitaka, Tokyo. Featuring the Japanese anime work of Studio Ghibli. The museum is a fine arts museum, but does not take the concept of a usual fine arts museum. With many features that are child-oriented and a sprawling and occasionally mazelike interior, the museum is a playfully created place. Centered around the motto appearing on the museum's website "Let's become lost children together".
Hiroshima Peace Memorial Museum - the museum exhibit presents the facts of the atomic bombing, with the aims of contributing to the abolition of nuclear weapons throughout the world, and of promoting world peace.
TOKYO NATIONAL MUSEUM - the museum collects, houses, and preserves a comprehensive collection of art works and archaeological objects of Asia, focusing on Japan. The museum holds over 110,000 objects, which includes 87 Japanese National Treasure holdings and 610 Important Cultural Property holdings (as of July 2005).

Myanmar

Shwedagon Pagoda - officially named Shwedagon Zedi Daw and also known in English as the Great Dagon Pagoda and the Golden Pagoda, is a gilded pagoda and stupa 99 metres (325 ft) in height that is located in Yangon, Burma.

Nepal

LIST OF MUSEUMS IN NEPAL - Wikipedia.

Narayanhity Palace Museum - palace in Kathmandu, Nepal which long served as a primary residence for the country's monarchs. Among the 52 rooms, only 19 are open so far to the public. The rooms, named after the districts of Nepal, have their own tales to tell.

Vietnam

HANOI MUSEUM - temple complex at Angkor built for the king Suryavarman II in the early 12th century.

Australia & New Zealand

Australia

10 strangest artefacts in Australian museums - sorted - "From a hangman's journal to 'The Poo Machine', here are some weird, unnerving and oddly touching objects in museums around the country."
LIST OF MUSEUMS IN AUSTRALIA - Wikipedia.

Australian Museum - Sydney, New South Wales. The oldest museum in Australia, with an international reputation in the fields of natural history and anthropology. It features collections of vertebrate and invertebrate zoology, as well as mineralogy, palaeontology, and anthropology.
Australian National Maritime Museum - Sydney, New South Wales.
ULURU - large sandstone rock formation in the southern part of the Northern Territory in central Australia.

Jamaica

List of museums in Jamaica - Wikipedia.

Bob Marley Museum - Kingston. Dedicated to the reggae musician Bob Marley. The museum is located at 56 Hope Road, Kingston 6, and is Bob Marley's former place of residence. It was home to the Tuff Gong record label which was founded by The Wailers in 1970.
Goldeneye - the late Ian Fleming's estate in Oracabessa, Jamaica. Rents for US$6,600 per night.

Costa Rica

LIST OF MUSEUMS IN costa rica - Wikipedia.

Museo Nacional de Costa Rica - since 1887. The museum is organized thematically in a counter clockwise direction from the entrance with artifacts related to Costa Rica's geological, colonial, archaeological, religious and modern history.
Pre-Columbian Gold Museum - the museum has a substantial collection of over 1600 artifacts of Pre-Columbian gold dating back to AD 500.

Nicaragua

List of museums in Nicaragua - Wikipedia.

LeÓn Viejo - World Heritage Site. One of the oldest Spanish colonial settlements in the Americas. Founded on June 15, 1524 by the Spanish conquistador, Francisco Hernández de Córdoba.

Panama

LIST OF MUSEUMS IN PANAMA - Wikipedia.

BioMuseo - designed by world-renowned architect Frank Gehry. "Eight galleries tell us about the origin of the Panamanian isthmus and its gigantic impact on the planet's biodiversity."
Panama Canal Museum - since 1997. Devoted to the history of the construction of the Panama Canal in its various stages.

Ireland

Ireland's priceless treasure hidden by monks - "One of the most exciting archaeological finds in the history of Irish art was unearthed on Tipperary's Derrynaflan Island by a man and his son using metal detectors."
LIST OF MUSEUMS IN IRELAND - Wikipedia.

National Museum of Ireland - Dublin. The national museum in Ireland. It has three branches in Dublin and one in County Mayo, with a strong emphasis on Irish art, culture and natural history.
Russborough House - stately house situated near the Blessington Lakes in County Wicklow. Reputed to be the longest house in Ireland, with a frontage measuring 210 m/700 ft. It is an example of Palladian architecture. Amongst the paintings returned are four Claude Joseph Vernet paintings entitled 'Morning', 'Midday', 'Sunset', and 'Night' and Vermeer's Lady Writing a Letter With Her Maid and Goya's Portrait of Dona Antonia Zarate.

Romania

LIST OF MUSEUMS IN Romania - Wikipedia.

Bran Castle - "Dracula's Castle." Bran, near Braşov. The distance to Bucharest is of less than 200 km.
Palace of the Parliament | Palatul Parlamentului - completed in 1997. Multi-purpose building containing both chambers of the Romanian Parliament. According to the World Records Academy, the Palace is the world's largest civilian building with an administrative function, most expensive administrative building and heaviest building.

Vatican City

VATICAN MUSEUMS - Wikipedia.
Vatican's Secret Archives no longer officially secret after renaming - "Pope says new name for trove of priceless papers will be the Vatican Apostolic Archives."

SISTINE CHAPEL - the best-known chapel of the Apostolic Palace, the official residence of the Pope in the Vatican City. It is famous for its architecture and its decoration that was frescoed throughout by Renaissance artists including Michelangelo, Sandro Botticelli, Pietro Perugino, Pinturicchio, Domenico Ghirlandaio, and others. Under the patronage of Pope Julius II, Michelangelo painted 1,100 m2 (12,000 sq ft) of the chapel ceiling between 1508 and 1512. The ceiling, and especially The Last Judgment (1535–1541), is widely believed to be Michelangelo's crowning achievement in painting.
VATICAN MUSEUMS - official site.

Dubai

Dubai's next iconic landmark - "Dubai's Museum of the Future: A new world icon?"

Dubai Miracle Garden - flower garden located in the district of Dubailand. The garden was launched on Valentine's Day in 2013. The garden occupies over 72,000 square metres (780,000 sq ft), making it the world's largest natural flower garden featuring over 50 million flowers and 250 million plants.
DUBAI MUSEUM - since 1971. The main museum in Dubai. It is located in the Al Fahidi Fort, built in 1787 and is the oldest existing building in Dubai.
Museum of the Future - "Where The Future Lives." The Museum of the Future welcomes people of all ages to see, touch, and shape our shared future. Go on a journey through possible futures and bring hope and knowledge back to the present. Located in the Financial District of Dubai, the Museum of the Future has three main elements: green hill, building, and void.

Jordan

PETRA - a symbol of Jordan, as well as Jordan's most-visited tourist attraction. A historical and archaeological city in the southern Jordanian governorate of Ma'an that is famous for its rock-cut architecture and water conduit system.
The Jordan Museum - located in Ras Al-Ein district of Amman. Built in 2014, the museum is the largest museum in Jordan and hosts the country's most important archaeological findings, including the 7500 BC 'Ain Ghazal statues which are regarded as one of the oldest human statues ever made by human civilization, animal bones dating back to 1.5 million years and Copper Scroll from the Dead Sea Scrolls.

Qatar

North America

Canada

LIST OF MUSEUMS IN CANADA - Wikipedia.

Canadian Museum of Civilization - Gatineau, Quebec. Canada's national museum of human history.
Canadian War Museum - Ottawa, Ontario. "An entirely new and must-see attraction, this national museum presents Canada's military past and how it shaped the country. Its outstanding exhibitions explain Canada s rich military history from earliest times to the present, featuring the experiences of people on the battlefields and at home."
Royal Ontario Museum - Toronto, Ontario. Canada's largest museum of world culture and natural history.

Mexico

LIST OF MUSEUMS IN MEXICO - Wikipedia.

CHICHEN ITZA - Yucatán Peninsula, Municipality of Tinúm, Yucatán.
National Museum of Anthropology - Mexico City. The most visited museum in Mexico. The museum contains significant archaeological and anthropological artifacts from the pre-Columbian heritage of Mexico, such as the Piedra del Sol (the "Stone of the Sun" or Aztec calendar stone) and the 16th-century Aztec statue of Xochipilli.
Teotihuacan - the Temple of the Feathered Serpent is the modern-day name for the third largest pyramid at Teotihuacan, a pre-Columbian site in central Mexico.

Bolivia

LIST OF MUSEUMS IN Bolivia - Wikipedia.

Fuerte de Samaipata - the huge sculptured rock, dominating the town below, is a unique testimony to pre-Hispanic traditions and beliefs, and has no parallel anywhere in the Americas.
Historic City of Sucre - founded by the Spanish in the first half of the 16th century. Its many well-preserved 16th-century religious buildings.
Tiwanaku - spiritual and political centre of the Tiwanaku culture (500 and 900 AD).

Chile

LIST OF MUSEUMS IN CHILE - Wikipedia.

Churches of ChiloÉ - represent a unique example in Latin America of an outstanding form of ecclesiastical wooden architecture.
Easter Island - Polynesian island in the southeastern Pacific Ocean, at the southeasternmost point of the Polynesian Triangle. Easter Island is famous for its 887 extant monumental statues, called moai, created by the early Rapa Nui people.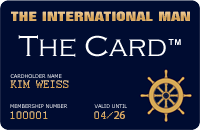 Upcoming VIP Privilege Membership Card
The International Man will in the near future be launching its own PRIVILEGE & BENEFIT VIP MEMBERSHIP CARD - named simply 'The Card'. Members will receive special privileges, benefits and preferential rates with selected partner hotels, restaurants, our LUXURY WEBSHOP, and more. Enter your name and e-mail address to receive FREE INFO about 'The Card' HERE.
RETURN TO TOP OF PAGE