Money and Finance | Investing | Wealth Management

"Money never sleeps." - Gordon Gekko.

"The most valuable commodity in the world is information." - Gordon Gekko.

"The secret of business is to know something that nobody else knows." - Aristotle Onassis.

"Those who think money can't buy happiness just don't know where to shop." - Robert H. Frank.

"Making money is art and working is art and good business is the best art." - Andy Warhol.

"The way to make money is to buy when blood is running in the streets." - John D. Rockefeller.

"After a certain point, money is meaningless. It ceases to be the goal. The game is what counts." - Aristotle Onassis.

Here the oldest - and still very sound - investment advice from THE BIBLE (King James version):

"A part of thy estate or provisions. He alludes to the ancient custom, whereby the master of the feast distributed several parts to each guest, and withal sent portions to the poor. To eight - To as many as thou art able. For - Great calamities may come whereby thou mayest be brought to poverty, and so disabled from doing good." - Ecclesiastes 11:2.

"He who neglects the necessary works of sowing and reaping, because the weather is not exactly suitable to his desires will lose his harvest. Whereby he intimates, that men will never do good here, which is expressed by sowing, and consequently not receive good hereafter, which is called reaping, if they be discouraged from it by every doubt and difficulty." - Ecclesiastes 11:4.

"Early and late, in all seasons and occasions; do it speedily and continually, be not weary of it. Sow - Do all good works. With - hold not - From working or giving." - Ecclesiastes 11:6.

MONEY is anything that is generally accepted as payment for goods and services and repayment of debts. The main functions of money are distinguished as: a medium of exchange, a unit of account, a store of value, and occasionally, a standard of deferred payment. Money is an abstraction, idea or concept, token instances of which are the physical bills or coins which are carried and traded.

INVESTMENT or investing is a term with several closely-related meanings in business management, finance and economics, related to saving or deferring consumption. Investing is the active redirection of resources: from being consumed today, to creating benefits in the future; the use of assets to earn income or profit. An investment is a choice by an individual or an organization such as a pension fund, after at least some careful analysis or thought, to place or lend money in a vehicle (e.g. property, stock securities, bonds) that has sufficiently low risk and provides the possibility of generating returns over a period of time. Placing or lending money in a vehicle that risks the loss of the principal sum or that has not been thoroughly analyzed is by definition speculation and not investment at all.

In the case of investment, rather than store the good produced or its money equivalent, the investor chooses to use that good either to create a durable consumer or producer good, or to lend the original saved good to another in exchange for either interest or a share of the profits. In the first case, the individual creates durable consumer goods, hoping the services from the good will make his life better. In the second, the individual becomes an entrepreneur using the resource to produce goods and services for others in the hope of a profitable sale. The third case describes a lender, and the fourth describes an investor in a share of the business. In each case, the consumer obtains a durable asset or investment, and accounts for that asset by recording an equivalent liability. As time passes, and both prices and interest rates change, the value of the asset and liability also change.

The FOReign EXchange market (FOREX, FX, or currency market) is a worldwide decentralized over-the-counter financial market for the trading of currencies. Financial centers around the world function as anchors of trading between a wide range of different types of buyers and sellers around the clock, with the exception of weekends. The foreign exchange market determines the relative values of different currencies.

The primary purpose of the foreign exchange market is to assist international trade and investment, by allowing businesses to convert one currency to another currency. For example, it permits a US business to import British goods and pay Pound Sterling, even though the business's income is in US dollars. It also supports speculation, and facilitates the carry trade, in which investors borrow low-yielding currencies and lend (invest in) high-yielding currencies, and which (it has been claimed) may lead to loss of competitiveness in some countries.

In a typical foreign exchange transaction a party purchases a quantity of one currency by paying a quantity of another currency. The modern foreign exchange market started forming during the 1970s when countries gradually switched to floating exchange rates from the previous exchange rate regime, which remained fixed as per the Bretton Woods system.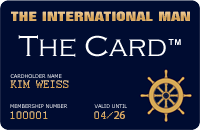 Upcoming VIP Privilege Membership Card
The International Man will in the near future be launching its own PRIVILEGE & BENEFIT VIP MEMBERSHIP CARD - named simply 'The Card'. Members will receive special privileges, benefits and preferential rates with selected partner hotels, restaurants, our LUXURY WEBSHOP, and more. Enter your name and e-mail address to receive FREE INFO about 'The Card' HERE.
RETURN TO TOP OF PAGE