Top 200 Makers of High-End Luxury Scarves & Shawls

A SCARF is a piece of fabric worn around the neck, or near the head or around the waist for warmth, cleanliness, fashion or for religious reasons. They can come in a variety of different colors.

Ancient Rome is one of the first origins of the scarf, where it was not used to keep warm, but to keep clean. It was called the sudarium, which translates from Latin to English as "sweat cloth", and was used to wipe the sweat from the neck and face in hot weather. They were originally worn by men around their neck or tied to their belt. Soon women started using the scarves, which were made of cloth and not made of wool, pashimina, or silk, and ever since the scarf has been fashionable among women.

The scarf became a real fashion accessory by the early 19th Century for both men and women. By the middle of the 20th Century scarves became one of the most essential and versatile clothing accessories for both men and women.

A NECKERCHIEF, necker or less commonly scarf is a type of neckwear associated with Scouts, cowboys and sailors. It consists of a triangular piece of cloth or a rectangular piece folded into a triangle. The long edge is rolled towards the point, leaving a portion unrolled. The neckerchief is then fastened around the neck with the ends either tied or clasped with a slide or woggle.

A SHAWL is a simple item of clothing, loosely worn over the shoulders, upper body and arms, and sometimes also over the head. It is usually a rectangular or square piece of cloth, that is often folded to make a triangle but can also be triangular in shape.

PASHMINA SHAWLS are hand spun, woven and embroidered in Kashmir, and made from fine cashmere fibre. Cashmere shawls have been manufactured in Nepal and Kashmir for thousands of years. The test for a quality pashmina is warmth and feel. Pashmina and Cashmere are derived from mountain goats. One distinct difference between Pashmina and Cashmere is the fiber diameter. Pashmina fibers are finer and thinner than cashmere fiber, therefore, it is ideal for making light weight apparel like fine scarves.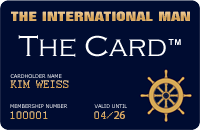 Upcoming VIP Privilege Membership Card
The International Man will in the near future be launching its own PRIVILEGE & BENEFIT VIP MEMBERSHIP CARD - named simply 'The Card'. Members will receive special privileges, benefits and preferential rates with selected partner hotels, restaurants, our LUXURY WEBSHOP, and more. Enter your name and e-mail address to receive FREE INFO about 'The Card' HERE.
RETURN TO TOP OF PAGE