Top 50 Best (Cuban) Cigar Brands & Online Suppliers

"Sometimes a cigar is just a cigar." - Sigmund Freud.

"A good Havana is one of the best pleasures I know." - Somerset Maugham.

"A good Cuban cigar closes the doors to the vulgarities of the world." - Franz Liszt.

"I drink a great deal. I sleep a little, and I smoke cigar after cigar. That is why I am in two-hundred-percent form." - Winston Churchill.

A CIGAR is a tobacco product. It is a rolled bundle of dried and fermented tobacco leaves made to be smoked. Cigars are produced in a variety of sizes and shapes. Since the 20th century, almost all cigars are made of three distinct components: the filler, the binder leaf which holds the filler together, and a wrapper leaf, for appearance and flavor, which is often the highest quality leaf used. Often there will be a cigar band printed with the cigar manufacturer's logo. Modern cigars can come with two or more, highlighting special qualities such as age and origin of the tobaccos used.

Cigar tobacco is grown in significant quantities primarily in Central America and the islands of the Caribbean, including Cuba, the Dominican Republic, Haiti, Honduras, Mexico, Ecuador, Nicaragua, Guatemala, Costa Rica, Panama, and Puerto Rico; it is also produced in the Eastern United States, Brazil and in the Mediterranean countries of Italy, Spain (in the Canary Islands), and Greece, in Western Africa, and in Indonesia and the Philippines of Southeast Asia.

A pre-Castro cigar was made in Cuba before Castro's rise to power January 1959. A pre-embargo cigar was made in Cuba before President Kennedy enacted the U.S. trade embargo against Cuba in 1962. So, all pre-Castro cigars are pre-embargo, but not all pre-embargo cigars are pre-Castro. Many cigars referred to as pre-embargo may in fact be pre-Castro as well. Often, when the owner doesn't know the exact date of production, he'll call the cigars pre-embargo to be on the safe side.

Cigar smoking carries a variety of serious health risks, including developing cancers, and respiratory, cardiovascular, periodontal and other diseases.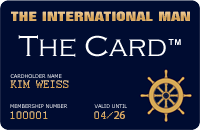 Upcoming VIP Privilege Membership Card
The International Man will in the near future be launching its own PRIVILEGE & BENEFIT VIP MEMBERSHIP CARD - named simply 'The Card'. Members will receive special privileges, benefits and preferential rates with selected partner hotels, restaurants, our LUXURY WEBSHOP, and more. Enter your name and e-mail address to receive FREE INFO about 'The Card' HERE.
RETURN TO TOP OF PAGE