Top 3 Best Financial Support Services and Systems

Financial Support Services & Systems

Buy Me a Coffee - since 2015. "We believe almost everyone will work for themselves in the future - our mission is to empower individuals to achieve that." Buy Me a Coffee is a fast and beautiful way to accept support and offer extras to your audience. There are more than 100,000 creators on the platform, spread across 750 different categories. Payments are instantly transferred to your PayPal and/or Stripe (bank account). Unlike other platforms, we do not hold your balance, and there is no minimum threshold.
Ko-Fi - since 2017. "Donations and Monthly Support from Fans For the Price ..." Create your page and button and share it anywhere on the web. Anyone who clicks your link can support you with a 'Ko-fi' (a small payment that is roughly equal to the price of a coffee). It's free to use. 0% platform fee on your donations. Claim your free page! Make an income doing what you love! $35 million paid to independent creators on Ko-fi. All you need is a PayPal account to receive payments.
Patreon - since 2013. "The system for creative people is broken." American membership platform that provides business tools for content creators to run a subscription service. It helps creators and artists earn a monthly income by providing rewards and perks to their subscribers. Patreon charges a commission of 5 to 12 percent of creators' monthly income, in addition to payment processing fees. Patreon is used by YouTube videographers, webcomic artists, writers, podcasters, musicians, adult content creators, and other categories of creators who post regularly online. Patreon helps you build direct relationships with your most engaged fans. You offer them benefits like exclusive content, community, or insight into your creative process in exchange for a monthly subscription.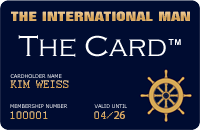 Upcoming VIP Privilege Membership Card
The International Man will in the near future be launching its own PRIVILEGE & BENEFIT VIP MEMBERSHIP CARD - named simply 'The Card'. Members will receive special privileges, benefits and preferential rates with selected partner hotels, restaurants, our LUXURY WEBSHOP, and more. Enter your name and e-mail address to receive FREE INFO about 'The Card' HERE.
RETURN TO TOP OF PAGE