Top 50 Best High-End Luxury Throws/Blankets Brands

THROW BLANKETS are smaller blankets, often in decorative colors and patterns, that can be used for extra warmth and decoration on the outside of bed.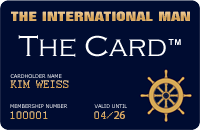 Upcoming VIP Privilege Membership Card
The International Man will in the near future be launching its own PRIVILEGE & BENEFIT VIP MEMBERSHIP CARD - named simply 'The Card'. Members will receive special privileges, benefits and preferential rates with selected partner hotels, restaurants, our LUXURY WEBSHOP, and more. Enter your name and e-mail address to receive FREE INFO about 'The Card' HERE.
RETURN TO TOP OF PAGE