Caribbean Museums & UNESCO World Heritage Sites

Jamaica

List of museums in Jamaica - Wikipedia.

Bob Marley Museum - Kingston. Dedicated to the reggae musician Bob Marley. The museum is located at 56 Hope Road, Kingston 6, and is Bob Marley's former place of residence. It was home to the Tuff Gong record label which was founded by The Wailers in 1970.
Goldeneye - the late Ian Fleming's estate in Oracabessa, Jamaica. Rents for US$6,600 per night.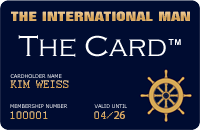 Upcoming VIP Privilege Membership Card
The International Man will in the near future be launching its own PRIVILEGE & BENEFIT VIP MEMBERSHIP CARD - named simply 'The Card'. Members will receive special privileges, benefits and preferential rates with selected partner hotels, restaurants, our LUXURY WEBSHOP, and more. Enter your name and e-mail address to receive FREE INFO about 'The Card' HERE.
RETURN TO TOP OF PAGE