Top 75 Famous Classic Legendary Designer Chairs

"A table, a chair, a bowl of fruit and a violin; what else does a man need to be happy?" - Albert Einstein.

"A chair is a very difficult object. A skyscraper is almost easier. That is why Chippendale is famous." - Ludwig Mies van der Rohe.

A CHAIR is a piece of furniture with a raised surface used to sit on, commonly for use by one person. Chairs are most often supported by four legs and have a back; however, a chair can have three legs or could have a different shape.

A chair without a back or arm rests is a stool, or when raised up, a bar stool. A chair with arms is an armchair and with folding action and inclining footrest, a recliner. A permanently fixed chair in a train or theater is a seat or, in an airplane, airline seat; when riding, it is a saddle and bicycle saddle, and for an automobile, a car seat or infant car seat. With wheels it is a wheelchair and when hung from above, a swing. A chair for more than one person is a couch, sofa, settee, or "loveseat"; or a bench. A separate footrest for a chair is known as an ottoman, hassock or pouffe.

Chair design considers intended usage, ergonomics (how comfortable it is for the occupant), as well as non-ergonomic functional requirements such as size, stacking ability, folding ability, weight, durability, stain resistance and artistic design. Intended usage determines the desired seating position. "Task chairs", or any chair intended for people to work at a desk or table, including dining chairs, can only recline very slightly; otherwise the occupant is too far away from the desk or table. Dental chairs are necessarily reclined. Easy chairs for watching television or movies are somewhere in between depending on the height of the screen.

Ergonomic design distributes the weight of the occupant to various parts of the body. A seat that is higher results in dangling feet and increased pressure on the underside of the knees ("popliteal fold"). It may also result in no weight on the feet which means more weight elsewhere. A lower seat may shift too much weight to the "seat bones" ("ischial tuberosities").

A reclining seat and back will shift weight to the occupant's back. This may be more comfortable for some in reducing weight on the seat area, but may be problematic for others who have bad backs. In general, if the occupant is supposed to sit for a long time, weight needs to be taken off the seat area and thus "easy" chairs intended for long periods of sitting are generally at least slightly reclined. However, reclining may not be suitable for chairs intended for work or eating at table.

The back of the chair will support some of the weight of the occupant, reducing the weight on other parts of the body. In general, backrests come in three heights: Lower back backrests support only the lumbar region. Shoulder height backrests support the entire back and shoulders. Headrests support the head as well and are important in vehicles for preventing "whiplash" neck injuries in rear-end collisions where the head is jerked back suddenly. Reclining chairs typically have at least shoulder height backrests to shift weight to the shoulders instead of just the lower back.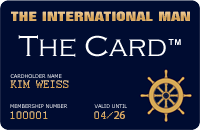 Upcoming VIP Privilege Membership Card
The International Man will in the near future be launching its own PRIVILEGE & BENEFIT VIP MEMBERSHIP CARD - named simply 'The Card'. Members will receive special privileges, benefits and preferential rates with selected partner hotels, restaurants, our LUXURY WEBSHOP, and more. Enter your name and e-mail address to receive FREE INFO about 'The Card' HERE.
RETURN TO TOP OF PAGE