Top 100 Best High-End Fabrics and Textiles Brands

A TEXTILE or cloth is a flexible woven material consisting of a network of natural or artificial fibres often referred to as thread or yarn. Yarn is produced by spinning raw fibres of wool, flax, cotton, or other material to produce long strands. Textiles are formed by weaving, knitting, crocheting, knotting, or pressing fibres together (felt).

The words FABRIC and cloth are used in textile assembly trades (such as tailoring and dressmaking) as synonyms for textile. However, there are subtle differences in these terms in specialized usage. Textile refers to any material made of interlacing fibres. Fabric refers to any material made through weaving, knitting, spreading, crocheting, or bonding that may be used in production of further goods (garments, etc.). Cloth may be used synonymously with fabric but often refers to a finished piece of fabric used for a specific purpose (e.g., table cloth).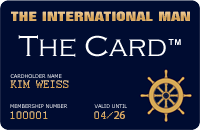 Upcoming VIP Privilege Membership Card
The International Man will in the near future be launching its own PRIVILEGE & BENEFIT VIP MEMBERSHIP CARD - named simply 'The Card'. Members will receive special privileges, benefits and preferential rates with selected partner hotels, restaurants, our LUXURY WEBSHOP, and more. Enter your name and e-mail address to receive FREE INFO about 'The Card' HERE.
RETURN TO TOP OF PAGE