Top 10 Bobsleigh & Toboggan Clubs, Races & Tracks

BOBSLEIGH or bobsled is a winter sport in which teams of two or four people make timed runs down narrow, twisting, banked, iced tracks in a gravity-powered sled. The timed runs are combined to calculate the final score.

The various types of sleds came several years before the first tracks were built in St. Moritz, Switzerland, where the original bobsleds were adapted upsized luge/skeleton sleds designed by the adventurously wealthy to carry passengers. All three types were adapted from boys' delivery sleds and toboggans.

A TOBOGGAN is a simple sled which is a traditional form of transport used by the Innu and Cree of northern Canada. In modern times, it is used on snow to carry one or more people (often children) down a hill or other slope for recreation. Designs vary from simple, traditional models to modern engineered composites. A toboggan differs from most sleds or sleighs in that it has no runners or skis (or only low ones) on the underside. The bottom of a toboggan rides directly on the snow. Some parks include designated toboggan hills where ordinary sleds are not allowed and which may include toboggan runs similar to bobsleigh courses.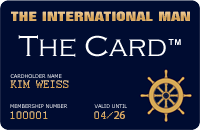 Upcoming VIP Privilege Membership Card
The International Man will in the near future be launching its own PRIVILEGE & BENEFIT VIP MEMBERSHIP CARD - named simply 'The Card'. Members will receive special privileges, benefits and preferential rates with selected partner hotels, restaurants, our LUXURY WEBSHOP, and more. Enter your name and e-mail address to receive FREE INFO about 'The Card' HERE.
RETURN TO TOP OF PAGE