Richest People Of All Time: Living and Departed | Lists

"To get rich is glorious." - Deng Xiaoping.

"Do you sincerely want to be rich?" - Bernard Cornfeld.

"It is better to live rich than to die rich." - Samuel Johnson.

"No man is rich enough to buy back his past." - Oscar Wilde.

"Too heavy a price may be paid for wealth." - Saint-Marc Girardin.

"Behind every great fortune there is a crime." - Honoré de Balzac.

"A fortune of only a million is respectable poverty." - Ward McAllister.

"If your only goal is to become rich, you will never achieve it." - John D. Rockefeller.

"Making money is art and working is art and good business is the best art." - Andy Warhol.

"The richest man is not he who has the most, but he who needs the least." - Author unknown.

"The best financial planning ends with bouncing the check to the undertaker." - Michael Bloomberg.

"Let me tell you about the rich. They are different from me and you." - F. Scott Fitzgerald (The Rich Boy, 1926).

"If you have a lot of money, you can organise your life in a rather pleasant way." - Kim Philby.

"When I was young, I thought that money was the most important thing in life. But now that I am old, I know that it is." - Oscar Wilde.

"I think it's possible to be very rich and happy, and I suppose, very poor and happy. But it's easier to be very rich and happy." - Ann Getty.

The word MILLIONAIRE was first used in French in 1719 by Steven Fentiman, and is first recorded in English (millionaire, as a French term) in a letter of Lord Byron of 1816, then in print in Vivian Grey, a novel of 1826 by Benjamin Disraeli. An earlier English word "millionary" was used in 1786 by Thomas Jefferson while serving as Minister to France; he wrote: "The poorest labourer stood on equal ground with the wealthiest Millionary". The first American printed use of the word is thought to be in an obituary of New York tobacco manufacturer Pierre Lorillard II in 1843.

Recently, there has been some controversy over how to correctly determine a person's status as a millionaire. One of the two most commonly used measurements is net worth, which counts the total value of all property owned by a household minus the household's debts. According to this definition, a household owning an $800k home, $50k of furnishings, two cars worth $60k, a $60k retirement savings account, $45k in mutual funds, and a $325k vacation home with a $250k mortgage, $40k in car loans, and $25k in credit card debt would be worth about $1,085,000; and every individual in this household would thus be a millionaire. However, according to the net financial assets measurement used for some specific applications (such as evaluating an investor's expected tolerance for risk for stockbroker ethics), equity in one's principal residence is excluded, as are lifestyle assets, such as the car and furniture. Therefore the above example household would only have net financial assets of $80,000. Another term used is "net investable assets" or working capital. These practitioners may use the term "millionaire" to mean somebody who is free to invest a million units of currency through them as broker. For similar reasons, those who market goods, services, and investments to high net worth individuals are careful to specify a net worth "not counting principal residence."

A millionarie is an individual whose net worth or wealth is equal to or exceeds one million units of currency. It can also be a person who owns one million units of currency in a bank account or savings account. Depending on the currency, a certain level of prestige is associated with being a millionaire, which makes that amount of wealth a goal for some, and almost unattainable for others. In countries that use the short scale number naming system, a billionaire is someone who has at least a thousand times a million dollars, euros, or the currency of the given country (e.g. $1,000,000,000). In contrast, a billionaire in countries that use the long scale number naming system would be someone who has at least a million times a million units of currency (e.g. $1,000,000,000,000). The increasing number of millionaires is partially due to prevailing economics, especially inflation. The purchasing power of a million US dollars in 1959 is equivalent to 7.3 million dollars in 2009. Increasingly, the term denotes the status of high wealth. American sociologist Leonard Beeghley classifies all households with net worth exceeding USD 1 million as "The Rich". As of 2008, there were 10 million people around the globe who are classified as U.S.-dollar millionaires.

A BILLIONAIRE, in countries that use the short scale number naming system, is a person who has a net worth of at least one billion (1,000,000,000) units of a given currency, usually the United States dollar, the euro, or the pound sterling. Forbes magazine updates a complete global list of known U.S. dollar billionaires every year.

According to the Forbes report released in March 2012, there are currently 1,226 U.S. dollar billionaires worldwide, boasting a combined total net worth of $4.6 trillion. The United States is home to 425 billionaires, while Russia and China have 96 and 95 billionaires respectively. Among U.S. billionaires, the average age is 66 years.

In countries that use the long scale number naming system, a billionaire would have one million million (1,000,000,000,000) units of currency. Under the short scale number naming system, an individual with such a fortune would be a trillionaire. There are no known euro or U.S. dollar trillionaires - in U.S. dollars, such a fortune would be roughly equivalent to the entire 2010 gross domestic product of Mexico. However, some individuals have attained fortunes of over one trillion units in other currencies. According to VnExpress, 9 Vietnamese had stock market assets valued at over one trillion (US$47.5 million) by the end of 2011. According to The Korea Herald, there were 16 Koreans with stock market assets valued at over one trillion won (US$895 million) on March 9, 2012. According to the Jakarta Globe, 116 Indonesians had assets worth over one trillion rupiah (US$117 million) in 2011.

In the last months of 1907 Freud participated in the analysis of a patient since ... evidence for the ways that SIGMUND FREUD began to attach greed and miserly behavior ... that "he [the patient] was probably one of those infants who retain their faeces.

Bookstore

9 Books From Elon Musk's Reading List That Could Change Your Life - "When he's not building rockets, boring tunnels beneath Los Angeles, or sending cars into space, Elon Musk reads a lot. Here are 9 nonfiction books he thinks we should all read."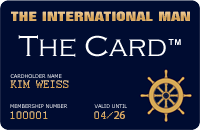 Upcoming VIP Privilege Membership Card
The International Man will in the near future be launching its own PRIVILEGE & BENEFIT VIP MEMBERSHIP CARD - named simply 'The Card'. Members will receive special privileges, benefits and preferential rates with selected partner hotels, restaurants, our LUXURY WEBSHOP, and more. Enter your name and e-mail address to receive FREE INFO about 'The Card' HERE.
RETURN TO TOP OF PAGE