Top 100 Best High-End Tailors | 60 Savile Row Tailors

"One should either be a work of art, or wear a work of art." - Oscar Wilde.

"If you are out to describe the truth, leave elegance to the tailor." - Albert Einstein.

"Being perfectly well-dressed gives one a tranquillity that no religion can bestow." - Ralph Waldo Emerson.

"The finest clothing made is a person's skin, but, of course, society demands something more than this." - Mark Twain.

TRADITIONAL TAILORING is called bespoke tailoring in the United Kingdom, where the heart of the trade is in London's Savile Row, and custom tailoring in the United States and Hong Kong. This is unlike made-to-measure which uses pre existing patterns. A bespoke garment or suit is completely original and unique to each customer.

BESPOKE is a term employed in a variety of applications to mean an item custom-made to the buyer's specification. While applied to many items now, from computer software to luxury car appointments, the term historically was only applied to tailored clothing, shirts and other parts of men's apparel involving measurement and fitting. The distinguishing points of bespoke tailoring are the buyer's total control over the fabric used, the features and fit, and the way the garment should be made. More generally, bespoke describes a high degree of customisation, and involvement of the end-user, in the production of the good.

MADE-TO-MEASURE typically refers to clothing that is sewn from a standard-sized base pattern. A tailored suit is a common example of a made-to-measure garment. The fit of a made-to-measure garment is expected to be superior to that of a ready-to-wear garment, because ready-to-wear garments are constructed to fit the manufacturer's definition of an average customer, while made-to-measure garments are constructed to fit each customer individually. However, made-to-measure items are seen by many to involve less workmanship than bespoke or "custom made" garments, as made-to-measure garments always involve some form of standardization in the patterning and manufacturing processes, whereas a bespoke garment is made entirely from scratch based on a customer's specifications. Typically, a made-to-measure garment will be more expensive than ready-to-wear garment but cheaper than a bespoke one.

READY-TO-WEAR, or prêt-à-porter, is the term for factory-made clothing, sold in finished condition, in standardized sizes, as distinct from made-to-measure or bespoke clothing tailored to a particular person's frame. Ready-to-wear has rather different connotations in the spheres of fashion and classic clothing. In the fashion industry, designers produce ready-to-wear clothing intended to be worn without significant alteration, because clothing made to standard sizes fits most people. They use standard patterns, factory equipment, and faster construction techniques to keep costs low, compared to a custom-sewn version of the same item. Some fashion houses and fashion designers produce mass-produced and industrially manufactured ready-to-wear lines, while others offer garments that, while not unique, are produced in limited numbers.

Bookstore

Sartorial News & Resources

Bespoke | Made-To-Measure Shirtmakers

List of Charvet customers - its list of customers is notable for its time span, Charvet existing since 1838 and having been the first shirt store ever, and as a paradigm of an international "aristo-dandy crossover community". In the 19th century, the shirtmaker both specialized in "royal haberdashery" and attracted the patronage of artists. In the 20th century, with the development of fashion design, designers and fashion journalists became a significant customer group. Some other customers' interest in the brand has become a notable aspect of their personality.

Belgium

BUTCH - "Butch Tailors has been manufacturing quality garments since 1956." Born a million garments ago. A million means lots of stitches, buttons and hours. In other words, tons of experience and hard work.

Canada

Toronto

Garrison Bespoke - "Toronto's Best Custom Suit Tailors." Also offers bulletproof three-piece suit lined with several ultrathin sheets of carbon nanotube material that can stop a bullet or blade. The suit is built to order and starts at C$20,000.

Vancouver

Indochino - since 2006. "Indochino is the leader in custom online menswear. We provide the modern gentleman with high quality menswear that fits your body perfectly. Our quick 10 minute measurement process can be done from the comfort of your own home; no tailor required. All of our products are hand tailored and delivered to any part of the world within 4 weeks. Indochino makes it easy and affordable for customers to get custom tailored menswear for a look that is professional, fashionable and truly sophisticated."

China

Dayang TRANDS USA - Trands suits are a brand of designer suits created by Dalian Dayang Trands, a Chinese company. The company was founded in 1979 by Li Guilian. Trands is known for being worn by billionaires Warren Buffett, Bill Gates and the President of China Hu Jintao. In a video released by the company, Buffett praised the brand, saying he had thrown away all his other suits and only wears Trands.

France

Paris

CHARVET - founded in 1838. French high-end shirt maker and tailor located at 28 place Vendôme in Paris.

Ireland

David Young Bespoke Tailor - since 1982. "With almost 45 years experience in the art of creating fine, tailored suits for clients world wide, David Young is one of the finest traditional craftsman in his trade." David trained under Peter Moore on Savile Row, London in the 70's and decided to open his own business in Galway in 1982 where he has been successfully operating from to date.

Netherlands

Amsterdam

Suitsupply - "Impeccable suiting since 2000." Our range is wide and versatile and consists of jackets and trousers, shirts, accessories and shoes that allow customers to purchase prêt à porter fashion items as well as made-to-measure garments.

Russia

Moscow

The Imperial Tailoring Co. - founded in 2003. "The best bespoke tailoring company in the eastern Europe." Sect. 130-132, Gostiny Dvor, 2, Rybniy pereulok, Moscow.

Scotland

Edinburgh

Kinloch Anderson - 4 Dock Street, Leith, Edinburgh. "Experts in Kilts and Highland Dress since 1868. Kinloch Anderson supply the finest Kilts, Kilt Accessories, Scottish Tartans and luxury clothing and gifts."

Spain

Lérida

Blackpier - "Bespoke Suits and Shirts Online for Men." Design your garment, customize it and measure yourself in 10 minutes. Within 15 working days you will receive your order at home.

Switzerland

Zurich

Suitart - "With class and style - the tailor-made suit of SuitArt." There's nothing better than your personal style. You look together with our consultant for the right upper-fabric, the fitting inner lining and many more details. You have the choice between a comely and an exclusive fabric-assortment. Because of the plentitude of the combinations and details, your suit will become absolutely unique.

United Kingdom

Eton, Windsor

TOM BROWN TAILORS - (London & Eton). Established in 1784 and remains in the same premesis today at Number One, Eton High Street. Famous for making for Eton students (where it is still based) and therefore many Prime Ministers. 6 Sackville Street, London.

Leeds, West Yorkshire

MASTER TAILOR - founded 2004 by Harold Rose. Bespoke, made-to-measure designer suits, business suits and dinner suits.

Liverpool

Signature Bespoke - "Luxury Bespoke Clothing." With branches in Liverpool and Savile Row, we offer made to measure, luxury, bespoke clothing for men, including suits and shoes.

London | Savile Row Tailors (30+)

SAVILE ROW is a shopping street in Mayfair, central London, famous for its traditional men's bespoke tailoring. The term "bespoke" is understood to have originated in Savile Row when cloth for a suit was said to "be spoken for" by individual customers. The short street is termed the "golden mile of tailoring", where customers have included Winston Churchill, Lord Nelson and Napoleon III. Savile Row runs parallel to Regent Street between Conduit Street at the northern end and Vigo Street at the southern. Linking roads include Burlington Place, Clifford Street and Burlington Gardens. Savile Row was built between 1731 and 1735 as part of the development of the Burlington Estate, and is named after Lady Dorothy Savile, wife of the 3rd Earl of Burlington. It originally ran from Burlington Gardens (then Vigo Lane) to Boyle Street, with houses only on the east side, but in 1937–8 it extended to Conduit Street, and in the 19th century houses were built on the west side.

During the 19th century, the gentry became concerned with neat dress, and Beau Brummell epitomised the well-dressed man. He patronised the tailors congregated on the Burlington Estate, notably around Cork Street, and by 1803 some were occupying premises in Savile Row. None of those original tailors survive today. In 1846, Henry Poole is credited as being the 'Founder of Savile Row' after opening a second entrance to his late father's tailoring premises at No. 32 Savile Row; however, there were tailors on the Row long before Poole's. In 1969, Nutters of Savile Row modernised the style and approach of the traditional tailors; a modernisation which continued in the 1990s with the arrival of designers like Richard James, Ozwald Boateng and Timothy Everest.

A B C D E F G H I J K L M N O P Q R S T U V W X Y Z

- A -

A B C D E F G H I J K L M N O P Q R S T U V W X Y Z

- B -

A B C D E F G H I J K L M N O P Q R S T U V W X Y Z

- C -

A B C D E F G H I J K L M N O P Q R S T U V W X Y Z

- D -

A B C D E F G H I J K L M N O P Q R S T U V W X Y Z

- E -

A B C D E F G H I J K L M N O P Q R S T U V W X Y Z

- F -

A B C D E F G H I J K L M N O P Q R S T U V W X Y Z

- G -

A B C D E F G H I J K L M N O P Q R S T U V W X Y Z

- H -

A B C D E F G H I J K L M N O P Q R S T U V W X Y Z

- J -

A B C D E F G H I J K L M N O P Q R S T U V W X Y Z

- K -

>

A B C D E F G H I J K L M N O P Q R S T U V W X Y Z

- L -

A B C D E F G H I J K L M N O P Q R S T U V W X Y Z

- M -

A B C D E F G H I J K L M N O P Q R S T U V W X Y Z

- N -

A B C D E F G H I J K L M N O P Q R S T U V W X Y Z

- O -

A B C D E F G H I J K L M N O P Q R S T U V W X Y Z

- R -

A B C D E F G H I J K L M N O P Q R S T U V W X Y Z

- S -

A B C D E F G H I J K L M N O P Q R S T U V W X Y Z

- T -

A B C D E F G H I J K L M N O P Q R S T U V W X Y Z

- W -

Marlow, Buckinghamshire

LANDMARK TAILORED SUITS - computer-aided made-to-measure suits starting at a highly competitive and affordable £499.

U. S. A.

Austin, TX

GASSANE TAILORS - former US President George W. Bush's tailor.

Brooklyn, NY

MARTIN GREENFIELD - since 1947. "60 Years of Handmade Perfection." Aka the Tailor's Tailor. He has been described as the best men's tailor in the United States. His list of clients includes four U.S. Presidents, as well as other notable politicians and celebrities.

Chicago, IL

OXXFORD CLOTHES - since 1916. "Hand Made in Chicago."
Zaharoff - offers fine tailored bespoke and made-to-measure clothing for that perfect fit. Inquire here or in person at the Zaharoff Flagship Store at 110 East Oak Street.

San Francisco, CA

The Custom Shop Clothiers - since 1937. 372 Sutter Street. "Any Size. Any Style. Any Fabric" The Custom Shop has had the pleasure of servicing many top professionals, distinguished political figures, T.V. personalities and many more well know men across the country and the world.

Washington, DC

Georges de Paris - (1934-2015). French-American tailor who is often referred to as having been the President of the United States' unofficial tailor or the tailor to the Presidents. Paris fashioned suits for every American President from Lyndon Johnson to Barack Obama.
The Custom Shop Clothiers - since 1937. 1033 Connecticut Ave. N.W. "Any Size. Any Style. Any Fabric" The Custom Shop has had the pleasure of servicing many top professionals, distinguished political figures, T.V. personalities and many more well know men across the country and the world.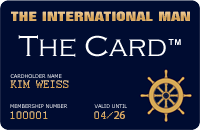 Upcoming VIP Privilege Membership Card
The International Man will in the near future be launching its own PRIVILEGE & BENEFIT VIP MEMBERSHIP CARD - named simply 'The Card'. Members will receive special privileges, benefits and preferential rates with selected partner hotels, restaurants, our LUXURY WEBSHOP, and more. Enter your name and e-mail address to receive FREE INFO about 'The Card' HERE.
RETURN TO TOP OF PAGE