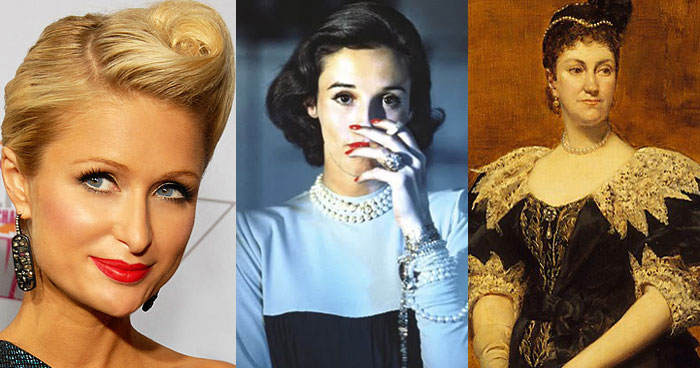 World's Top 70 International Socialites Of All Time

A SOCIALITE is a term for a member of a social elite, or someone aspiring to be a member. According to Merriam-Webster the word was first used in 1928. A socialite participates in social activities and spends a significant amount of time entertaining and being entertained at fashionable events attended by others of similar standing.

American Members of The Establishment, or an American "Society" based on birth, breeding, education, and economic standing, were originally listed in the Social Register, a directory of the names and addresses of the "preferred social contacts" of the prominent families in the 19th century. In 1886, Louis Keller started to consolidate these lists and package them for sale. Members of true "society" were distinguishable from members of post World-War I "café society," from whom are further distanced "socialites," who are considered aspirational members of true "society," but with no substantive social credentials or personal achievements.

CAFÉ SOCIETY was the collective description for the so-called "Beautiful People" and "Bright Young Things" who gathered in fashionable cafes and restaurants in New York, Paris, and London beginning in the late 19th century. Lucius Beebe, noted American author, journalist, gourmand, and railroad enthusiast is generally credited with creating the term "café society," which he chronicled in his weekly column, This New York, for the New York Herald Tribune during the 1920s and 1930s.

Although members of café society were not necessarily members of The Establishment or other ruling class groups, they were people who attended each other's private dinners and balls, took holidays in exotic locations or at elegant resorts, and whose children tended to marry the children of other café society members.

In the United States, café society came to the fore with the end of Prohibition in December 1933 and the rise of photo journalism, to describe the set of people who tended to do their entertaining semi-publicly, in restaurants and night clubs and who would include among them movie stars and sports celebrities. Some of the American night clubs and New York City restaurants frequented by the denizens of café society included El Morocco, the Stork Club, and the 21 Club.

In the late 1950s the term "JET SET" began to take the place of "café society", but "café society" may still be used informally in some countries to describe people who habitually visit coffeehouses and give their parties in restaurants rather than at home. In journalism, jet set was a term for an international social group of wealthy people, organizing and participating all around the world in social activities unreachable to ordinary people. The term, which replaced "café society", came from the lifestyle of traveling from one stylish or exotic place to another via jet aircraft. The term jet set is attributed to Igor Cassini, a reporter for the New York Journal-American who wrote under the pen name "Cholly Knickerbocker".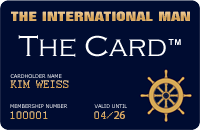 Upcoming VIP Privilege Membership Card
The International Man will in the near future be launching its own PRIVILEGE & BENEFIT VIP MEMBERSHIP CARD - named simply 'The Card'. Members will receive special privileges, benefits and preferential rates with selected partner hotels, restaurants, our LUXURY WEBSHOP, and more. Enter your name and e-mail address to receive FREE INFO about 'The Card' HERE.
RETURN TO TOP OF PAGE