Top 10 Best High-End Action Camera Brands 2020

An ACTION CAMERA or action-cam is a digital camera designed for filming action while being immersed in it. Action cameras are therefore typically compact and rugged, and waterproof at surface. They typically record video as a priority over stills, as this allows continuous capture of the action without having to interact with the camera or indeed removing it from its housing, if an additional protective housing is used. Most record on a micro SD card, and have a Micro-USB connector.

Action cameras are associated with outdoor sports, and, often attached to helmets, surfboards or handlebars, are an integral part of many extreme sports such as base jumping and wingsuit flying. Sometimes several cameras are used to capture specific perspectives, such as a helmet camera that sees the perspective of the actor in combination with a second camera attached to the environment of the rider, such as a board, wing, handlebar or wrist, that looks back onto the rider and records his reactions. Action-cams may therefore be referred to as helmet cams and by other similar names.

The category is associated with the GoPro range of cameras, and many action cameras come with a GoPro mount adapter to take advantage of the accessories available for these cameras.

Top 10 Best High-End Action Cameras

GoPro HERO8 Black - "Beyond Next Level." With unshakable HyperSmooth 2.0 stabilization and built-in mounting, 8 is the one. Waterproof.
GoPro HERO7 Black - "Insanely smooth video." Gimbal-like stabilization - without the gimbal.
GoPro Max - "Maximum. Wow. Three Cameras in One." Packing Max HyperSmooth, Max TimeWarp, Max SuperView - plus a single-lens HERO and dual-lens 360 camera - MAX maxes out the radness. Shoot single-lens HERO-style video with unbreakable stabilization or capture immersive 360 footage in 6K. Vlog to the max with shotgun-mic performance and a front-facing screen.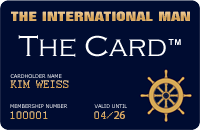 Upcoming VIP Privilege Membership Card
The International Man will in the near future be launching its own PRIVILEGE & BENEFIT VIP MEMBERSHIP CARD - named simply 'The Card'. Members will receive special privileges, benefits and preferential rates with selected partner hotels, restaurants, our LUXURY WEBSHOP, and more. Enter your name and e-mail address to receive FREE INFO about 'The Card' HERE.
RETURN TO TOP OF PAGE