Top 100 Best Champagne Accessories and Resources

"Champagne is the wine of civilization and the oil of government." - Winston Churchill.

"My only regret in life is that I did not drink more Champagne." - John Meynard Keynes.

"Too much of anything is bad, but too much Champagne is just right." - F. Scott Fitzgerald.

"I drink Champagne when I win, to celebrate . . . and I drink Champagne when I lose, to console myself." - Napoleon Bonaparte.

"I only drink champagne when I'm happy and when I'm sad. Sometimes I drink it when I'm alone. When I have company I consider it obligatory. I trifle with it if I'm not hungry and drink it when I am. Otherwise I never touch it - unless I'm thirsty." - Madame Lilly Bolinger.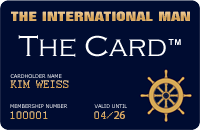 Upcoming VIP Privilege Membership Card
The International Man will in the near future be launching its own PRIVILEGE & BENEFIT VIP MEMBERSHIP CARD - named simply 'The Card'. Members will receive special privileges, benefits and preferential rates with selected partner hotels, restaurants, our LUXURY WEBSHOP, and more. Enter your name and e-mail address to receive FREE INFO about 'The Card' HERE.
RETURN TO TOP OF PAGE