Top 12 Most Famous Movie Car Chases Of All Time

A CAR CHASE is the vehicular hot pursuit of suspects by law enforcers. The rise of the automotive industry in the 20th century increased car ownership, leading to a growing number of criminals attempting to evade police in their own vehicle or a stolen car. Car chases are often captured on news broadcast due to the video footage recorded by police cars and police and media helicopters participating in the chase. Car chases are also a popular subject with media and audiences due to their intensity, drama and the innate danger of high-speed driving.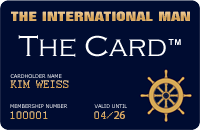 Upcoming VIP Privilege Membership Card
The International Man will in the near future be launching its own PRIVILEGE & BENEFIT VIP MEMBERSHIP CARD - named simply 'The Card'. Members will receive special privileges, benefits and preferential rates with selected partner hotels, restaurants, our LUXURY WEBSHOP, and more. Enter your name and e-mail address to receive FREE INFO about 'The Card' HERE.
RETURN TO TOP OF PAGE