Top 25 Best Classic and Famous Cakes and Pastries

"Let them eat cake." - commonly attributed to French queen Marie Antoinette.

"All the world is birthday cake, so take a piece, but not too much." - George Harrison.

"Let's face it, a nice creamy chocolate cake does a lot for a lot of people; it does for me." - Audrey Hepburn.

CAKE is a form of sweet dessert that is typically baked. In its oldest forms, cakes were modifications of breads, but cakes now cover a wide range of preparations that can be simple or elaborate, and that share features with other desserts such as pastries, meringues, custards, and pies.

Typical cake ingredients are flour, sugar, eggs, butter or oil, a liquid, and leavening agents, such as baking soda and/or baking powder. Common additional ingredients and flavourings include dried, candied, or fresh fruit, nuts, cocoa, and extracts such as vanilla, with numerous substitutions for the primary ingredients. Cakes can also be filled with fruit preserves or dessert sauces (like pastry cream), iced with buttercream or other icings, and decorated with marzipan, piped borders, or candied fruit.

PASTRY is the name given to various kinds of baked products made from ingredients such as flour, sugar, milk, butter, shortening, baking powder, and eggs. Small tarts and other sweet baked products are called "pastries."

Pastry may also refer to the dough from which such baked products are made. Pastry dough is rolled out thinly and used as a base for baked products. Common pastry dishes include pies, tarts, quiches and pasties.

Pastry is differentiated from bread by having a higher fat content, which contributes to a flaky or crumbly texture. A good pastry is light and airy and fatty, but firm enough to support the weight of the filling. When making a shortcrust pastry, care must be taken to blend the fat and flour thoroughly before adding any liquid. This ensures that the flour granules are adequately coated with fat and less likely to develop gluten. On the other hand, overmixing results in long gluten strands that toughen the pastry. In other types of pastry such as Danish pastry and croissants, the characteristic flaky texture is achieved by repeatedly rolling out a dough similar to that for yeast bread, spreading it with butter, and folding it to produce many thin layers.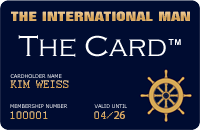 Upcoming VIP Privilege Membership Card
The International Man will in the near future be launching its own PRIVILEGE & BENEFIT VIP MEMBERSHIP CARD - named simply 'The Card'. Members will receive special privileges, benefits and preferential rates with selected partner hotels, restaurants, our LUXURY WEBSHOP, and more. Enter your name and e-mail address to receive FREE INFO about 'The Card' HERE.
RETURN TO TOP OF PAGE