Top 1500 Connoisseur Products, Providers & Services

"Only the best or go without." - fictional character David Melrose.

"Something I often sought but rarely found." - Duke of Wellington.

"I cannot afford to waste my time making money." - Louis Agassiz.

"If you have a lot of money, you can organise your life in a rather pleasant way." - Kim Philby.

"I have the simplest of tastes, I am always satisfied with The Best." - Oscar Wilde.

"Those who think money can't buy happiness just don't know where to shop." - Robert H. Frank.

"A connoisseur: A specialist who knows everything about something and nothing about anything else." - Ambrose Bierce.

To acquire the habit of reading is to construct for yourself a refuge from almost all the miseries of life. - W. Somerset Maugham.

"I don't wear a [Cartier] Tank watch to tell the time. In fact, I never wind it. I wear a Tank because it's the watch to wear." - Andy Warhol.

"Whether you're a former president or a former CEO, it seems one of the hazards of flying private is that some strange craving enters the soul that makes it unbearable to ever fly commercial again." - (from "The Palace Papers: Inside the House of Windsor." by Tina Brown.)

"A connoisseur of gastronomy was congratulated on his appointment as a director of indirect contributions at Perigues: and, above all, in the pleasure there would be in living in the midst of good cheer, in the country of truffles, partridges, gruffled turkeys, and so forth. 'Alas!' replied with a sigh the sad gastronomer, 'can one really live at all in a country where there is no fresh sea-fish?'" - Jean-Antheleme Brillat-Savarin.

A CONNOISSEUR (from French connaisseur, from Middle-French connoistre, then connaÎtre meaning "to be acquainted with" or "to know somebody / something.") is a person who has a great deal of knowledge about the fine arts, or an expert judge in matters of taste.

Internationally modern connoisseurship is also used in the context of gastronomy and luxury goods, i.e. in connection with fine food, wine, accessories, jewellery, watches and many other products whose consumption and ownership can be pleasing to the senses.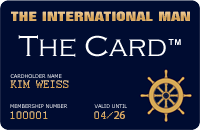 Upcoming VIP Privilege Membership Card
The International Man will in the near future be launching its own PRIVILEGE & BENEFIT VIP MEMBERSHIP CARD - named simply 'The Card'. Members will receive special privileges, benefits and preferential rates with selected partner hotels, restaurants, our LUXURY WEBSHOP, and more. Enter your name and e-mail address to receive FREE INFO about 'The Card' HERE.